After resting in Tallahassee for a few days, it was time to head to Legoland, Florida.
Normally, we don't do a lot of theme parks, but this was a special occasion. It was the 5th Annual Fulltime Families Roadschool Field Trip!
We found a nice Passport America affiliated RV park in Haines City, just 15 minutes from Legoland. With the 50% off discount, it was a reasonable (for the area) $25 per night and it even had a pool!
We got a site right next to the Heatons for the two nights we were there while we went to Legoland.
Florida Legoland Field Trip
As roadschoolers, we do a lot of field trips on our own, but this was a unique opportunity to do a field trip with a huge group of our fellow roadschoolers. Look at all the people who showed up!
Abby just couldn't wait, so she started climbing on the Legoland sign while we were waiting for the group picture. Notice the "Do Not Climb" sign at the bottom.
We've been to Legoland California a couple of time before when we lived in Oceanside. Legoland Florida was pretty much the same. It's a fun theme park for kids who are around 5-12 years old. Since all three of ours fall right in there, we had a blast!
We're so far from Oceanside:
Our first stop was the Lego Carousel. Then we did a couple of roller coasters.
Nathan's favorite area was Ninjago Land. The Ninjago ride was full of creepy 3-D characters we got to blast by using our Ninjago powers to throw green fireballs.
Another favorite area was the Star Wars displays. They had scenes from all the major battles in the Star Wars movies, plus a life-size Darth Vader and R2-D2.
It was a very fun day and we were totally beat by then end.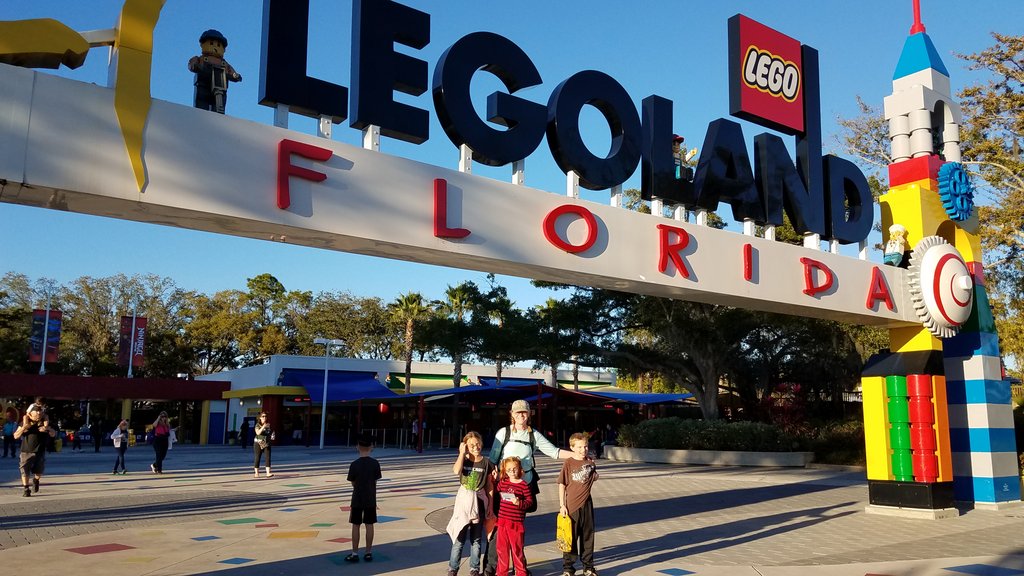 Now, on to Key West.