Ok, this is a long one, but we did so much in Louisiana in just 4 days while on our way to Tallahassee.
Having never been to the Pelican State, we weren't quite sure what to expect. But we were excited to enter our first new state since last July when we went through Oklahoma on our way to Denver.
Mardi Gras
Louisiana turned out to be a wonderful place to visit and we got our fill of amazing food. It just so happened we arrived during the weeks leading up to Mardi Gras, so a festive atmosphere was all around.
Having grown up in the 90s, our expectations of Mardi Gras have been shaped by what we've seen in the media and on late-night TV commercials. Thankfully, it's nothing like that, at least in the parts we visited. (We stayed away from Bourbon Street when we went to New Orleans)
For those who aren't familiar with it (like we weren't), Mardi Gras (French for Fat Tuesday) is a celebration devoted to one last hurrah (the motto of the celebration is Let the good times roll) before Ash Wednesday, when Catholics begin fasting for Lent. In Louisiana, the celebration begins 12 days after Christmas and lasts until the day before Ash Wednesday.
Mardi Gras season is a big deal in Louisiana. Purple, yellow, and gold decorations are everywhere. Masks and bead are on sale in almost every little shop. And you can get King Cake in just about every bakery, grocery store, and Walmart (ug) around.
There are neighborhood parades happening just about every day in the three weeks prior to Fat Tuesday,but we were a little early for those. We got the sense that Mardi Gras is generally a fun, festive, and mostly family-friendly time of year.
Tabasco Sauce Factory
Our first stop in Louisiana was an overnight stay at Maxie's Campground in Broussard, LA. This was a perfect overnight stop on our way to New Orleans.
We were delighted to be joined there by the Heatons and the Todds, who were also traveling to the Fulltime Families Rally. We met the Todds way back in May 2015 when we were just a few weeks into our travels. They were preparing to go on the road at the time, but were still about a year out from launching.
The next day, we got up and drove about 30 minutes to Avery Island so we could visit the Tabasco Sauce Factory. This has got to be one of Nate's favorite places we've visited. It was such a fun tour for all of us. The kids had a great time, especially when we got to the samples. Yes, some were a bit spicy, but delicious. They even had jalapeno ice cream and Tabasco soda pop!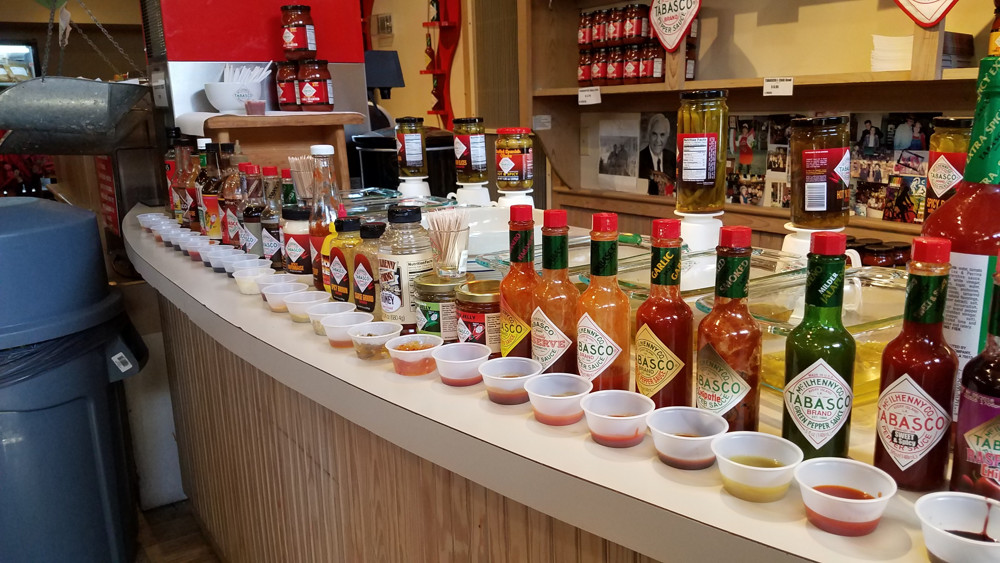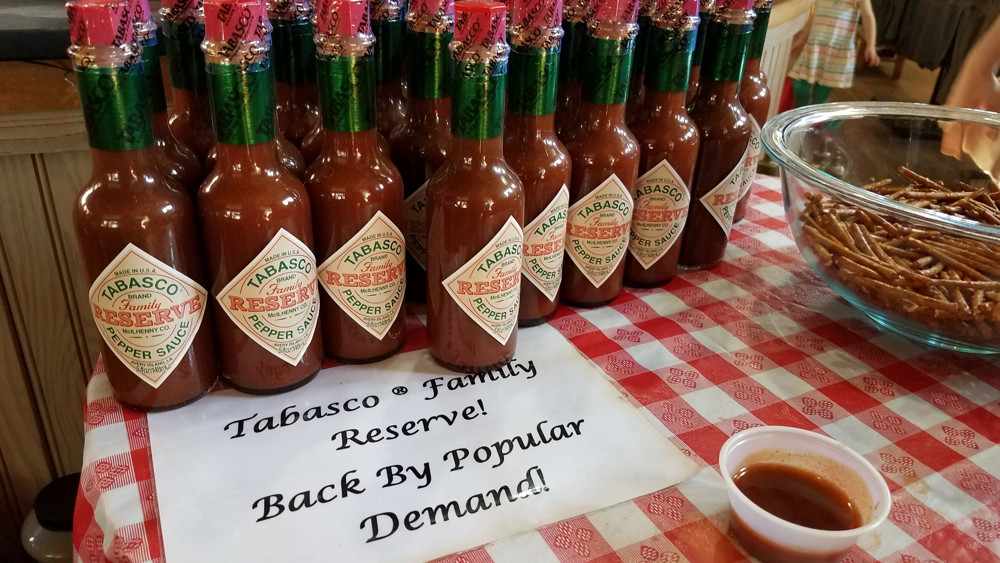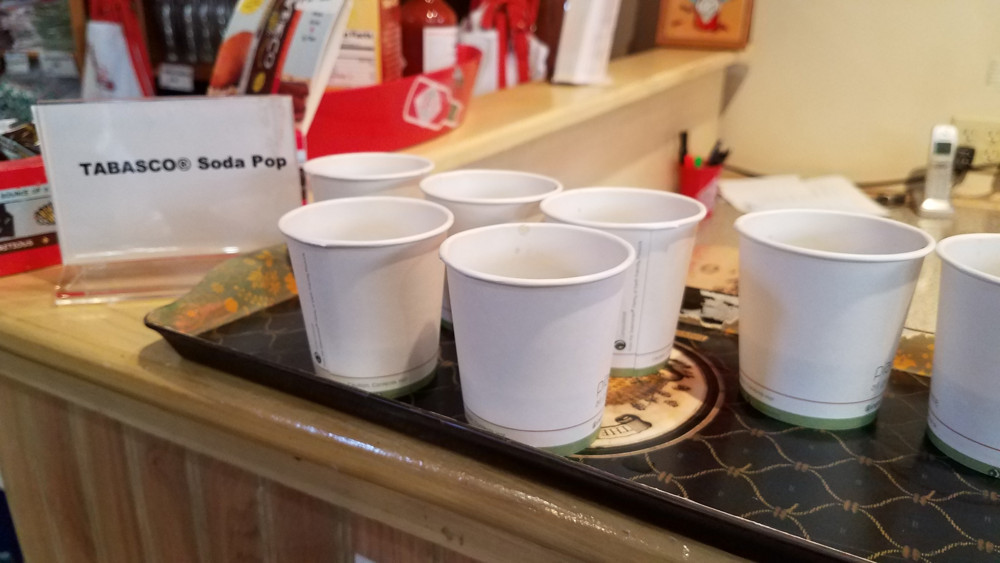 It was interesting to find out how Tabasco sauce is made. All the Tabasco peppers are grown right there on Avery Island, then hand-picked when they reach the right shade of red. Then they get mashed up and stored in oak barrels for three years.
After that, the peppers are mixed with vinegar and salt then bottled. The salt is mined right there at Avery Island as well. The salt mine there is thought to be as deep as Mt Everest is high!
New Orleans
After spending several hours at the Tabasco Sauce Factory, we continued on toward New Orleans. We stayed at Bayou Segnette State Park for three nights while we explored the New Orleans area.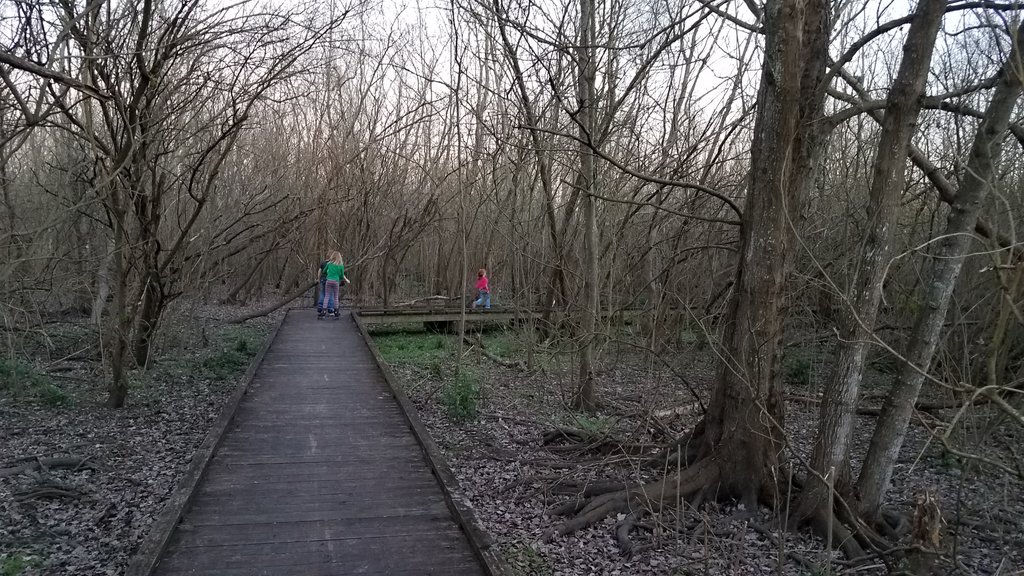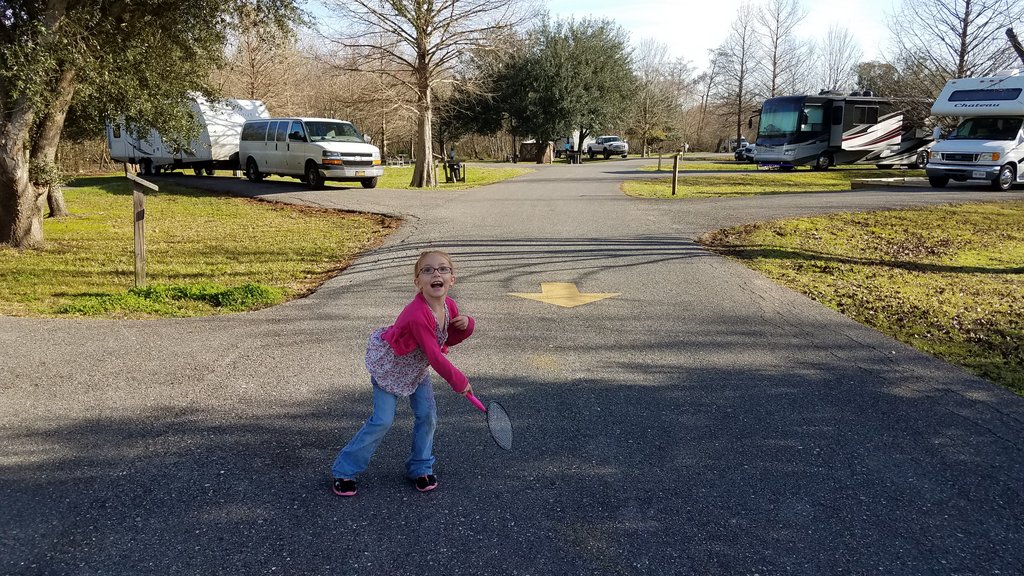 We spent Wednesday the 25th in the French Quarter of New Orleans. This is the oldest part of the city and very fun to walk around. Most of the buildings were built in the late 1700s through the early 1900s, so the architecture is quite a treat.
Rather than driving into the French Quarter and trying to find parking, we took the ferry across the Mississippi River from Algiers. It got us right next to the French Quarter, where we spent the day walking around.
Our favorite part about the visit was all the great food!
We tried beignets (french donuts) at Cafe Du Monde for a morning snack, which were delicious.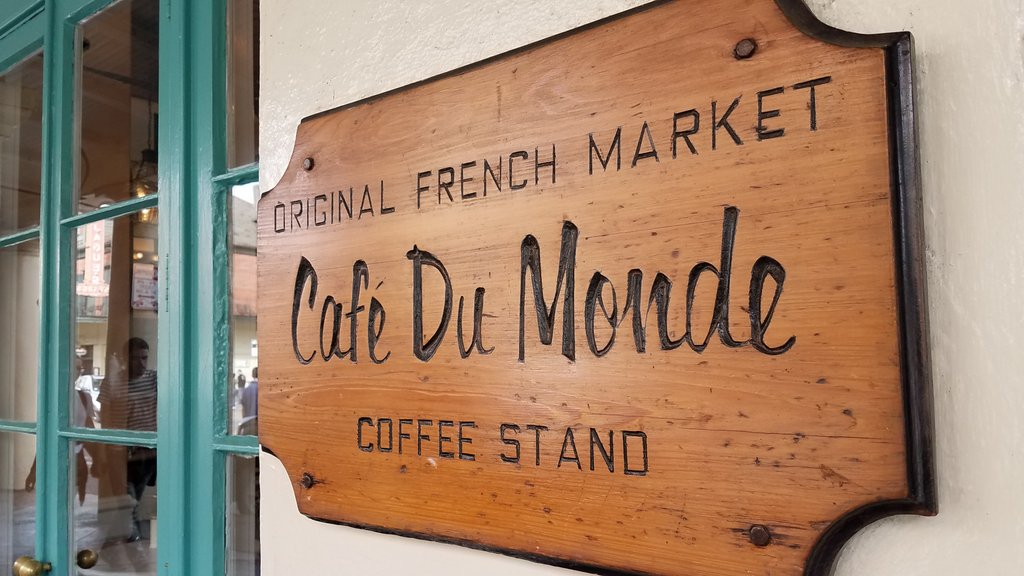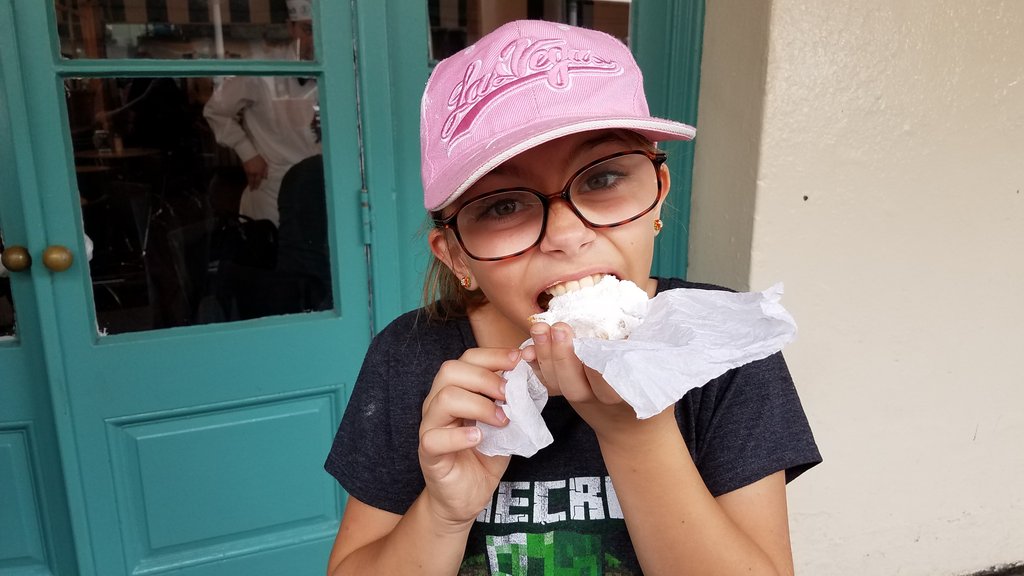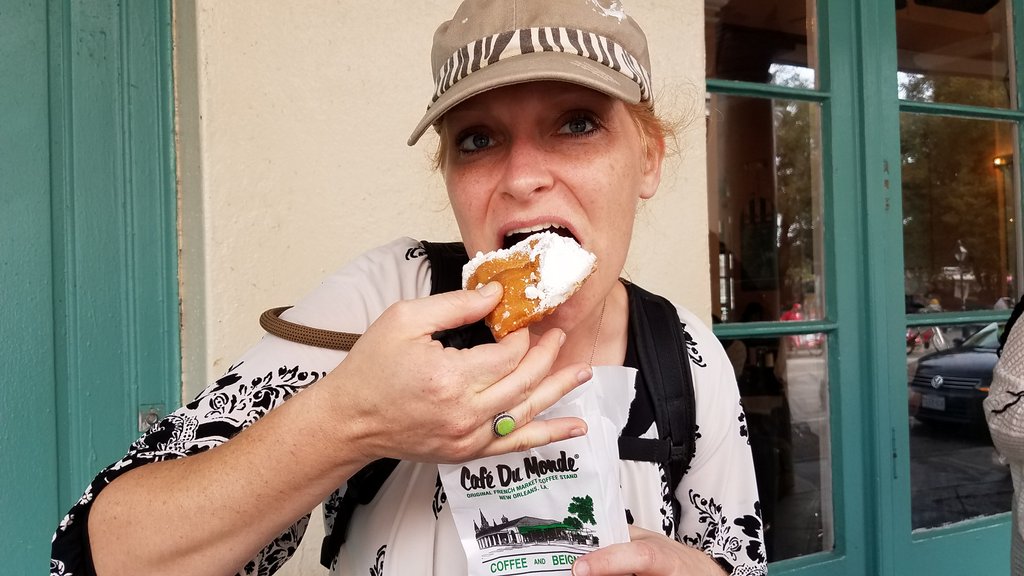 Then we stopped for lunch at Market Cafe where we listened to a live jazz band and got a sampler platter with gumbo, jambalaya, shrimp creole, and red beans & rice. We also tried a muffaletta, which is a famous New Orleans sandwich with ham, salami, and other delicious toppings.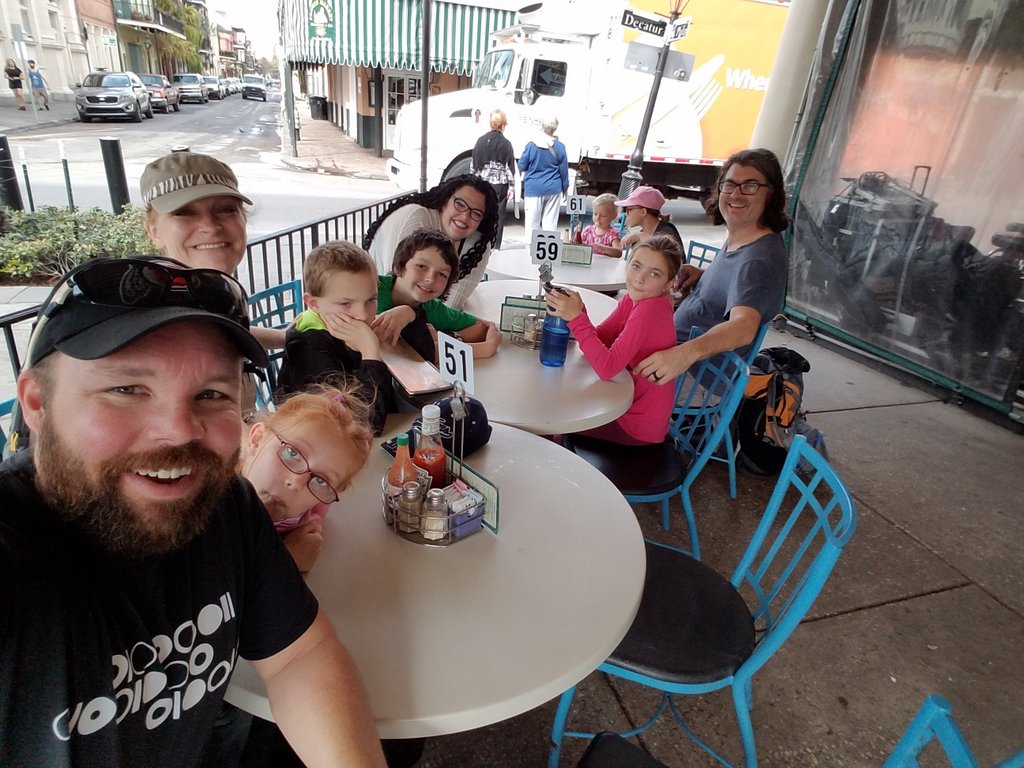 After lunch, we walked through the French Market, an outdoor flea market style area. One of the neat finds there was Kiss My Glass Jewelry. We stopped and chatted with the owner Marlies, who creates all this original glass jewelry unlike anything we've seen before. Angie and Ali loved it and bought a few pieces.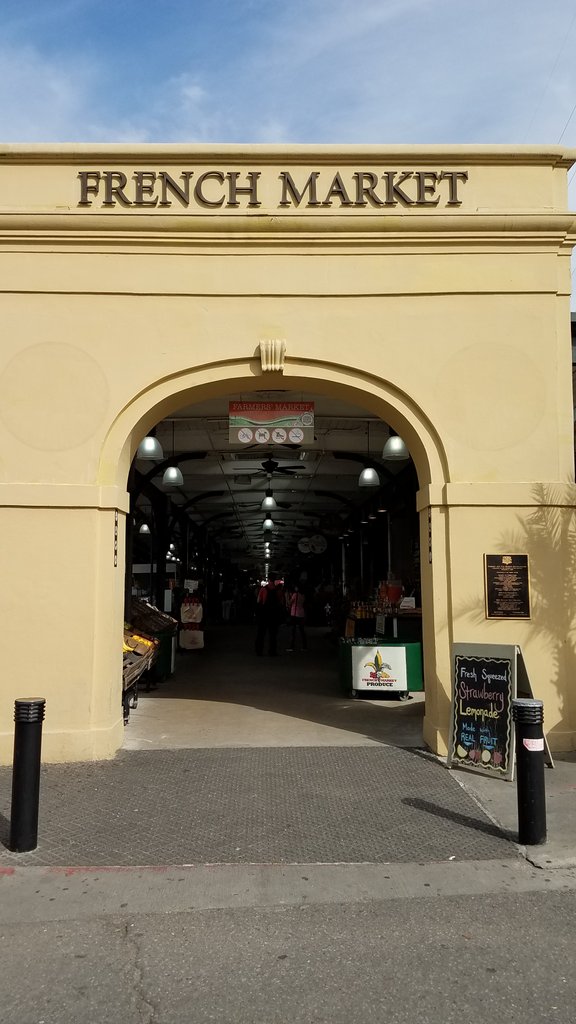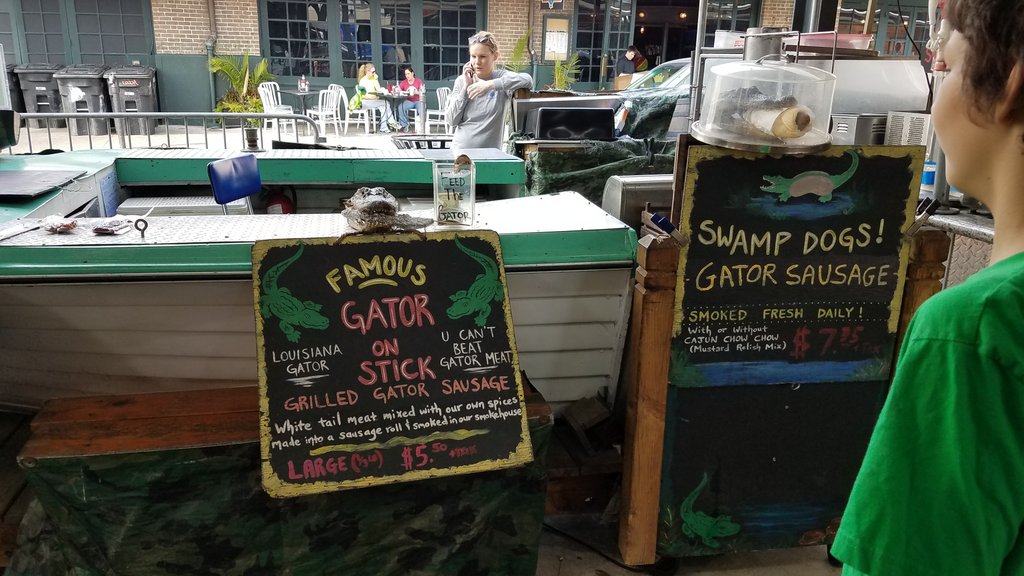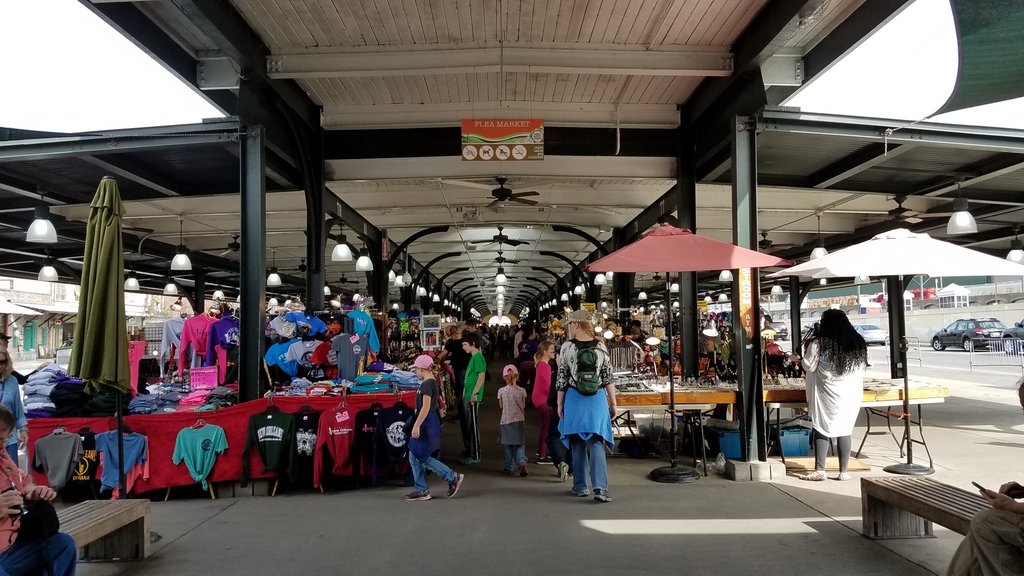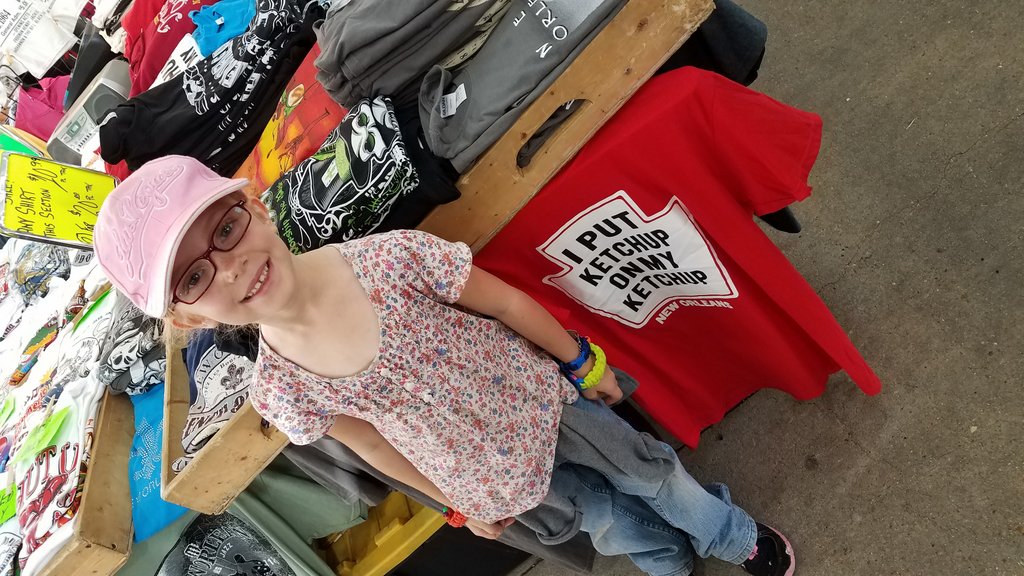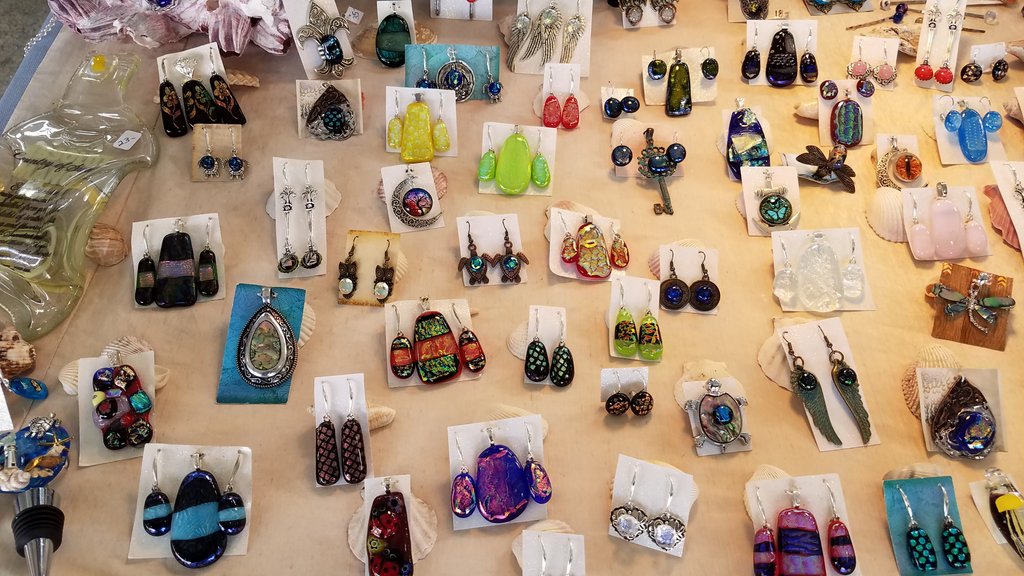 We spent part of the afternoon at the old U.S. Mint where we completed a Junior Ranger Badge for the New Orleans Jazz National Historic Park and went through a jazz musuem and the U.S. Mint museum.
After the U.S. Mint, we started walking back toward the ferry terminal, stopping to talk with a homeless man who does a balancing trick with his umbrella. We also got pulled into watching a street magic show the kids loved.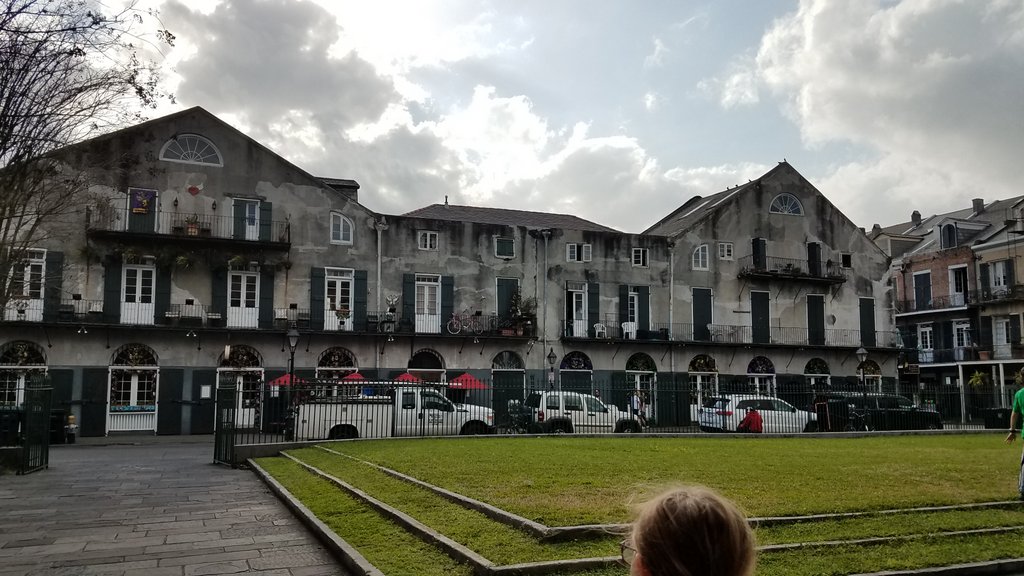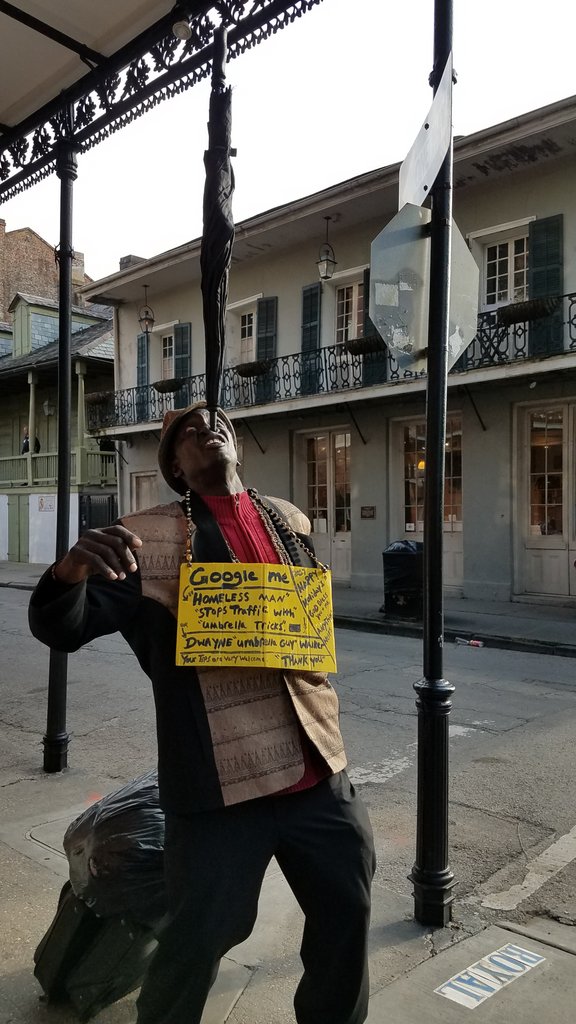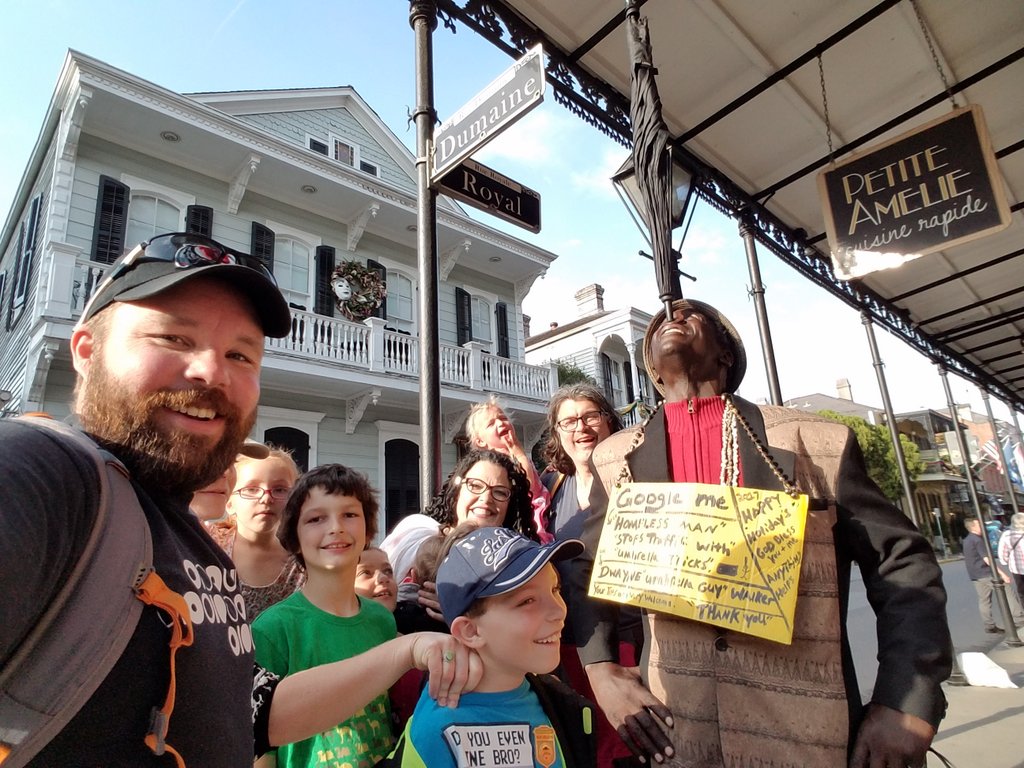 Then we went inside the St. Louis Cathedral, which was built in 1789 and is the oldest active cathedral in the United States.
We decided on Huck Finn's Cafe for dinner, where we got a delicious bbq pork po-boy sandwich along with blackened redfish.
We just can't say enough about how good the food in New Orleans is. It's fun to see things that are so different from what we're used to.
After dinner we made it back to the ferry for another ride across the Mississippi.
Chalmette Battlefield and the War of 1812
We spent our second day in New Orleans visiting Chalmette Battlefield. This is the site of the Battle of New Orleans, which was the last major battle of the War of 1812. It was one of the most decisive and one-sided victories in the history of the United States, propelling General Andrew Jackson to fame and later the presidency.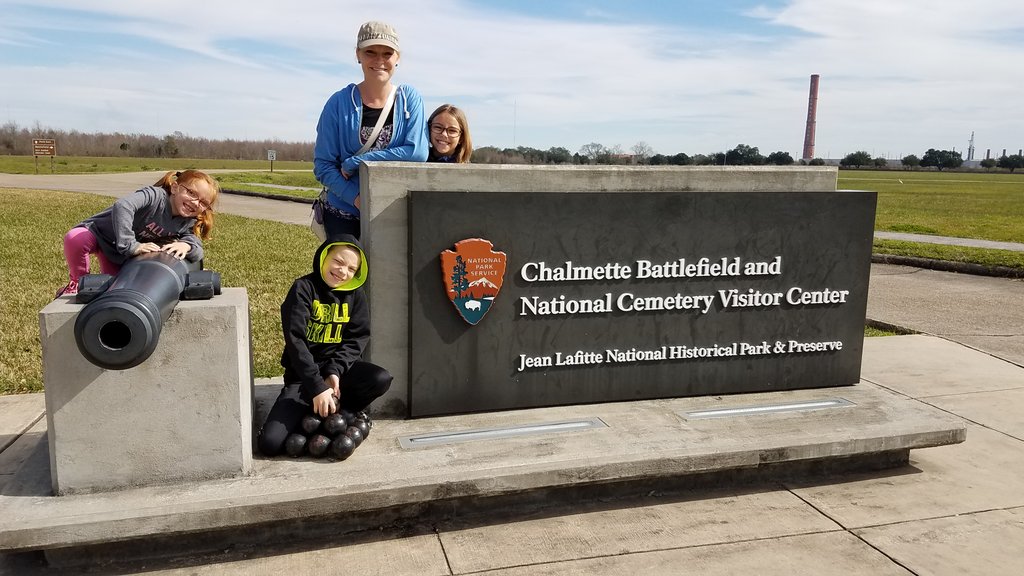 This was an amazingly well-done battleground visitor center. They had a great movie re-enactment of the battle, along with a lighted map right below the movie to show the troop movements during the battle. Plus all kinds of artifacts from the time period on display.
The battlefield itself was neat to walk around. The original rampart built by the Americans is still there, stretching from the Mississippi River to what was then a swamp.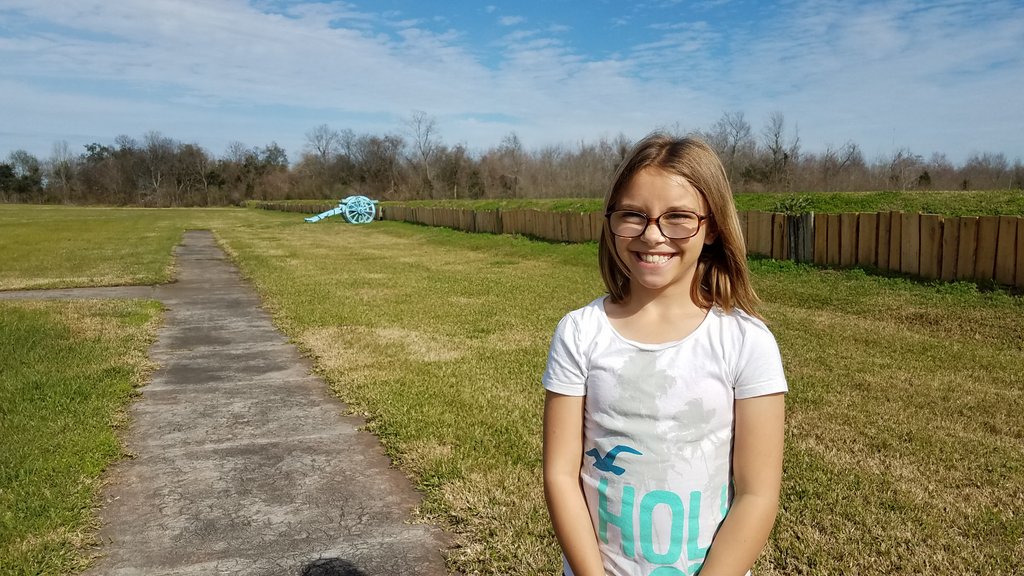 We enjoyed learning about the battle and the War of 1812, then actually seeing the battlefield with our own eyes. The kids earned the Jean Laffite National Historical Park junior ranger badge, which encompasses the Chalmette Battlefield.
Storyland
After visiting the battlefield, we drove over to City Park so we could visit Storyland.
On the way there, we drove through part of the Lower 9th Ward, one of the areas most affected by the flooding after Hurricane Katrina. We could see plenty of areas where the flooding occurred, even 11 years later. This was a good educational opportunity for the kids, and we later watched some youtube videos about the flooding and damage that occurred there.
Storyland is a fun kids park in the middle of City Park. There's a small fee to enter, but it was worth it. The whole park is dedicated to depictions of different children's books the kids can climb and play on. This is one of the more unique children's parks we've been to.
Do you recognize any of these stories?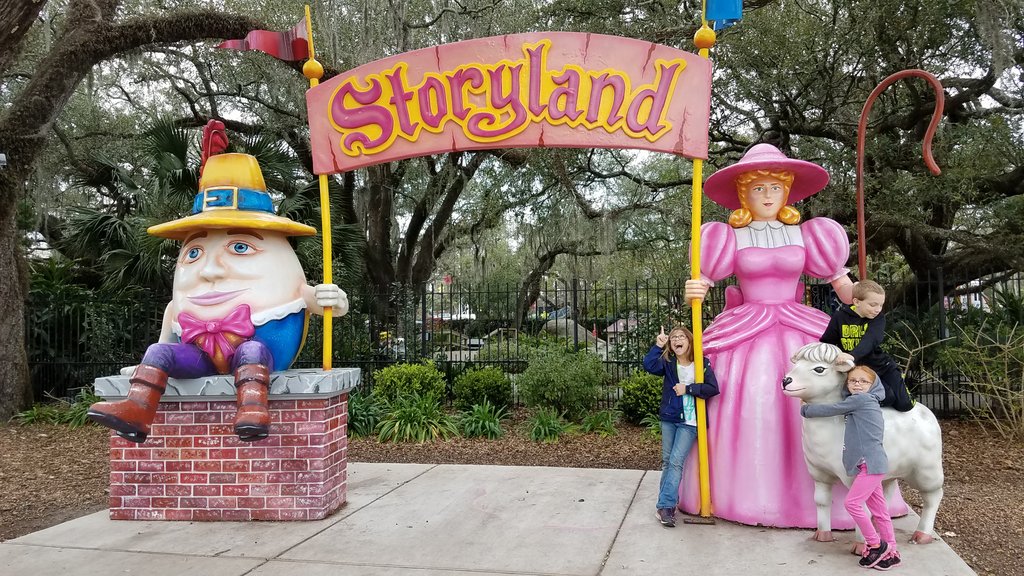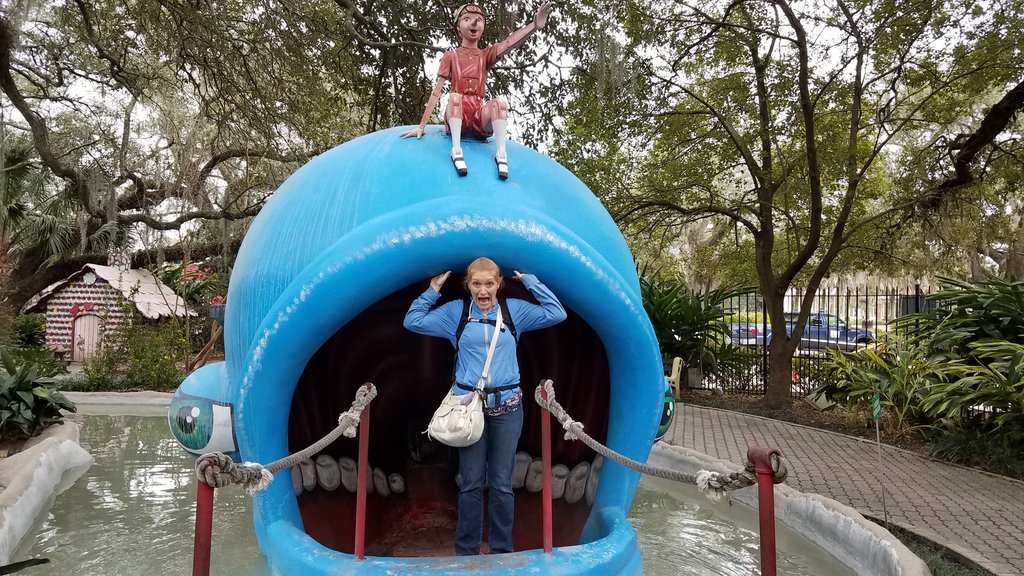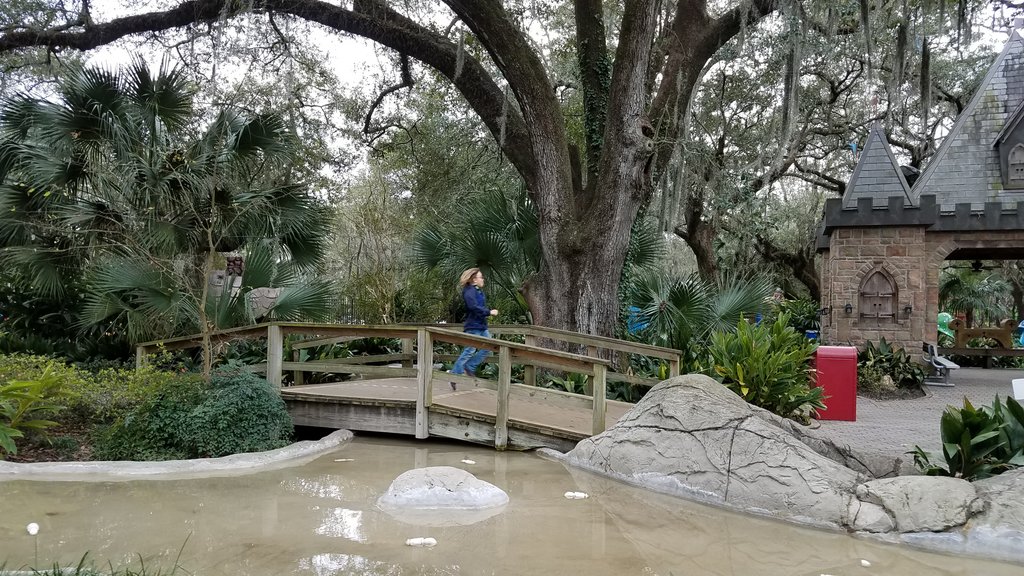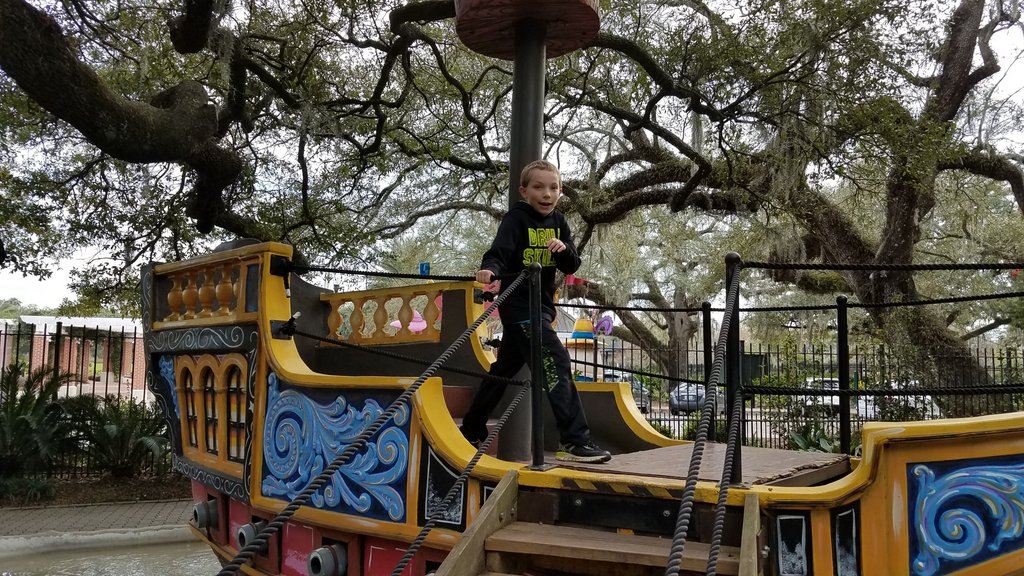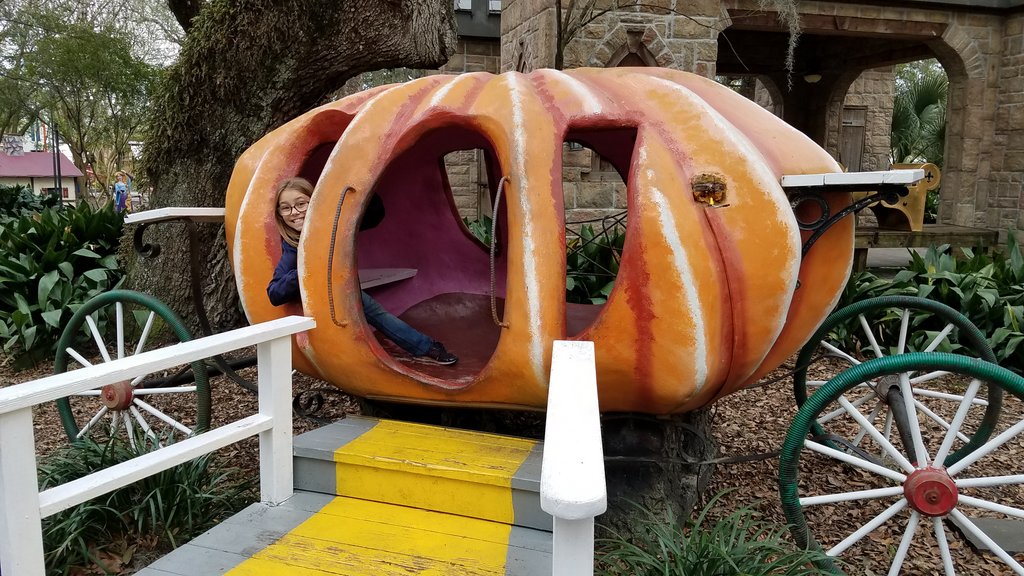 Crawfish and King Cake
A nice lady in the visitor center at Chalmette Battlefield told us where to get the best King Cake in New Orleans, so we swung by to pick one up before heading back to our campsite.
We also picked up 3 pounds of live crawfish from a little market just outside Bayou Segnette State Park, which we took back and boiled for dinner. They were quite tasty, kind of like shrimp, but better (and messier).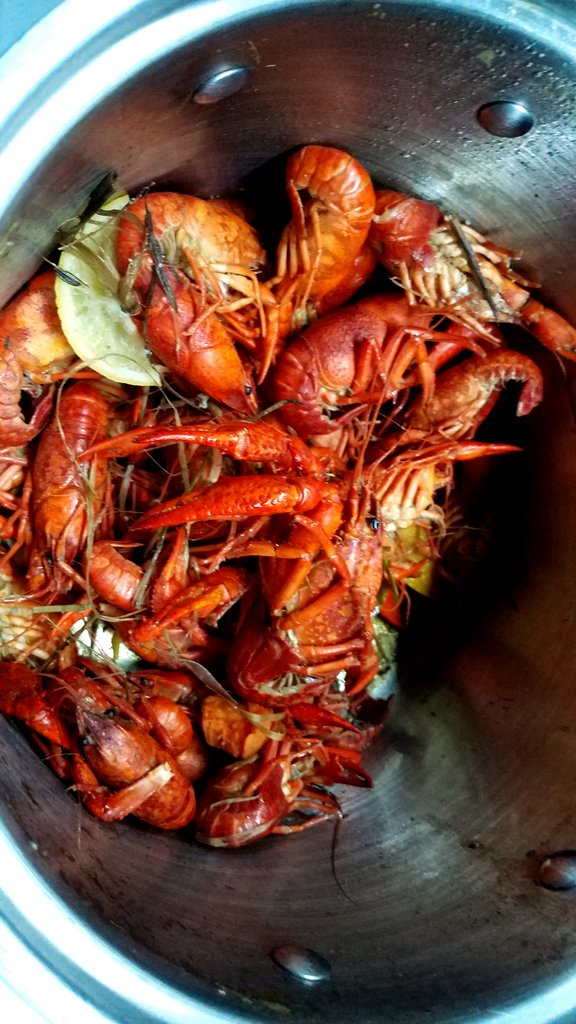 Then we got to taste the King Cake.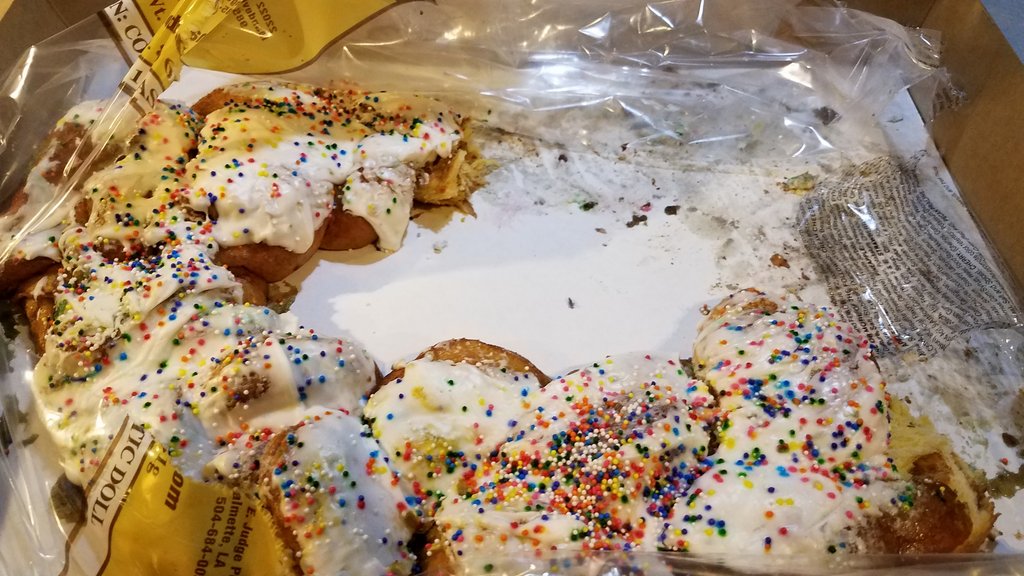 King Cake is only eaten during Mardi Gras season. It's a little bit like a giant cinnamon roll, very soft and chewy. There's usually a small plastic baby hidden inside to represent the baby Jesus. The tradition is that whoever gets the baby in their piece of cake is the lucky one and is responsible for buying the cake next year.
Well, we all thought the King cake was delicious and shared some with our friends the Heatons. They ended up getting the plastic baby, so I guess they'll be buying the cake next year!