December 2015 to February 2016
We've spent the last 2 ½ months enjoying the warm California weather while visiting Oceanside, our last home base before we set off on our full time traveling adventure. We left Oceanside last May with the intention of traveling around the country for 1 year with our 5th wheel. It's been 10 months now and we didn't quite get to the whole country yet (see a map of our travels so far)…there's just so much to see along the way and we've been loving every minute of it.
We came back to the Oceanside area to take care of dental appointments, doctor appointments, visit with friends, and visit our church congregation. Now we're gearing up to continue our travels, this time heading east instead of north and hoping to hit most of the southern states during the spring.
So what have we been up to in sunny SoCal during the last couple months?
Our first stop back in California was Joshua Tree National Park, which we already wrote about in a brief post.
Rancho Jurupa RV Park in Riverside
Our next stop was Riverside, where we stayed two weeks at the Rancho Jurupa Park. This was a very safe, clean, and quiet park right next to a lake full of fish and ducks. They even had a mini golf course that made a great family activity one morning.
While we were in Riverside, we got our Christmas decorations up and went to a kids craft day at Home Depot where they made Christmas decorations.
Although we enjoyed staying at Rancho Jurupa, we weren't there for pleasure. The main reason for our visit to Riverside was to work on building Angie's essential oils business by helping some of her colleagues in the area. It turned out to be a very successful two weeks for her and she made a huge advancement during December. She loves sharing essential oils and seeing how they can change people's lives. Go Angie!
Back in Oceanside
We finally arrived back in Oceanside in mid-December and decided to stay a the Lake O'Neill RV Park at Camp Pendleton. This was a good quiet spot for us to stay in one place for a couple months. Here are a few pics and videos to highlight our stay:
We did our first Christmas in our 5th wheel. Yes, it was a little cramped, but it all worked out and the kids had a great day.
February was a big month for Nathan.
He turned 8 years old, so we had a birthday party with his friends and went bowling as a family.

In our church, kids can get baptized when they turn 8 years old, so Nathan made a big step in his life by getting baptized while we were here.
He also started Cub Scouts and we built a pinewood derby car.
Building Nathan's pinewood derby car:
We decided to visit the Palomar Observatory one day for a homeschool field trip. The observatory houses the 200-inch Hale Telescope, which was the largest and most used optical telecope in the world until 1993. Long drive to get there, but a neat visit — and the kids got to play in some snow near the parking lot.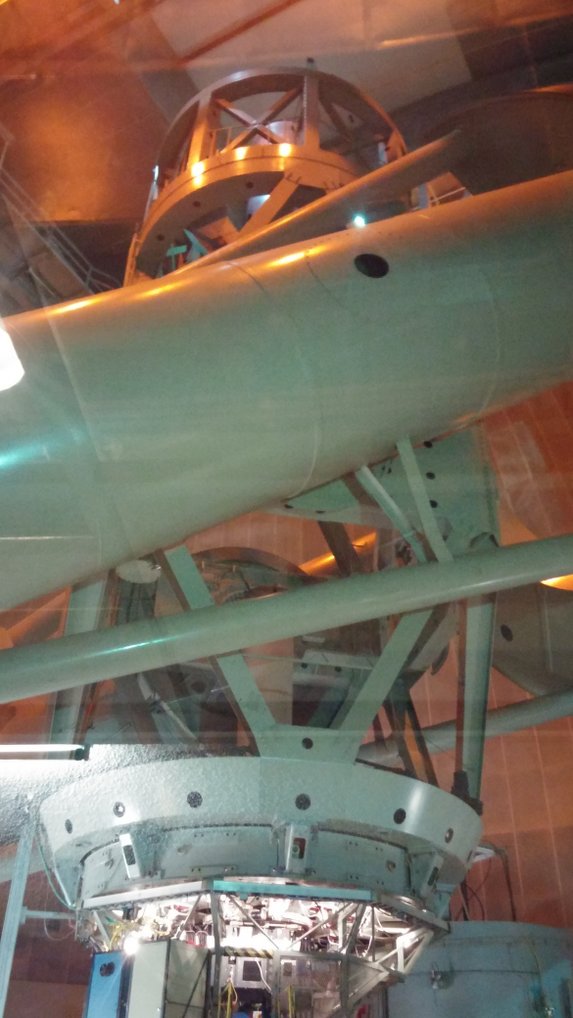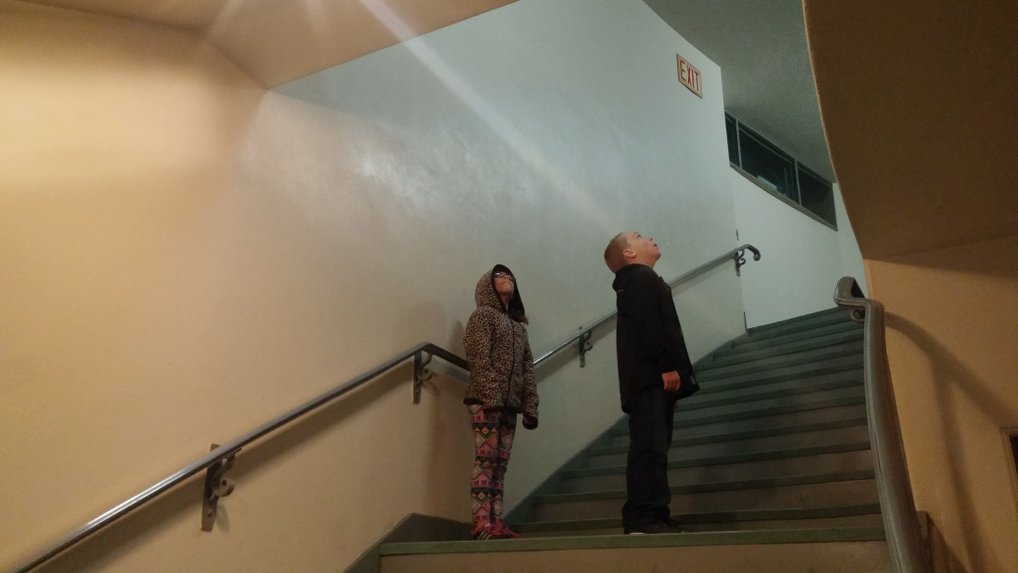 The kids also spent some time learning about clouds and weather in January. They made these cloud posters to show the different types of cloud formations.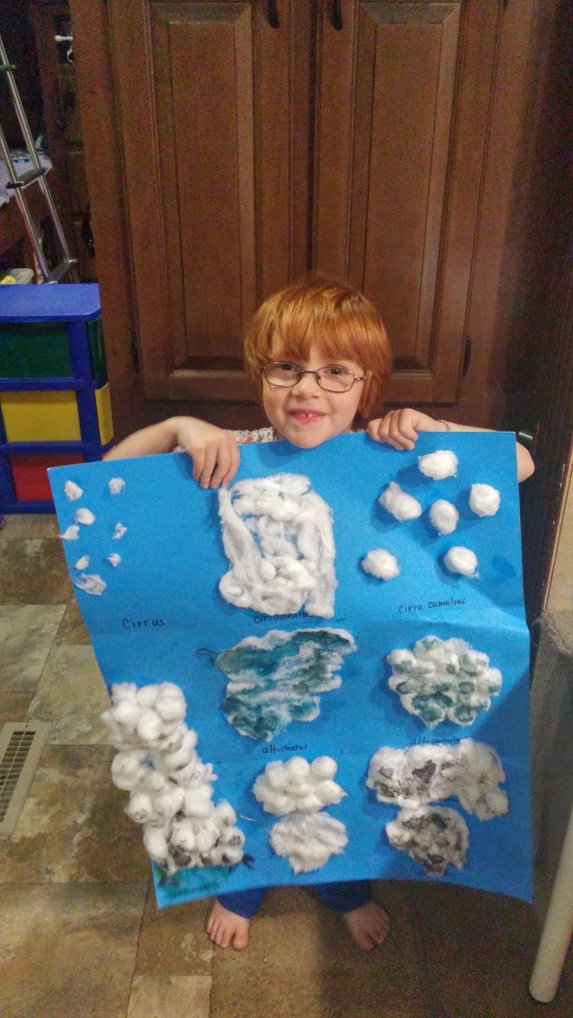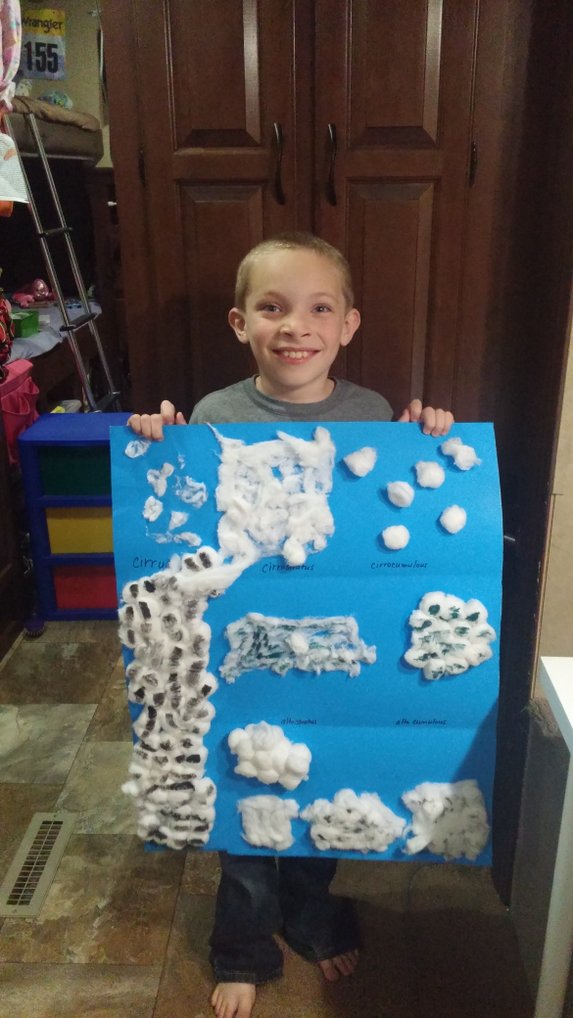 We enjoyed hiking and biking around the trail surrounding the lake. Nate also frequently went mountain biking in the hills nearby.
Lilly the cat learned a new trick. We started getting condensation on the windows in the mornings, so she would hop up on the table and lick it all off for us.
Abby learned a new trick on the scooters: