We celebrated our 1 year anniversary of full-time RV living a couple weeks ago. This got me thinking about our living expenses and the cost of our traveling lifestyle. So I took a look at our expenses over the past year and broke them down into our monthly average cost for each category. (We use Quicken to keep track of our expenses, which has been very helpful in keeping our accounts in order and tracking our spending.)
Surprisingly, our expenses aren't that much different from when we were living in a S&B (sticks & bricks) home.
Instead of paying rent or a mortgage, we pay campsite fees. Instead of paying for fuel to commute to work each day, we pay for fuel to travel to new locations. We still have to pay for cell phones, medical insurance, and food, regardless of whether we're traveling or staying put.
This table summarizes our first year of full-time travel, from May 2015 to April 2016:
| Trip Stats - May 2015 through April 2016 | |
| --- | --- |
| Miles Driven | 20900 |
| Stopovers | 54 |
| Shortest Stop | 1 night |
| Longest Stop | 82 nights |
| Average Stop | 7 nights |
| Private/Commercial Campgrounds | 25 |
| Military Campgrounds | 11 |
| Public Campgrounds | 18 |
| National Park Campgrounds | 6 |
| State/County/City Campgrounds | 12 |
| Free Nights (e.g., parked in friends'/relatives' driveways) | 38 |
| Nights with No Hookups | 21 |
| States Visited | 12 |
| National Parks/Monuments Visited | 24 |
And here are our average monthly expenses of the previous year:
| Average Monthly Expenses May 2015 - April 2016 | | |
| --- | --- | --- |
| RV Park Fees | $600 | 11.34% |
| Fuel (Diesel) | $347 | 6.56% |
| Propane | $12 | 0.23% |
| Cell Phone / Internet (T-Mobile unlimited everything w/2 phones) | $151 | 2.85% |
| Mail Service | $17 | 0.31% |
| | | |
| Food | $962 | 18.19% |
| Dining Out | $280 | 5.29% |
| Groceries | $682 | 12.90% |
| | | |
| 5th Wheel | $223 | 4.22% |
| Maintenance (tires, repairs) | $165 | 3.13% |
| Fulltimer Insurance Policy | $40 | 0.76% |
| Registration | $18 | 0.33% |
| | | |
| Tow Vehicle (2014 F-250 6.7L Powerstroke) | $271 | 5.11% |
| Maintenance (oil, tires, etc) | $163 | 3.08% |
| Insurance | $90 | 1.70% |
| Registration | $18 | 0.33% |
| | | |
| Medical Expenses (Insurance, Copays, Prescriptions, Dental) | $1,261 | 23.82% |
| Recreation (museums, outings, etc) | $99 | 1.86% |
| Laundry | $36 | 0.68% |
| Misc (clothing, school supplies, souveniers, snacks, everything else) | $1,330 | 25.13% |
| Total Monthly Expenses | $5,292 | |
RV Park Fees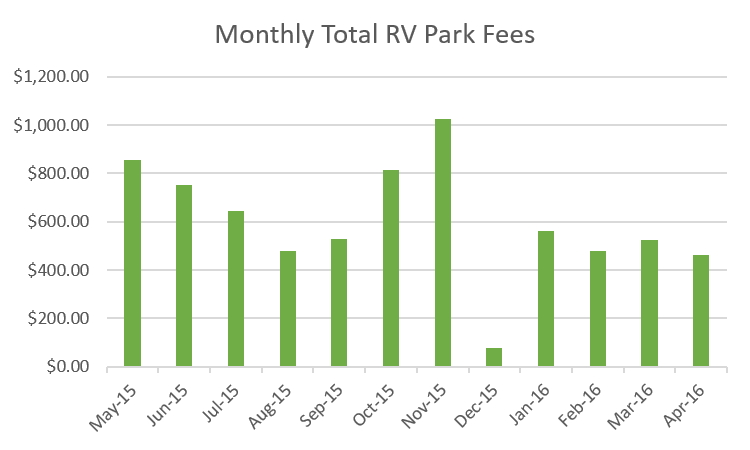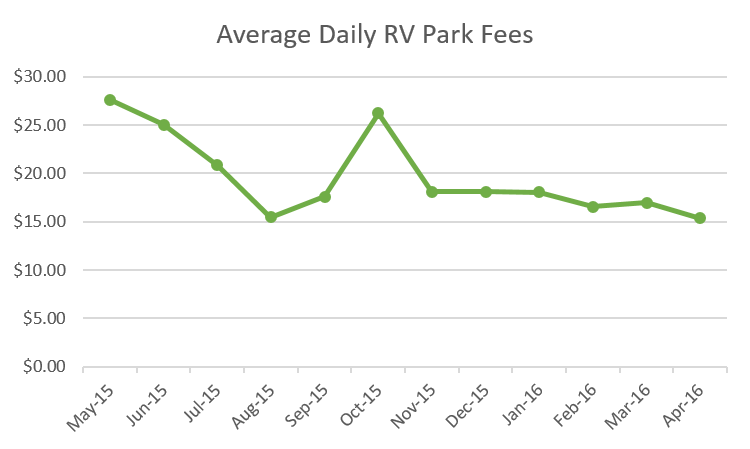 Our RV park fees have averaged $600 per month. During the first few months of full-timing, we were spending closer to $750 per month and our goal was $25/night. We've since learned better and now we're down to around $500/month. We now shoot for under $20/night. These are some of the ways we've learned to save on RV park fees:
Stay at least a week to get the cheaper weekly rate
Use Passport America whenever possible (50% discount)
Use state, national, or Corps of Engineers parks instead of private parks
Boondock when possible
Avoid resort-style "destination" parks and KOAs. They are usually much more expensive.
Stay at military famcamp RV parks when possible
Average Monthly Cost: $600
Diesel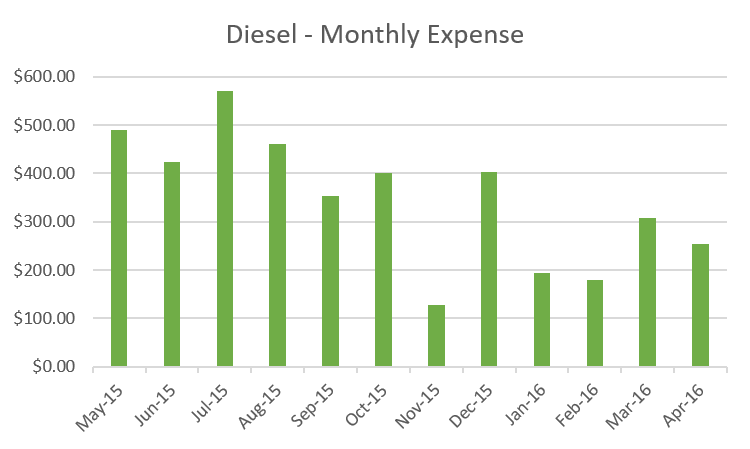 This one is surprisingly low for how much we travel. We logged 20,900 miles during our first year of full-timing. That's an average of 1,741 miles per month or just over 400 miles per week. Our average monthly cost for diesel was $347.
This expense is highly variable depending on how much we move. We try not to travel more than about 300 miles between stops and try to stay at least a week in each location.
Our most expensive month for diesel was July 2015 at $570. We were moving a lot more that month, driving up the coast of Oregon and seeing as much as possible along the way. It was also the middle of summer with peak fuel prices.
Our least expensive month was November 2015 when we only spent $128. We spent that entire month at an awesome RV resort in Mesa, Arizona. Everything we needed was nearby, so we hardly drove anywhere.
Average monthly cost: $347
Propane
This one is such a small cost we normally wouldn't even track it separately, but since it is such an RV-specific expense, we decided to show it anyway. We found out rather quickly that running the furnace on cold nights can go through a 7-gallon tank of propane in just a week or two. With each propane refill costing $20-$30, that can add up in no time.
So we bought a ceramic electric heater to heat the 5th wheel when we have electric hookups and save our propane for cooking.
Propane is also used to run the refrigerator and water heater whenever we're off an electric hookup.
Average monthly cost: $12
Internet & cell phones
We use free wi-fi whenever possible, which is available at most RV parks now. But as with most things, you get what you pay for. Free wi-fi typically stinks. When the wi-fi is fast enough to be usable, we use a VPN service that costs around $6 a month to help protect us from prying eyes and hackers. (You can't be too safe using free or open wi-fi).
Our main source for Internet when free wi-fi doesn't work is through tethering our cell phones. We use T-Mobile with an unlimited everything plan (high-speed data, voice calls, and texting) that's around $100/month for two lines, in addition to $50 a month until our phones are paid off. Our data speeds have been fast enough to stream Netflix almost everywhere we've been (excluding remote national parks and such).
Monthly cost for Internet and cell phones: $151
Mail Service
We've used Traveling Mailbox for over a year now and have been very happy with the service. They scan every envelope that comes in so we can view it all online. We can then choose to open and scan the contents, shred, or forward each item.
Scanning is free for up to 35 pages per month, which is more than we've ever needed. Forwarding a packet of mail is $2.00 plus postage. We usually have everything scanned, so forwarding charges are rare.
Monthly cost: $17 plus forwarding charges
Food!
Our food budget is slightly higher than when we lived in a house, about $100 more per month. We spend about the same amount on groceries, around $700 a month for 5 people. We spend about twice as much on dining out. We love tasting the regional cuisine and local restaurants, but try not to over do it and blow our food budget.
Average monthly cost: $192/person
5th wheel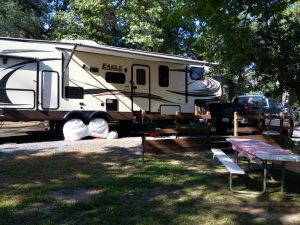 This is one category that can vary a lot depending on whether things break or not. In a year of travel, we've had to replace all four tires, replace the front landing legs, and replace a broken skylight.
Averaged out over a year, repairs have cost us $165 per month. Of course, most months this cost has been zero. Then there was that one month we had to spend $1700 — ouch!
Our full-timer insurance policy runs just under $500 a year. Registration is $211 per year.
Altogether, our 5th wheel costs an average of $223 a month to maintain, insure, and register.
Tow vehicle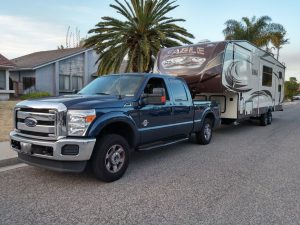 We have been very happy with our 2014 F-250 with a 6.7L diesel. It's been a champ, pulling our 5th wheel all over the U.S. and back and forth through the Rockies.
Normal maintenance and repairs have included 3 oil changes, two new fuel filters, and a new set of 4 tires. This breaks down to an average of $163/month.
Insurance has been around $90/month, but we just found a new policy that will bring us down to about $60/month.
Registration was another $212 for the year.
Average cost to maintain, insure, and register: $271/month
Medical – so much for the Affordable Care Act
Our most hated expense is medical insurance. Not to get political, but wasn't Obamacare supposed to provide affordable insurance? Isn't it called the "Affordable Care Act"? Ha! We're paying over $1000 a month for medical insurance, copays, and prescriptions. It's almost 25% of our total living expenses. Doesn't sound very affordable to me.
Average monthly cost: $1,261
Recreation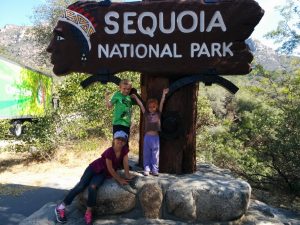 We try to minimize recreational expenses by visiting as many free places as we can. We love national parks–free with an annual pass or a 4th grader (we have both). We also take advantage of free museums, hiking trails, lakes, and beaches. We'll spend money on the occasional paid-entry museum, but usually avoid theme parks, expensive movie theaters, and other pricey places.
Average monthly cost: $99
Laundry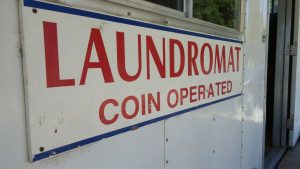 This is our largest unexpected expense. By unexpected, we mean this is something we didn't even think about or factor in before we started full-timing. It's anywhere from $20 to $60 a month depending on the highly variable cost of a load of laundry (we've seen it range from $1.00 to $4.50 per load). With 5 people, we usually do around 12-15 loads a month. There is an upside to using laundromats, though. We can get two weeks worth of laundry done in 2 hours flat.
Average: $36/month
Miscellaneous – Our catch-all category
We don't categorize every single cent we spend, so about 25% of our expenses get lumped in our "miscellaneous" category. This includes things like clothing, school supplies, Netflix, snacks, souvenirs, stops at Wal-Mart, little additions to the RV, and all the other little expenses that add up over the month.
This is one area we could probably cut expenses if necessary by avoiding sodas and snacks when we stop to fill the gas tank and taking care not to buy extra stuff at Wal-Mart when we stop for a gallon of milk.
One way we minimize miscellaneous expenses is by purchasing things on Amazon. We have Amazon Prime (get a free 30 day trial here), which gives us free 2-day shipping almost everywhere, so we can have things sent to wherever we are currently staying. We've never had a problem getting our packages. A nice bonus that comes free with Amazon Prime is a huge library of music and videos, which we use all the time to save on entertainment costs.
(Note: If you use our link to try Amazon Prime free for 30 days, we get a small referral fee. Here's the link for the free trial: Amazon Prime Free 30 Day Trial)
Average monthly cost for miscellaneous: $1,330 (Yikes!)
Summary
We've met several families who are considering jumping into the full-time RV lifestyle. Some do it to travel, some do it to save money. In our experience, our total monthly expenses have been pretty close to what they were living in a normal house. We think it's definitely worth it since we get to travel and experience so much as we go.
Other viewpoints on fulltime RV expenses