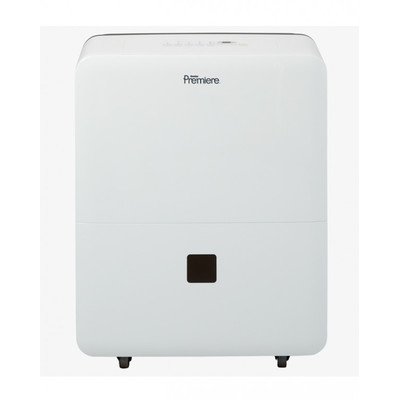 This is our review of the Danby Premiere 30 Pint Dehumidifier (model DDR30B3WP). We purchased it online for under $200 about 6 weeks ago and have been using it almost continuously every night. We have been happy with this dehumidifier and would buy it again. It does its job of removing moisture from the air and it does it more quietly than other brands we've seen.
Video Review of the Danby Premiere
Researching Dehumidifiers
We decided to get a dehumidifier after we started getting condensation on the windows and walls of our 5th wheel in the mornings. We were worried about mold and mildew growing in our RV and the possibility of long-term damage. I figured it was better to bite the bullet and buy a dehumidifier than to deal with nasty mold problems later.
I started looking online for a small dehumidifier and read up on several models. At first, I was leaning toward one of the small Eva-Dry or Ivation dehumidifiers, which are rated for spaces up to 1100 cubic feet. But after reading reviews on these models, it became clear they are best suited for small spaces like bathrooms or storage closets. Not quite enough for our RV.
We live in a 35-foot 5th wheel, with about 300 square feet of living space. With ceilings between 6 to 8 feet throughout, that turns into about 2000-2400 cubic feet. Too much volume for one of the smaller dehumidifiers. I thought about buying two of the 1100 cubic foot models, but that would still be pushing their capability and might not be adequate.
After spending some time reading RV forums and Facebook groups, I discovered many RVers recommend using a 30-pint dehumidifier. I started researching this size and found them to be about right for our 300 square foot space. Then I started looking at different brands of 30-pint units and reading reviews. I decided to go with the Danby Premiere because it had great reviews and all the right features including two fan settings (hi and lo), auto shut-off when full, and a quiet fan. It was also a good price compared with other brands.
Our Dehumidifier
When the Danby dehumidifier arrived, I was a little surprised at the size. It was larger than I had expected, so I broke out the measuring tape to see if it matched the advertised dimensions. It was right on with the dimensions shown on Amazon at about 20 inches tall, 11 inches deep, and 15 inches wide. After finding the right spot for it, we've since decided it fits nicely and is just the right size.
It comes with a good user manual that explains all the features and buttons for those who like to know everything about their equipment.
Features, Buttons, and Indicators
There are several buttons on the top control panel, but it's actually very simple to use. Just push the power button. Everything works with the default settings. You can adjust the desired humidity level by pushing the up and down arrows to choose anywhere between 35% up to 85% relative humidity. We keep ours set on 40% and it works great.
Here's a picture of our weather station showing the indoor and outdoor temperature and humidity level. Notice it's 84% outside and only 46% inside:
The other buttons allow for various adjustments, but like I said, are not necessary for normal use. These are the buttons and indicator lights:
Continue Button – Used for continuous dehumidifier operation. Prevents unit from stopping when the target is reached.
Filter Button – Resets the check filter light after cleaning the filter.
Fan Button – Switch between hi and lo fan speed.
Power Button – Turn the dehumidifier off and on.
Arrow Buttons – Set the desired humidity level between 35% and 85%.
Timer Button – Set auto start and stop timer from 0 to 24 hours.
Display – Shows actual room humidity level.
Comfort Button – Automatically adjusts the humidity with fluctuating room temperature for best comfort.
Water Bucket Full Indicator Light – Dehumidifier automatically stops when the water bucket is full.
Auto-defrost – If frost builds up on coils, unit automatically defrosts.
Water Bucket
We are emptying the water bucket about once per day. It will automatically shut off if the water bucket gets full, so there are no worries about overflowing and spilling. The water bucket holds about 1 gallon. It slides easily out the front of the unit and has a carrying handle for convenience. There is also a hose attachment on the back of the unit that could be used instead of the bucket for continuous operation.
Fan Speed and Noise Level
There are two fan speeds. The low speed is slightly quieter than the high speed, but both speeds are quieter than I had expected. Some dehumidifiers don't allow normal conversation and sound like a big box fan. This Danby is a lot quieter than that. We can have a normal conversation with it on. The noise is noticeable, but not bothersome. It's much quieter than our A/C fan or the ventilation fan over the stove.
Heat Output
I've read that some brands put out a lot of heat. This one blows air, but it is not noticeably warm. It feels like the same temperature as the room it's in. I've noticed it does warm the room by a couple degrees.
Power Draw
The power draw is not too bad. Based on the readings from our Progressive EMS, it uses about 3 amps. We've never had any problems with it tripping breakers or drawing too much power.
Conclusion
Our overall rating of this dehumidifier is 5 out of 5 stars. I would buy this same unit again. It does its job and is quiet. I'm ok with the cost of this unit because it prevents condensation and mildew problems in our RV and is on par with the price of similar models.

Price Disclaimer