June 24 – 28, 2015
Ok, so let's start with how we got to Fort Bragg! Route 1 from San Francisco! If that is not insanity, I don't know what is. Nate was dead set on driving the coast of California due to the popularity of it. When did Nate get into doing what is popular? I have no clue, but he didn't want to miss this gorgeous drive. This is a very windy, scary drive without a 5th wheel. But, when Nate puts his mind to something he does beautifully! See a timelapse of the drive on YouTube.
When we got to our quick stop off at Point Reyes, the people at the desk asked Nate where he had come from. He told them route 1. They asked him if he had been going south bound. His response was in the negative…north bound. Their response was eyes wide and "How was that drive?" knowing full well what kind of drive it was without a 5th wheel let alone with a 35 footer. We continued up the 1 for the remainder of the trip to Fort Bragg without as many twists and turns. Thank goodness!
Fort Bragg is a little town right on the coast of California. We parked at a little, and I do mean little, RV lot called Sportsmans RV Park. When looking at it, it is not a sight to behold, but as the people came out to welcome us, that is when all things changed. It reminded me of my home in Oceanside, a little house in a cul de sac full of wonderful people. The host, Kim came out and welcomed us and chatted a bit while we were pulling in and setting up. There was another resident named Mike, who came out and greeted us with big smiles and a warm welcome. The best part of this stop was a great little family next to us: a 10 year-old boy, a 9 year-old girl, and a 4 year-old boy. Our kids made fast friends busily playing in the dirt parking lot while Nate and I set up the 5th wheel.
The following day, Thursday, we decided to take a short trip to Glass Beach after school was done. This beach was a dump in the 1950s or 60s. They dumped the trash into the ocean and then set fire to it when it got too high. After they got smart and shut the dumping down, most of the trash washed away or rusted. All that's left now is beach glass. It is really pretty to see a beach clear full of sea glass and to be able to pick it up and actually take some also.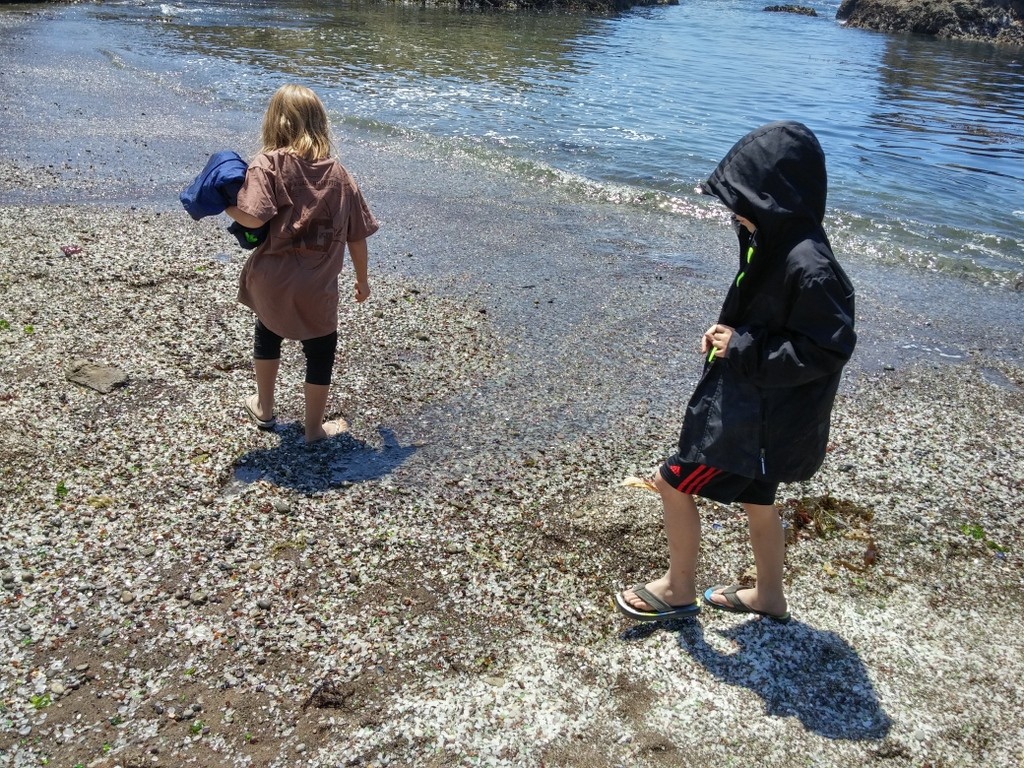 We came back and let the kids play. We were so grateful to finally have some other kids nearby that that became the priority over seeing things and touring around.
Friday we decided to do school quickly again and take Ali out for a surprise, just her and me. Nate had, luckily, found a salon that did ear piercing. I was able to surprise her. It was great. She was so excited to be so grown up. She did beautifully.
Later, we went to the local park and had a blast playing on the playground. That evening, we took Ali out for dinner for her birthday. She had asked to go to Denny's a few stops back and we informed her that we weren't sure we would have one available when we got to our stop near her birthday time. Fort Bragg has a Denny's! She got to go to the place she requested and got her ears pierced in a tiny town! What a blessing for her.
All during our stay at Fort Bragg Nate was crabbing at night and sometimes during the day. In the rv park, it being right in a cove, they had a dock area where anyone could bbq or picnic. It was a great common space where many of the rv park residents got together and talked. Nate used the nets provided to attempt to get come crab. Unfortunately, this thing he put his mind to didn't work out. He got a bunch of little rock crabs, but nothing worth eating.
Saturday was a big day for our Ali lady. We celebrated her birthday a day early since we were going to be traveling on Sunday, her actual birthday. We invited our new found friends to a local indoor recreation center. It had a slide, a splash area, and a small lazy river. We spend the 3 hours there and they enjoyed every last second. With our fingers pruny and everybody exhausted, we decided to head home. We had dinner, Papa Murphy's Take n' Bake, and sang to Ali over a pan full of brownies.
A group of us from the RV park were able to have a doTERRA class right on that wonderful dock. I was able to help 2 people with starting their oil journey. I am super excited to work with these wonderful ladies on their health and wellness.
Sunday morning we got packed up and left our humble group of new found friends and continued on our journey towards Lassen Volcanic Park.