So we've been doing this full-timing thing for just over two months now. Is it everything we expected? In some ways. We have lived in 19 different RV parks, visited 4 national parks, fished and swam at 11 beaches, lakes, streams, and reservoirs, and driven 3,600 miles. Our pace of traveling has definitely not been too slow! If anything, we are thinking of slowing it down a little so we have more time to catch up on work and school. Are we ready to throw in the towel and go back to a more "normal" lifestyle? Definitely not! Full-timing has its ups and downs, but we are really loving this lifestyle. We are still adapting and learning and working out the best ways to do things. Here are some of the most important or unexpected things we've learned over the last two months.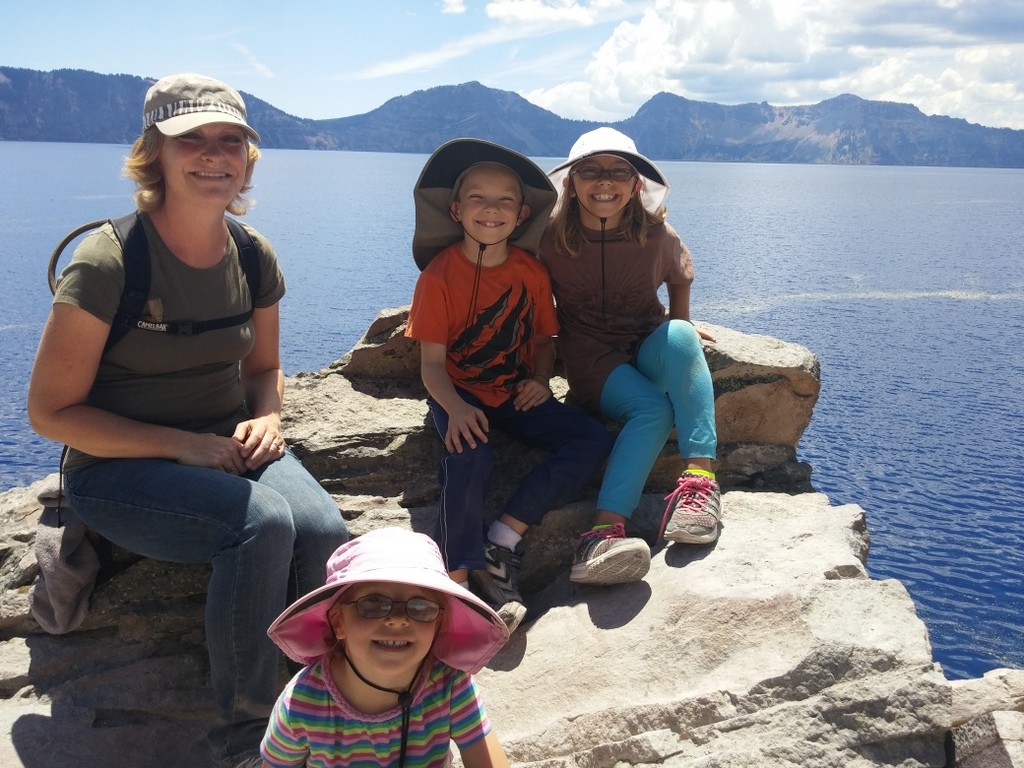 Expenses
Fuel & Food. Before we started this trip, we made a budget based on what we thought our expenses would be. Those assumptions have turned out to be mostly wrong so far. For example, we thought we would spend roughly $1000/month for fuel. Luckily, diesel prices have gone down a lot, so we've averaged $430/month. Food, on the other hand, has turned out to be more expensive than we planned. Many of the destinations we've visited have been resort towns without many grocery store options, so we've had to pay more for basics like eggs, bread, milk, and produce. We try not to eat out much to help save on food expenses, but even with that, we have averaged $100/month more than we had originally planned.
Recreation. We also didn't plan very much in our budget for recreational activities since we prefer to visit free places like beaches and national parks (we have an annual pass). But there have been some things we just couldn't pass up, like the Computer History Museum, Monterey Bay Aquarium, and Santa Cruz Beach Boardwalk. So we spent $200-$300 per month on those types of activities.
Campsite Fees. Campsite fees have been higher than we planned at many of the places we've stayed ($35-$50 per night), but then again, these two months were spent in California and at tourist destinations. Our average for both months has been around $25 per night, thanks to finding very cheap sites at a couple locations and dry camping at national parks. In the future, we'll try to spend more nights dry camping or boon-docking to get our nightly average down more. But it's still a LOT cheaper than paying rent or a mortgage. Plus we don't have to pay for water, sewer, garbage, or electricity.
Propane. We have gone through less propane than we thought we would. It took six weeks to go through a 7 gallon propane tank which cost about $25 to refill.
Laundry. This is the biggest single unexpected expense we have. We didn't even think to budget it in. We have seen laundry prices vary from $1.00/load up to $3.50/load to wash, then another $.75 to $2.00 to dry. This turns into anywhere from $8 to $30 every week when we do laundry. That adds up fast!
Our truck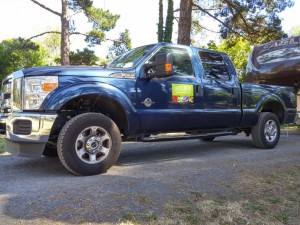 We are so glad we decided to get a diesel. Our 2014 Ford F-250 has been a champ and we've never been in a situation where we didn't have enough power. It pulls the fifth wheel up the hills with ease and the exhaust brake has done an excellent job at keeping our speed in check on long down grades. Diesel fuel is almost always cheaper than gasoline, so that's an additional bonus. We have averaged 12.3 MPG over the last 3,600 miles. That's with pulling a 11,000+ lbs 5th wheel for most of those miles and lots of elevation changes between sea level and nearly 10,000 feet (Tioga Pass, Yosemite National Park). We haven't had to get the oil changed yet, but we did get new front brake pads after they started making squealing noises.
The big lesson learned though is this: You can't get too big of a truck. While our F-250 has plenty of power and pulls just fine, we would go for a F-350 next time. They both have the same 6.7L Turbo Diesel engine, but the F-350 has a higher payload capacity and stiffer suspension. We are pretty close to our truck's GVWR of 10,000 lbs with the 5th wheel hooked up and all passengers loaded, so we don't have any extra weight allowance to carry extra stuff in the bed of the truck, like the generator or firewood. And we think long and hard before adding anything extra to the 5th wheel because of the additional weight. As soon as the warranty is up, I'll add air bags to the truck to help level it out more, but next time I would go with the F-350 for any 5th wheel over 10,000 lbs. There's a pretty good explanation of the GVWR, GCWR, and what your truck can safely haul at Trailer Life. Just don't blindly follow what the dealer or owner's manual say you can pull. The engine might be capable of pulling that much, but the truck doesn't have that much payload capacity, especially when you add passengers, extra cargo, and the weight of the hitch.
Oh, and one last thing about the truck. Things blow out the back! We have lost a few items along the way that I didn't think would blow out, but they did. These include a rolled up heavy outdoor door mat, a Camco Leveling Blocks
bag with one leveling block inside, and a toddler swimming floatie.
Our RV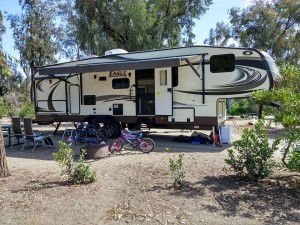 Our Jayco Eagle 31.5 BHTS has made a great full-timing home. We don't have any regrets about getting it as it has met our needs. It is actually 35 feet long, which has been a good size that is large enough for our family, but small enough that it still fits in most parks. I would not buy a fifth wheel longer than this. We have encountered many parks that had a limit of 35 feet, especially state and national parks. We have also encountered quite a few that had a limit below 30 feet, but we wouldn't fit in a 5th wheel that small anyway.
At first, hitching/unhitching and getting it set up was a daunting task with a lot of steps and would take at least 30-60 minutes each time we arrived at a new destination. Just getting it level would take a lot of effort and guesswork. After a few moves, we have it down to a routine and it only takes 15-20 minutes, including backing in, leveling, slideouts, and hookups. I found these leveling bubbles on Amazon and after sticking them to the front left corner of the trailer, leveling it is quick and easy.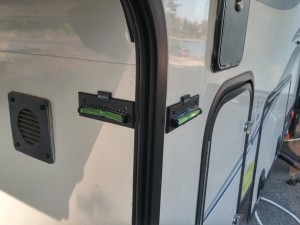 We like that it is a bunkhouse model. It is set up with three beds in the bunk room, with the fourth bed being a dinette style table. We like this setup as the kids have somewhere to do schoolwork. The storage space, which we thought might be too small, has turned out to be more than adequate. Especially as we've found we don't use most of the stuff we brought along and continue to dump things off at Goodwill.
Outdoor kitchen. We don't use the outdoor kitchen as a kitchen at all. I'm thinking of pulling out the sliding countertops and just leaving the space for storage. We already used Craigslist to sell the tiny refrigerator that came with it and turned that space into a litter box area. That's been wonderful not to have the litterbox in the shower like most full-timers with cats.
Carpet Guard. When we bought the 5th wheel, the dealership convinced us to pay for the Paint Guard and Carpet Guard protection. This was expensive, but it sounded like it was worth it. They came and sprayed the carpet with something and guaranteed it will be free from stains for 5 years. I definitely would not purchase this again. I now realize the carpet will be worn out long before the 5 years is up and I'll have to replace it anyway. Not only that, but the cost to replace the carpet is probably not much more than what we paid for the carpet protection (there isn't really that much carpet inside). Next time around, I'll just buy a $15 can of Scotch Guard and use that on the carpet instead.
Tires. We've already gone through 2 of the 4 tires (and with less than 3600 miles on the trailer!). Even though it came with Power King Towmax tires, which are supposed to be decent trailer tires, they were only the "D" rated tires at 8-ply. Both tires failed with the same problem 2 days apart. Both times we were blessed and noticed the problem during a rest stop before the tire blew. Both tires had a 1-2 inch bubble sticking out the shoulder of the tire. And both times, there was a Les Schwab just down the street. We replaced both tires with Towmax again, but this time with the "E" rated 10-ply tires, which also have a 300 lbs greater max load and run at 80 PSI instead of 65 PSI. I'm still wondering if I made the right call on replacing them with Towmax again. If you have any thoughts on the best tire to use for a large 5th wheel, please leave a comment below.
Payload. This is something to look out for if you are buying a 5th wheel. We didn't pay as much attention as we should have to the trailer's payload capacity. This one is a little low, at only 1460 lbs, not including the water tank. With a full water tank (75 gallons, or about 600 lbs), our payload capacity is reduced to 860 lbs. That's not a lot when you are full-timing. Especially when you are carrying school books for home schooling the youngsters. This is something we will pay more attention to next time. So far, we are getting along fine as we are finding we don't need as much stuff as we thought, but we don't feel like we can ever travel any distance with a full tank of water, so boondocking for very long is not an option.
Cell Phone & Internet
Don't Trust T-Mobile's Coverage Map. We have used T-Mobile for about a year and are currently on their unlimited 4G LTE plan. It's wonderful and very fast…when it works. T-Mobile has had great coverage whenever we are on an interstate highway or in a large city. But outside of those areas, coverage has been pretty poor. Even in places where their coverage map shows "verified" 4G LTE coverage, we often have not been able to even make phone calls, let alone get LTE. For example, in Olema, CA, where the coverage map shows that we should easily get 4G LTE, we didn't even have 2G. We even drove around the area and tried unsuccessfully to get a signal.
Don't rely on campground Wi-Fi. Most RV parks we've stayed in have advertised free fast Wi-Fi. What a joke. Most of them have had Wi-Fi, but only 2 of the places we've stayed had usable Wi-Fi. The rest of the places we stayed we were lucky to be able to connect to the Wi-Fi at all and even luckier to be able to read our email.
Straight Talk. Since our income depends on reliable Internet, we have come up with a workable solution. We got a Straight Talk Mobile Hotspot from WalMart for about $80, which works on Verizon's 4G LTE network, and we buy pre-paid data for it for about $10 per gigabyte. Verizon's network has had 4G LTE coverage at most of the places we've been, so that has worked out well and it is less expensive than getting a hotspot directly from Verizon–and there's no 2-year contract or activation fee. We only use this hotspot when absolutely necessary, never stream video on it, and use T-Mobile unlimited data when we do happen to get a T-Mobile tower.
Our Stuff
We brought too much. We knew we had a small payload capacity on our 5th wheel, so before we began our journey we went with what we thought was the bare minimum. Each of the three kids got one small box of toys, plus their school books and enough clothes for 2 weeks. Angie and I each brought about 2 weeks worth of clothes, plus a few miscellaneous items. We brought several pans, cooking utensils, and kitchen items. We brought quite a bit of food in the form of canned goods, bulk rice and beans, spices, and other kitchen essentials. We also brought a bag of tools, a socket set, and other miscellaneous household items. After 2 weeks, we decided to eliminate a lot of the kitchen items, some of the toys, some of the clothes, and about half of the tools.
Now, after 2 months on the road, we have eliminated even more stuff that we thought was essential but we just haven't used. We got rid of a lot of tupperware and containers, a few pans, more clothes, and more toys. We've found that the kids don't play with that many toys now because they spend so much time outside riding bikes or scooters.
Some of the items we weren't sure about taking at first, but have decided are essential and are keeping include:
Cast iron frying pan
12 inch dutch oven
Blendtec blender
KitchenAid mixer
Kindles
Bikes
Scooters
Kindles. By far one of the best purchases we have made was our Amazon Kindle Paperwhites. The kids do 99% of their reading on these wonderful devices and they are very avid readers. All three kids devour books and it has been a great way for them to spend down time while traveling or when they aren't outside riding bikes. We signed up for the Kindle Freetime Unlimited program which we wholeheartedly endorse. Each child gets an account on the Kindles and they have access to thousands of age appropriate books for a monthly subscription fee of $6.99 per month for up to 4 kids. This has worked especially well for the 2 older kids who are reading chapter books. The selection of beginning reader books is not as good, but there are some. While the Kindle Freetime program also works well on the Kindle Fire, we like just using the Kindle Paperwhites for reading books. The Kindle Fire is better for playing games and watching videos, although it can also be used to read books.
Other Things We've Learned
Time. Finding time to do school with the kids and to keep up on our work activities online has been a more difficult challenge than we anticipated. Most of our time has been spent either traveling or enjoying the sights at each destination. We've learned that we need at least one full day at each place we visit, plus a travel day to get there and get set up, then another travel day to get packed up and leave for the next stop. With the overhead of a traveling, we're finding it is better to try and stay for a minimum of 3-4 nights at each location. That gives us a day or two to visit the area, plus a day or two of downtime to do school and work.
RV Parks. In general, these have been both better and safer than we expected. And also more expensive. We have met a lot of friendly people, the kids have easily made friends at most places, and we have felt safe at each one. We don't go for the resort-type parks, which are usually much more expensive, but usually stick with the lowest price places we can find that have hookups. We have stayed at state parks several times, but mostly at private parks. Even with looking only for the less expensive parks, we are averaging $30-$40 per night at most places (but our monthly average is $25/night). We have the Good Sam membership and have received 10% off for that at a lot of the parks. We are also planning to get a Passport America membership since we are starting to get into an area with more Passport America parks. We generally try to book a site ahead of time and use rvparky.com and www.rvparkreviews.com to find RV parks.
Jr. Ranger Programs. Each national park and most of the state parks we've visited have something called the Jr. Ranger Program. The kids have loved doing these, which usually include filling out a workbook during the park visit. They receive a badge or patch after they complete the requirements. This has been a great way to do science and history during our visits to national and state parks.
Traveling. We've learned we can reasonably drive about 200 or so miles in a day and stay sane. It usually works out to about 3-4 hours of driving time, in addition to stopping for potty breaks and food. We try to pack up and leave by about 10am on a traveling day so the kids can have a snack as we drive for a couple hours. Then we'll pull over somewhere to make lunch in the trailer and continue on until we reach the destination. This gives us wiggle room for unexpected happenings along the way, such as replacing a tire (has happened twice so far), or stopping at a place we see and want to visit along the way.
Mattress. Jayco makes their own line of mattresses and touts them as being top of the line and very comfortable. After sleeping on one for a couple weeks, we quickly learned the mattress was not going to work. Rather than buy a new mattress, we tried adding a foam mattress topper (the kind that looks like egg shells) from WalMart and it didn't do much to help. Then we found a mattress topper on Amazon that had great reviews, the Exceptional Sheets Bamboo Mattress Topper. It was expensive, but much cheaper than a new mattress. After our first night, we knew it was worth the price. The Jayco mattress is now bearable and even comfortable. No more sleepless nights or waking up stiff in the morning.
As we continue our travels, we'll continue to learn and get better at this lifestyle as we go. Feel free to leave comments if you have any suggestions on full-timing with kids or any other suggestions for RV traveling. Or if this post helped you discover something new, let us know by telling us below! Thanks.
Products we recommend from Amazon:
Camco Heavy Duty Leveling Blocks | Ideal For Leveling Single Wheels, Double Wheels, Hydraulic Jacks, Tongue Jacks, and More | Yellow | 10-pack (44505)
Price: $43.61

(0 customer reviews)
84 used & new available from $43.61
Hopkins Towing Solutions 08525 Graduated Level, Regular
Price: $13.22

(0 customer reviews)
66 used & new available from $11.03
ExceptionalSheets Bamboo Mattress Pad - Extra Plush Rayon from Bamboo Cooling Topper for Restful Sleep - Thick Pillowtop Mattress Pad Cover with Fitted Skirt - Queen
Price: $89.99

(0 customer reviews)
2 used & new available from $89.99