So Texas is a big state. Really big. Like 773 miles wide and 790 miles long.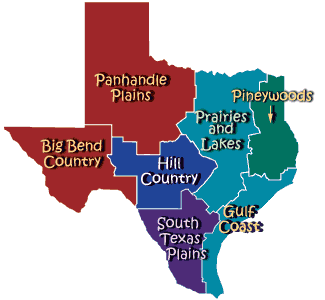 It also has a lot of variety. So much that the Texas Parks and Wildlife Department divides it into 7 regions, each with unique geographical characteristics. We've managed to hit 5 of the seven regions over the last six weeks. We've also discovered that Texas has some pretty awesome state parks, perfect places to camp without being too crowded.
Big Bend Country
Our first stop in Texas was El Paso back at the end of March. After staying there for a week, we took a detour through southern New Mexico, then re-entered Texas to visit the Guadalupe Mountains National Park.
Guadalupe Mountains was a quick overnight stop, but we did manage to get some decent hiking done, visiting the ruins of an old stage-coach stop and checking out the local vegetation. The kids also worked hard and earned their Guadalupe Mountains Jr Ranger badge.
I took off in the late afternoon to conquer Guadalupe Peak, the highest point in Texas. I started out thinking I would jog most of the 8.5 mile round trip hike, but that idea quickly disappeared after a few minutes of sucking breath as I went up the steep trail. I got to the summit just as the sun was setting and what a great view out over the gentle hills of West Texas.
Good thing I brought a headlamp. It got pretty dark going back down and I didn't get back to the campsite until after 9pm.
Our main impression of the Big Bend Country and West Texas was oil. There were oil pumps and oil trucks all over the place. This area is definitely a desert, not much green vegetation.
The Hill Country
One of our favorite places to stay was at Lake Pointe Resort in Canyon Lake, TX. This is right in the Texas Hill Country, with green oak covered hills and wildflowers blooming everywhere, with the green Guadalupe River running through. There were literally deer everywhere. I think we counted over 30 walking by our campsite one afternoon.
There just happened to be a Willie Nelson concert a few minutes down the road from Canyon Lake, so I snatched the last ticket online and went stag. (Angie's not a fan).
We took the kids fishing in a catfish pond one morning. This was a stocked pond and a great chance for the kids to actually catch a fish. The way it worked was it was free to fish, but then we had to pay for each fish caught–by the pound. Lucky us (ouch on the wallet), I think Ali and Abby caught the two biggest fish there at 8.5 pounds and 6.6 pounds. Nathan's was a decent size at 2.5 pounds.
South Texas Plains
Our next stop was San Antonio, home of the Alamo, a bunch of other old Spanish missions, and the 7th largest city in the U.S.
We enjoyed visiting downtown, including the Alamo and the River Walk. We also visited the San Antonio Missions National Historic Park. This was a great place to learn about the history of Texas and the unique culture influenced by the Spanish, Native Americans, Germans (yes, Germans), and American settlers.
Gulf Coast
The Texas Gulf Coast has to be one of our favorite places of all time. The water isn't the deep blue we're used to from the Pacific Coast (it's kind of brown and murky from the currents churning up sand and algae), but it is nice and warm compared to the Pacific and a pleasure to play in.
Padre Island
Our first stop on the coast was at Padre Island National Seashore. The beach there is 60 miles long and you can drive up and down right along the water. Camping is free (after paying the small admission fee to the park) anywhere along the beach. We drove a couple miles down the sandy shore and found a nice quiet spot all by ourselves, just a few yards from the high tide mark.
The weather was perfect during the three days we stayed on the beach. It was around 88° F during the day and 70-75°F at night.
It was fun to walk along the beach at night and watch all the ghost crabs run away.
Galveston Island
We had so much fun on the beach at Padre Island, we decided to try it again at Galveston Island State Park. This time we were just over the dunes from the beach, but we had electric and water hookups so it was a good tradeoff.
My favorite part of this stop was the fishing. No fishing license is required at Texas state parks, so I spent some time standing out in the surf with my fishing rod. This was a whole new fishing experience, standing in the waves and getting battered while trying to reel whatever decided to take my bait. I caught quite a few hard head catfish (most people say they are junk, but I thought they were quite tasty on the grill), a couple mullets, and two small croaker.
One afternoon we took the free ferry ride from Galveston over to Bolivar just for fun.
Space Center Houston
While staying at Galveston, we just had to go to Space Center Houston. This is where NASA's mission control and astronaut training facility is located. We got to tour the actual NASA space center, walk through the 747 space shuttle transporter, and meet with a real astronaut.
Pineywoods
Our most recent stop on our trip through Texas was the Pineywoods region. This area north of Houston is known for green pine tree forests, wet bottomlands, and alligators. We stayed at the Huntsville State Park, next to a gator filled lake. We'll share more about our adventures here in our next update.