May 28-June 1, 2015
Sequoia National Park was a great stop for us. Our first national park stop, at least since we officially started our trip. Let's start with the camp site! Nate chose an awesome camp site called Sequoia Ranch RV Park in Three Rivers, CA. Nate hand-picked a spot right next to the little river that runs through there. We sacrificed a sewer hook up to have this spot…well worth it!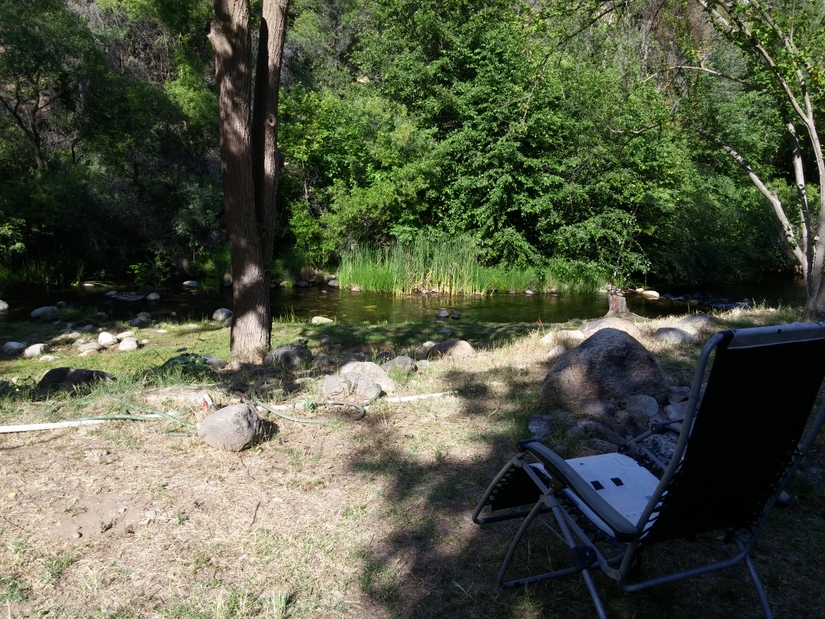 The camp site let us swim in the river and they even had a swimming hole where the kids could jump in off a rock into a small but deeper area. We found many tadpoles there and heard the adult bull frogs around the swimming hole as well. Nate even discovered a spawn of their eggs nestled along the edge of the river. Need I say more! Road-school opportunity in the making! We decided to discuss the life cycle of the frog. We read about it in the one small set of encyclopedias we brought since we had no Internet. We drew pictures and went back to the swimming hole and tried to figure out how old the tadpoles were. There was another group of kids there the first day and they had caught 2 of the big bull frogs and let us see them. Super fun for the kids!
I was so proud of all three of my littles this stop. Ali decided to really help Nathan with his swimming. He has had about 4 rounds of swimming lessons, but he completely freaked out the first time in the swimming hole. She calmly helped him remember what he had learned. He swam all the way across the pond 4 times! I could tell by his countenance after that he was truly standing a little taller after accomplishing that. Little Red swam around happily and unafraid with her little swimmer helper.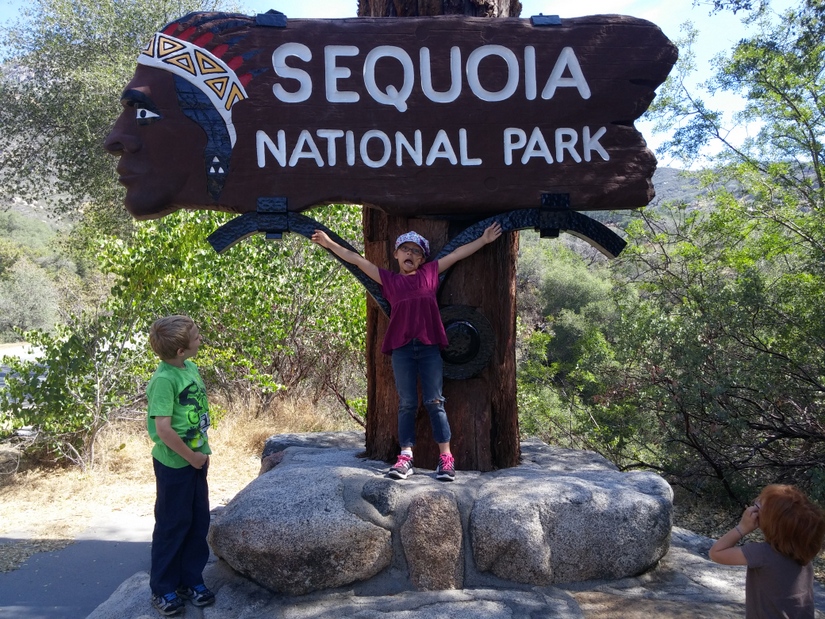 On to the national park…it starts with a LONG, WINDY road up the mountain. My stomach was mad at me. We started at the ranger station to ask about the Junior Ranger Program. The ranger helped us map our day's journey to get the most out of our stay there. We started at Moro Rock. It is so high that you can see such a beautiful view from the top. But, I wouldn't know since I stopped half way up and couldn't continue. Heights and I don't get along at all. I got enough great pictures from half way up. As afraid as I was, it was kind of cool to see all that we were about to see from above.
The day led to many hikes through meadows, gargantuan trees, lady bug swarms, and beauty. The first hike was Crescent Meadow. We spotted a deer family quite quickly. A bit later, a black bear about 15 feet away from us lounging in the brush just off the path. We finally arrived at Tharp's Log. [Insert Pic of Tharp's Log] A man named Hale Tharp used a hollowed out sequoia as his home. The walking continued until we got to Chimney Tree. It was a sequoia that had been hollowed out by fire. On our return, we had another bear sighting in the meadow we were passing along with a swarm of lady bugs. It was fun to have these harmless critters all over us. After lunch, we headed to the great General Sherman. It is the largest tree, by volume, in the world! This tree's circumference is 103 feet, a diameter of 36.5 feet, and it is 2,200 years old. So they have a great sign there that gives us some perspective. Looking up at this tree as a 6 foot tall man is like a mouse looking up at the same 6 foot tall man. Needless to say, it is huge!
Sequoia National Park is a beauty to say the least. However, I imagine as we travel the country viewing other sites that I will say the same.