A Story of Alligators, Ants, Biting Flies, Chiggers, Cockroaches, Mosquitoes, Snakes, and Tarantulas.
OK, Texas, it's time to go. But that doesn't mean we didn't have fun, in spite of all the mosquitoes, chiggers, snakes, and cockroaches. Not to mention the alligators and tarantulas. Oh, and let's not forget about the ants. And the wasps, which built 4 different nests on our 5th wheel in a week. And the flies. They look like normal houseflies, but they bite.
Chiggers
For those who don't know what a chigger is (also known as a "no see um"), they are tiny spider-like bugs that you can just barely see with the naked eye. They like to bite you on the ankles and thighs. The bites are similar to a mosquito bite and very itchy. But unlike a mosquito bite, the itch doesn't go away in a day or two. Chigger bites itch for weeks. We're still scratching bites we picked up near Dallas 4 weeks ago.
Cockroaches
Now about the cockroaches. We picked up a few of these nasty things somewhere in Texas a couple months ago. It started out by us noticing one crawling on the floor one night. Then a couple days later we saw another one. Then another the day after that.
Then a few days went by, then another one crawling on the counter top. Before long, we started seeing little itty-bitty babies, 3 or 4 each night. We finally got rid of them (we think) last week after putting out some poison traps and poison gel.
Wasps
Now the wasps in Texas are pretty cool. They built 4 different mud nests under our 5th wheel inside of a week. The cool part is, when we broke the mud nests open, they were full of live, paralyzed spiders. These wasps apparently go capture and sting the spiders, then pack them in the mud nest and lay eggs inside. Then the baby wasps hatch and start eating them alive.
Yes, there are a lot of critters in Texas. In addition to those already mentioned, we also saw lizards, rabbits, foxes, raccoons, opossums, deer, and coyotes.
Huntsville State Park
This has to be one of our favorite campgrounds of all time. It's hidden deep in the woods near a big lake, but it's only 15 minutes to Huntsville, with Walmart, Home Depot, and other stores we use frequently. Best of all, our T-Mobile service worked great!
The only downside to this park is there are gators in the lake, so swimming is only allowed in one small area. We enjoyed taking the kids out in a canoe for half a day and we did plenty of fishing. Angie caught the largest, a nice 2-lb catfish.
We enjoyed hanging out with Chester and Rachael and their kids, whom we had met in Galveston. The kids all made a big fort from dead branches they dragged in from around the campground.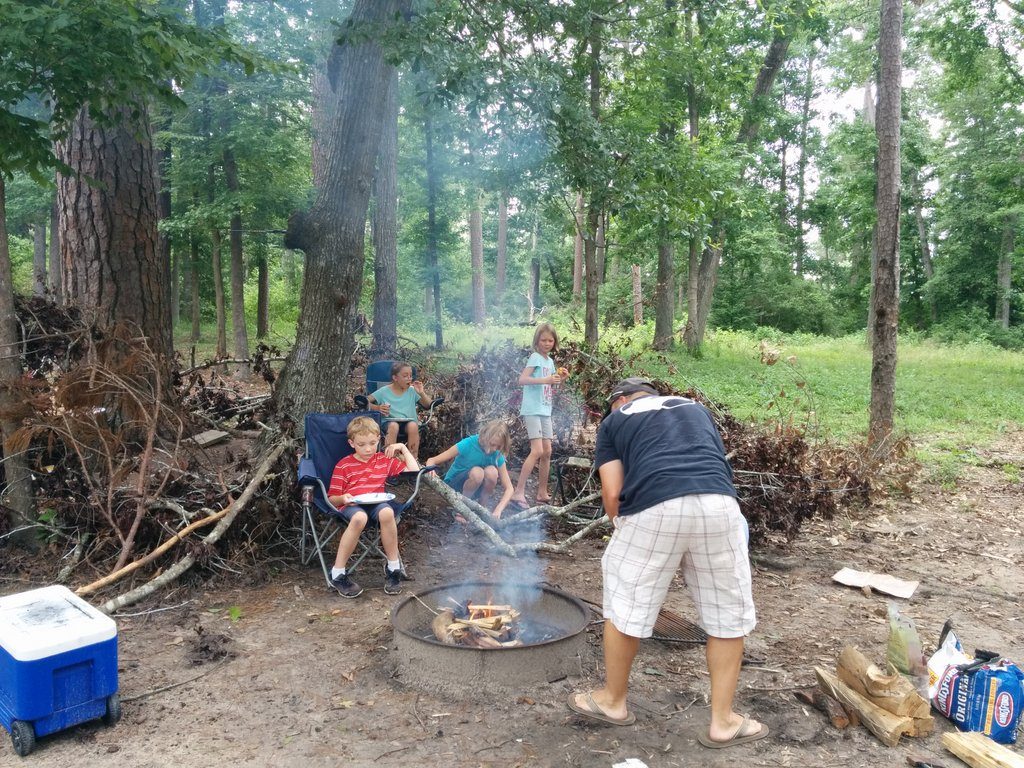 Tire Problem
This is where we noticed a problem with our tires. They were less than a year old, but two of them were starting to bulge out in the middle. They were obviously close to failing, so we ended up ordering new tires and getting them put on at Discount Tire. We've had so many problems with the TowMax brand, we went with Maxxis at the recommendation of many fellow RVers on Facebook. They definitely seem to be higher quality so far.
Dallas
After a couple weeks in Huntsville, our next stop was Dallas. We stayed at the Cedar Hill State Park. This campground was a little run down, but the price was right. This is where we learned all about chiggers and are still scratching the bites we got there.
We did a lot of fishing on the Joe Pool lake, mostly catching catfish.
Bureau of Engraving and Printing
While in the area we visited the Bureau of Engraving and Printing in Fort Worth. This is one of two places (the other being in Washington, D.C.) where U.S. paper currency is printed. This was a really great tour for the whole family. We learned all about how paper money is made and got to see it all happening live on the printing floor. We saw stacks of money totaling billions of dollars. It was very educational and fun for everyone. We highly recommend it to anyone in the Fort Worth area. Unfortunately, no cameras are allowed inside so we don't have any pictures to share.
Amarillo by morning
Amarillo had all kinds of things for a family to do. It is also very hot, so we stayed inside most of the time when we weren't out exploring.
The second largest canyon in the U.S. is located just south of Amarillo. Palo Duro Canyon is known as the Grand Canyon of Texas. The nice thing about it compared with the real Grand Canyon is you can drive down in it to explore and hike.

We also visited two great musuems: Don Harrington Discovery Center and Panhandle-Plains Historical Museum.
The Discovery Center was perfect for kids to explore through hands-on learning. It took us several hours to go through all the exhibits as we learned about nanotechnology, physics, sound, and more.
The Panhandle-Plains Historical Museum is Texas' largest history museum. We spent most of a day going through exhibits from dinosaurs to oil production. It had a lot of variety to keep things interesting enough the kids didn't get bored. This is one of the best museums we've been to.
No stop in Amarillo would be complete without eating at the Big Texan and visiting the Cadillac Ranch. These icons of Amarillo are widely known in pop culture. The Big Texan is famous for the 72-oz steak, which is free if you can eat the whole thing in an hour. We didn't go for the challenge, but enjoyed smaller meals instead.
The Cadillac Ranch is a sculpture made of 10 classic Cadillacs buried nose first in a field. The public is welcome to stop by and add their own touch to the sculpture by spray painting graffiti on them. We went the day after heavy rains, so the field was really muddy and we didn't get as close to the cars as we would have liked.
That's it for Texas. We'll probably come back again sometime in the next year. Now, on to explore other places as we head north to Denver.