Fact #1: Did you know petrified wood is harder than steel? It is harder than almost every mineral and gemstone except diamond, ruby, sapphire, and topaz.
Fact #2: Did you know petrified wood is really not that rare? It can be found in all 50 states and almost every country on earth.
Those are just a couple of the many cool facts we learned from our visit to the Petrified Forest National Park.
Even though petrified wood is found all over the globe, Petrified Forest NP contains the largest concentration of it anywhere in the world.
---
Mutton sandwiches and Navajo tacos
But before I say any more about the park, I have to talk about this little place we ate at in Shiprock, NM as we were driving from Mesa Verde National Park to Petrified Forest National Park. We found out about this place from that guy who told us about the Anasazi beans.
It's just a little tiny restaurant, almost more like something you would see at a carnival or flea market. But they serve the best Navajo tacos anywhere. Everything is made from scratch and delicious. They also have Navajo burgers and mutton sandwiches on fry bread. The mutton sandwiches on fry bread were super good.
---
Petrified Forest National Park
Now back to our visit at Petrified Forest.
As we were hiking through one of the most concentrated petrified wood areas called "Crystal Forest", Nathan asked us where the forest was. The petrified "forests" don't look much like forests anymore. The petrified trees are all lying down and don't have branches or roots. It look more like logs and cord-wood scattered about the area.
Since we've been learning about fossils and geology over the last few weeks, it was interesting to find out that the petrified wood and dinosaur fossils we were looking at is 225 million years old! That's about 160 million years before T-Rex and Triceratops were walking around!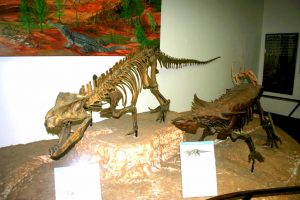 The fossils we were looking at when we visited Dinosaur National Monument were all from the Jurrasic Period, which was about 150 million years ago.
---
Painted Desert
Dinosaurs fossils and petrified wood are not the only things to see in Petrified Forest NP.
The northern half of the park is devoted to the Painted Desert, a beautiful and colorful landscape of dips and hills. It really does look like someone decided to paint it.
As we were visiting the Painted Desert, we met an old Navajo woman and her grandson who were selling hand-made wool rugs and wall hangings. We enjoyed learning about how they raise and sheer the sheep, dye the wool with local plants, spin it by hand, and weave the rugs. They do the entire process from start to finish and make the most beautiful woven wall hangings.
We also found out the old woman's deceased husband was a U.S. Marine who served as a code talker during World War II. When she married him after the war, she didn't even know he had been in the Marine Corps because it was still classified and he wasn't allowed to tell her. She found out about it several years after they got married. He later received a Silver Star Medal, the third highest combat decoration in the United States, many years after the war.
Route 66
Another interesting thing about Petrified Forest NP is it is the only national park with Route 66 passing through it. The old road is mostly gone, covered by dirt and brush now, but you can still see the old telephone poles that ran along it. There's an old car marking the location where Route 66 ran through the park.
We also happened to stay at the Sun Valley RV Park, literally right on the original Route 66.
Petroglyphs and Pueblo Village
The park also protects the ruins of an ancient Ancestral Puebloan village (Puerco Pueblo) and hundreds of petroglyphs. One of the most famous is Newspaper Rock, where hundreds of petroglyphs cover a series of large rocks. Check out pics of some of them on the NPS site.
Another neat site is the Solar Marker, a petroglyph marking the spot where the sun's rays hit during the summer solstice.
---
Meteor Crater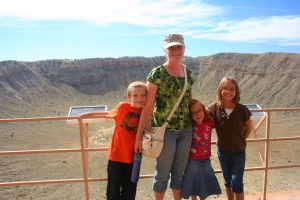 Meteor Crater is a really cool place to visit if you're ever traveling on I-40 through Arizona (but beware, it's kind of pricey to get in).
It's a gigantic crater created from a meteorite impact around 50,000 years ago. The crater is nearly 1 mile across and 550 feet deep, caused by a meteor that was as big as half a football field!
As the best preserved meteor crater on earth, Meteor Crater was also the first to be identified and proven to be caused by a meteor. Prior to this discovery in 1960 by Eugene M. Shoemaker (yep, the same guy who discovered the Shoemaker-Levy comet), people generally thought craters were only caused by volcanoes.
There's plenty of parking for RVs, along with an RV campground near the crater. There's also a gift shop with a Subway restaurant, a museum, and a 20 minute film about the crater.
We all thought this was a great place to visit. One of those unique stops that are so fun to find along the way. And if you've never touched anything from space, this is your chance. They have the largest chunk found from the meteorite.