June 28 – July 2, 2015
This was a busy few days. After leaving Fort Bragg, CA, we drove for a couple hours through the mountains and pine forests to reach Clear Lake, California. It is the largest natural lake completely inside California. (We're running into a lot of these "largest" or "biggest" such and such. We're keeping track of all these superlative places here). We stayed overnight, then continued on to Lassen Volcanic National Park.
We got an early start in the morning because the weather forecast was predicting 113°F and we didn't want to travel through that heat with the cats in the 5th wheel. Well, we decided to make a quick stop to stock up on groceries and I noticed one of our trailer tires bubbling out the sidewall. Dang! At least we caught it before it blew on the I-5! Luckily, there was a Les Schwab Tire store literally less than a half mile away and we were able to get the tire replaced quickly and continue to Lassen. We definitely feel blessed that we caught this tire at such a convenient location.
After we got to Lassen, we set up at the Manzanita Lake campground inside the national park. As with most national parks we've stayed at, there were no hookups, so we were on battery power and relying on the water in our fresh water tank. I decided to get the generator out and run it a little on the second day since we hadn't used it at all since starting the trip. It started right up and so we used the microwave to pop a bag of popcorn while the batteries recharged. The kids got their scooters and bikes out and enjoyed riding around the campground with other kids nearby.
Lassen Volcanic National Park is centered around Lassen Peak, a volcano that erupted 100 years ago in 1915. It stands out above the park and still had a little snow when we visited.
We spent the second day exploring the park, driving from the north end down to the south end. The drive through the park was magnificent. I was amazed at how green it all was, looking like some kind of enchanted valley. Along the drive, we stopped at various places to see boiling mud pots, steaming fumaroles, clear lakes, and scenic overlooks. The highlight of the day was a three mile hike to Bumpass Hell, an area covered with mud pots, steam, and boiling hot springs. Abby was a trooper and did pretty well on this difficult hike. When she got too tired, she rode on my shoulders. And of course, we saw Big Boiler, the "Hottest Fumarole in the World" at Bumpass Hell. It shoots out steam at 322°F.
The kids all worked on their Junior Ranger workbooks throughout the day as we drove, so they all earned them by the end of the day: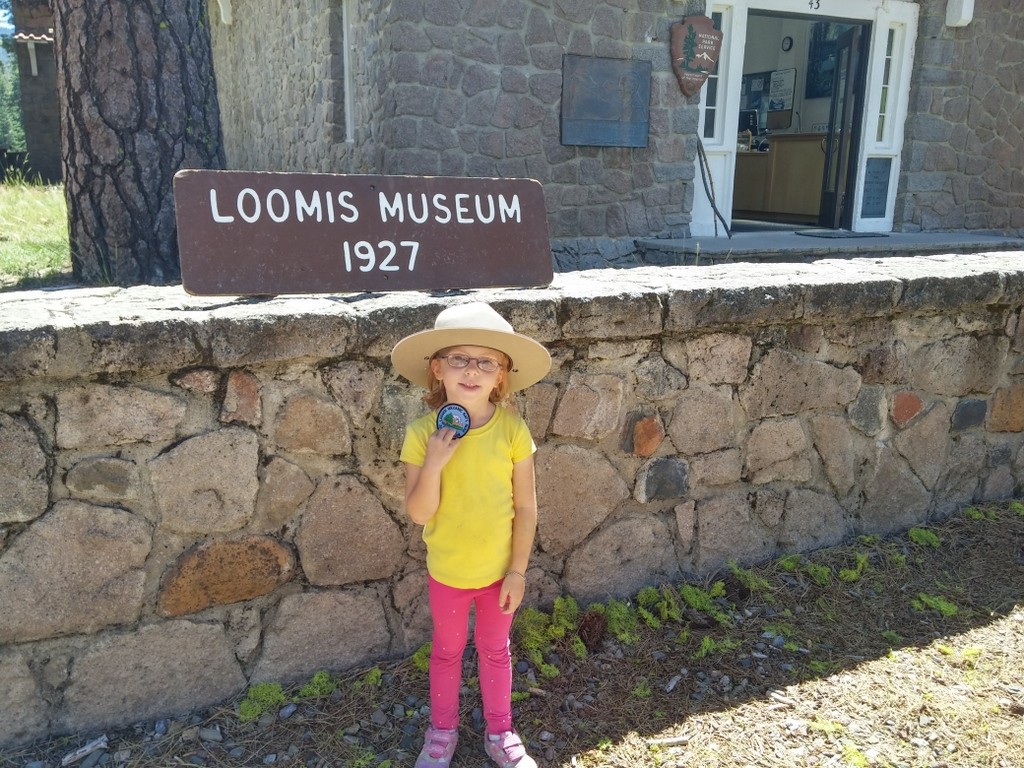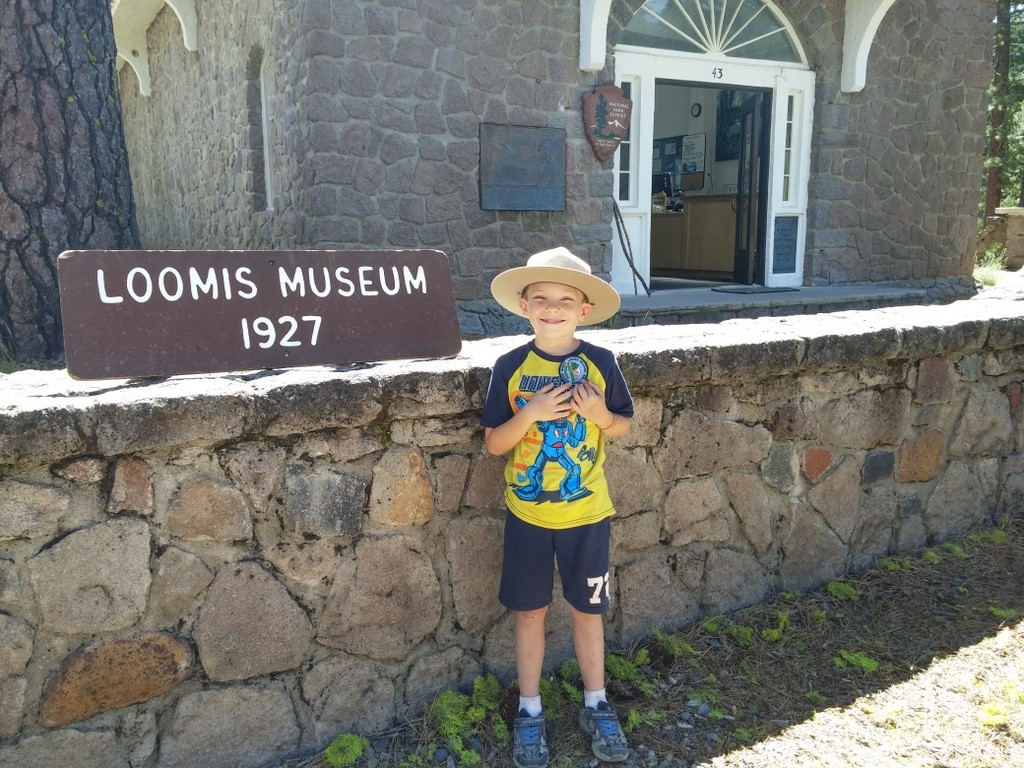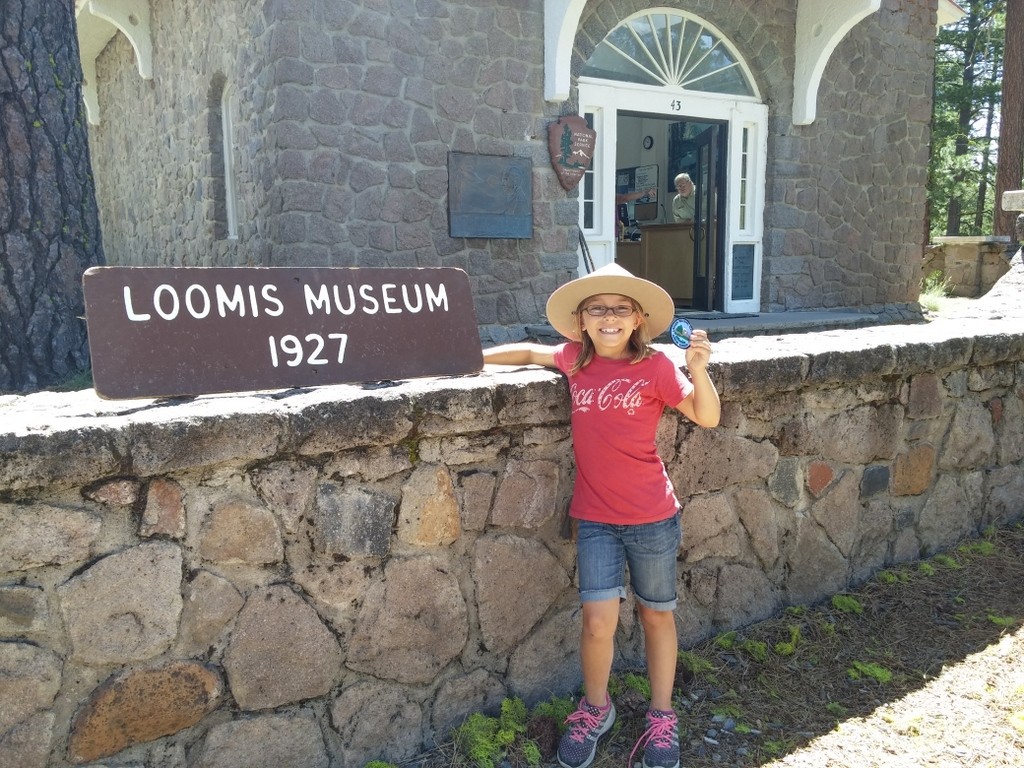 After finishing our three days at Lassen, we drove an hour to Redding, CA. We were originally planning to stay there for a week, but it was too hot! It was 115°F the day we arrived. I took the kids to Costco to take advantage of their A/C. We got lucky and it was sample day, so we had a nice afternoon snack as we walked around in the cool warehouse.
More Pictures:
Video of our drive through Lassen:
(Go to 04:58 to see us playing in the snow)