July 2 – 9, 2015
Crater Lake is really that color. Yes, look at the photos. It looks like they've been enhanced, but no, Crater Lake is really that color of blue. It is even more stunning in person. Crater Lake is the deepest lake in North America and one of the bluest in the world due to it's depth and purity. It sits in the crater of an ancient volcano. The main park road loops around the rim of this volcano, with pullouts along the way to view the lake down below. We spent July 6 driving and hiking through this national park. Since we were there, we just had to hike down to the lake. There's only one trail down, a steep hike of 1.1 miles down, then the same back up. The way down wasn't too bad; going back up was tough on the kids, but they made it!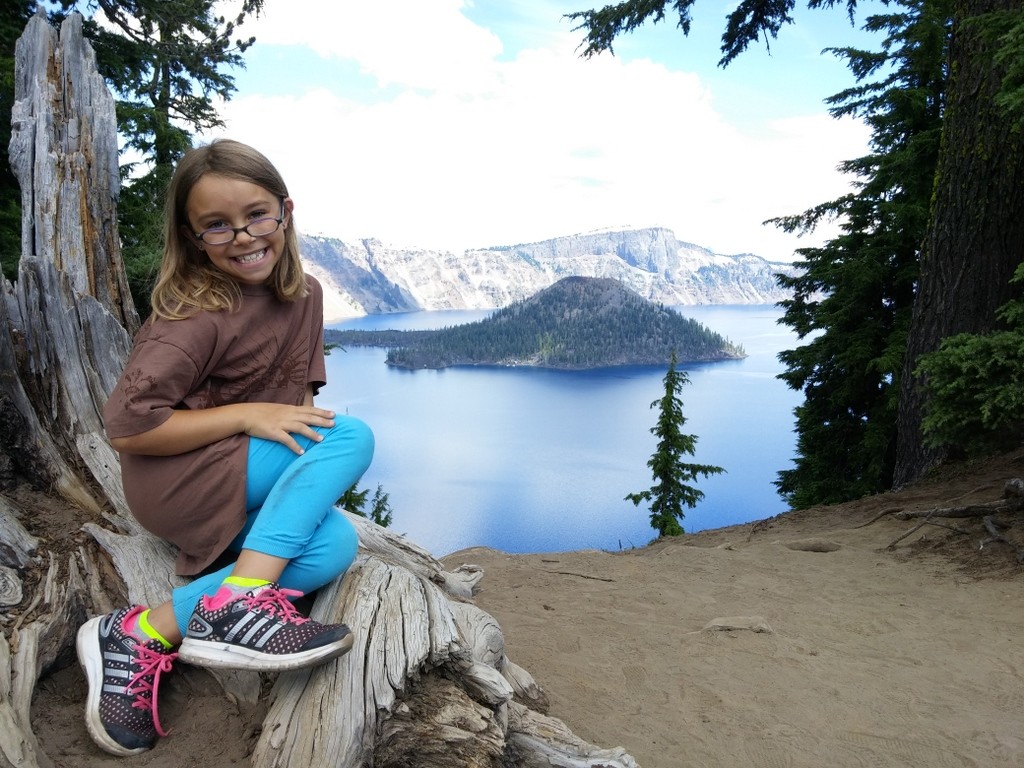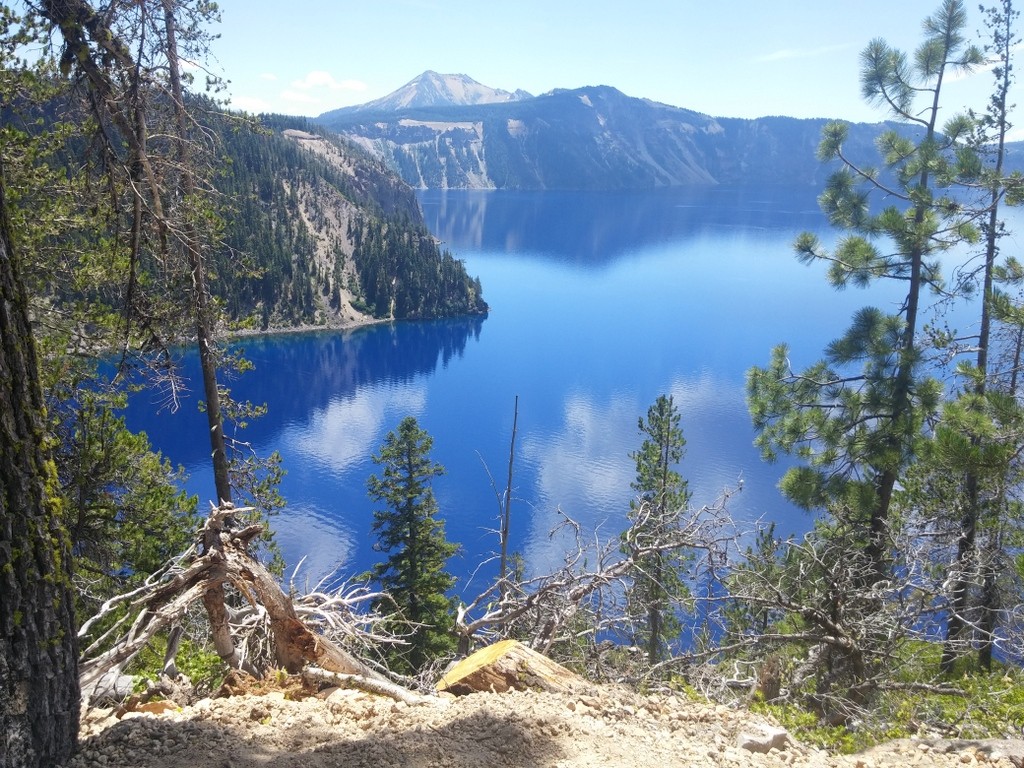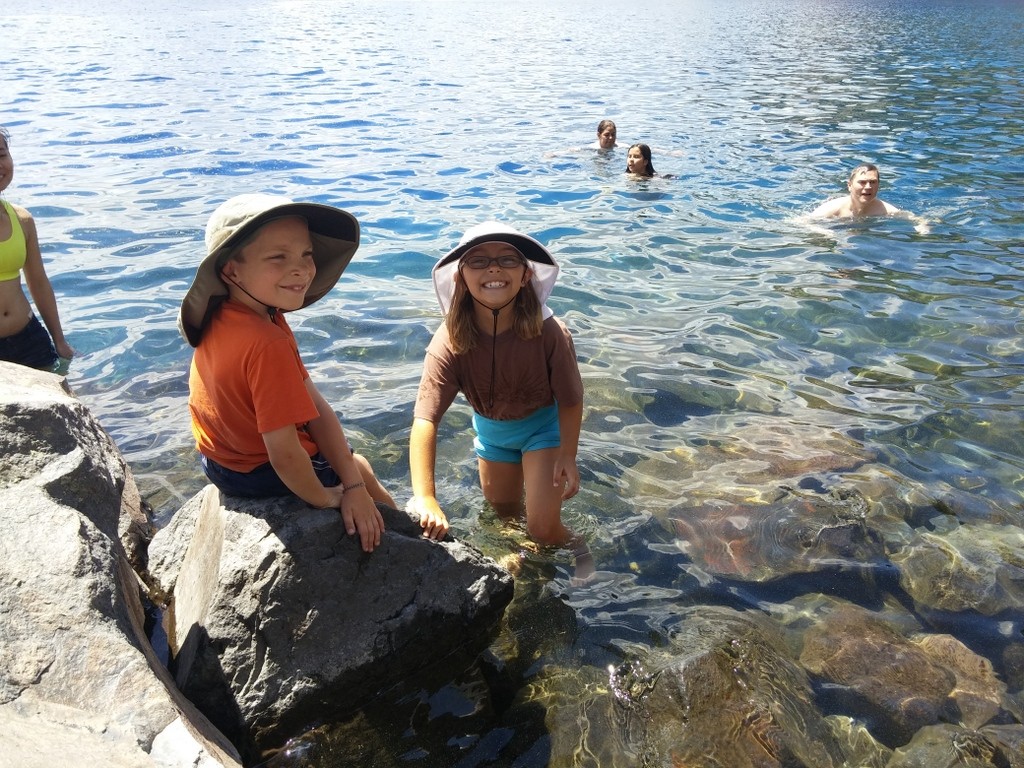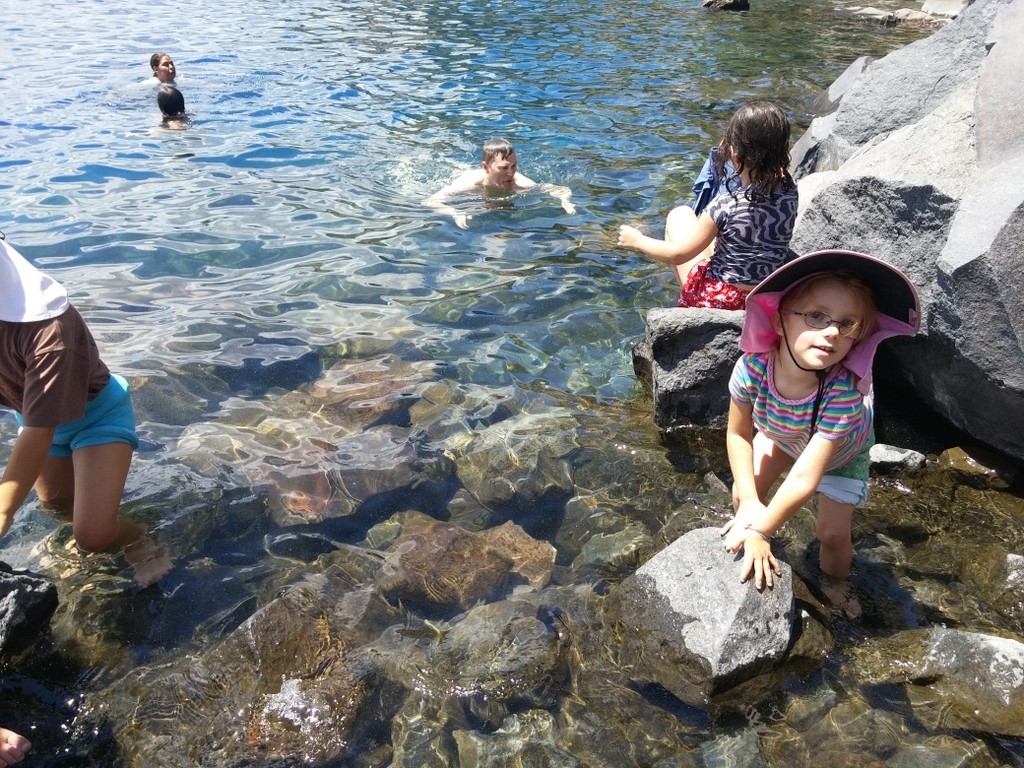 While visiting Crater Lake, we stayed at the Collier Memorial State Park. This has been one of our very favorite places. The campground is tucked into the pine trees back off the highway and sits right beside the intersection of Williamson River and the crystal clear Spring Creek. It is quiet, campsites are spaced out more than a lot of parks, and there is plenty of room for kids to ride bikes and explore. I went fishing in the river right behind our campsite–didn't catch anything though. One fly fisherman caught several rainbows and a couple brook trout. We were there for the 4th of July and the park rangers had arranged a kids parade. The kids got to decorate their bikes, then ride through the park. Ali asked if she could just watch the parade because she wanted to get candy thrown at her (she remembers this from other parades). I had to laugh and tell her it wasn't that big of a parade.
Watch the Parade:
Collier Logging Museum is just across the river from the campground. It was interesting to visit. They have a lot of old steam tractors and other logging equipment from the early 20th century. There is also a pioneer village where the kids got to meet a mountain man and learn how to start a fire with a flint and steel.
We met a wonderful family at church who invited us over for dinner on Monday night (we don't want to put your names in the post without your permission, but you know who you are, thank you so much!). What a blessing they were to us. Then Angie and the kids went back to their house on Tuesday to play and visit. This was so much fun for the kids. They had met the kids on Sunday in primary and really enjoyed getting to play with them for several days in a row. This is the hard part of our new lifestyle, the leaving friends behind everywhere we go.
Oh, and we had to stop at another Les Schwab to get another tire replaced (this is #2 in 4 days) in Klamath Falls, OR, right before we got to Collier State Park. Just like with the first tire, we noticed a bubble forming out the sidewall when we stopped at a rest area, so we were able to get it fixed without actually having a blowout, for which we are very thankful. But I'm questioning the quality of the tires our 5th wheel came with now. Maybe it's just because of the extreme heat as we drove through Redding (115°F), but I'm really keeping my eyes on these tires now.
More Pictures
Video of our drive through Crater Lake