So we got our landing gear replaced on Monday. We upgraded to a Bulldog dual-motor system. These new landing legs work so much better than the single motor system! I'm no longer worried every time I go to raise the 5th wheel, thinking the motor will give out from the strain.
While we were waiting for the landing gear to be put on, Nathan tripped off a picnic table and split open his bottom lip. It was a pretty deep gash, so Angie took him to the medical clinic a few miles down the road. He ended up getting two stitches to hold it together.
Arches
We visited Arches National Park on Wednesday. We were worried about the park being crowded since fall is prime time for tourists to visit the area, so we tried to get out the door as early as we could (also to avoid as much of the heat as possible since it was supposed to get up to 94 degrees). We made it to the park before 9am and the line to get into the park was only about 5 cars deep. Not bad.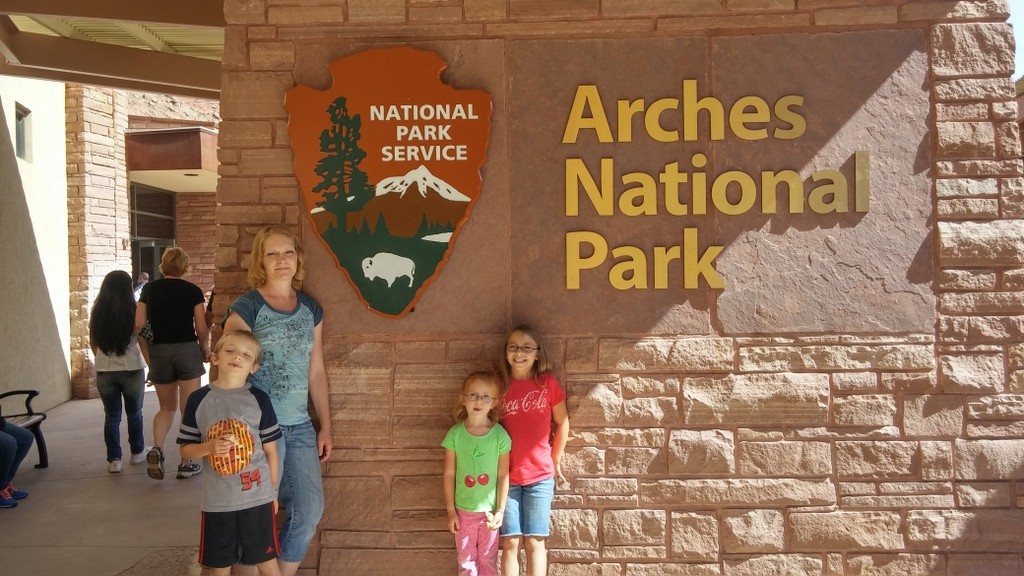 We drove all the paved roads in the park, hiked several short trails, and did the kids' junior ranger program. Even with all that, we were out of the park and home by about 2pm. Since it was pretty hot out, we decided not to hike to the famous arch (Delicate Arch-the one on our Utah license plates), determining it was too far and too strenuous for little Abby in the heat.
We really enjoyed this park and highly recommend it. It's small enough to see in a day, but if you have more time there are plenty of good hikes to keep you busy for two or three days. It's also close to Moab, the outdoor adventure capitol of southern Utah, to Canyonlands National Park (which we will visit this week), and to plenty of other great outdoor places to visit.