We had an awesome road-schooling field trip today. We got a great history lesson about the cold war and the nuclear-tipped missiles that provided the deterrent to World War III with the Soviet Union through "mutually assured destruction". We visited the Titan Missile Museum, the last of 54 Titan II missile silos housing Intercontinental Ballistic Missiles (ICBMs) that pointed at the USSR from 1963 to 1987. We actually got to go down in the missile silo and see a real Titan II!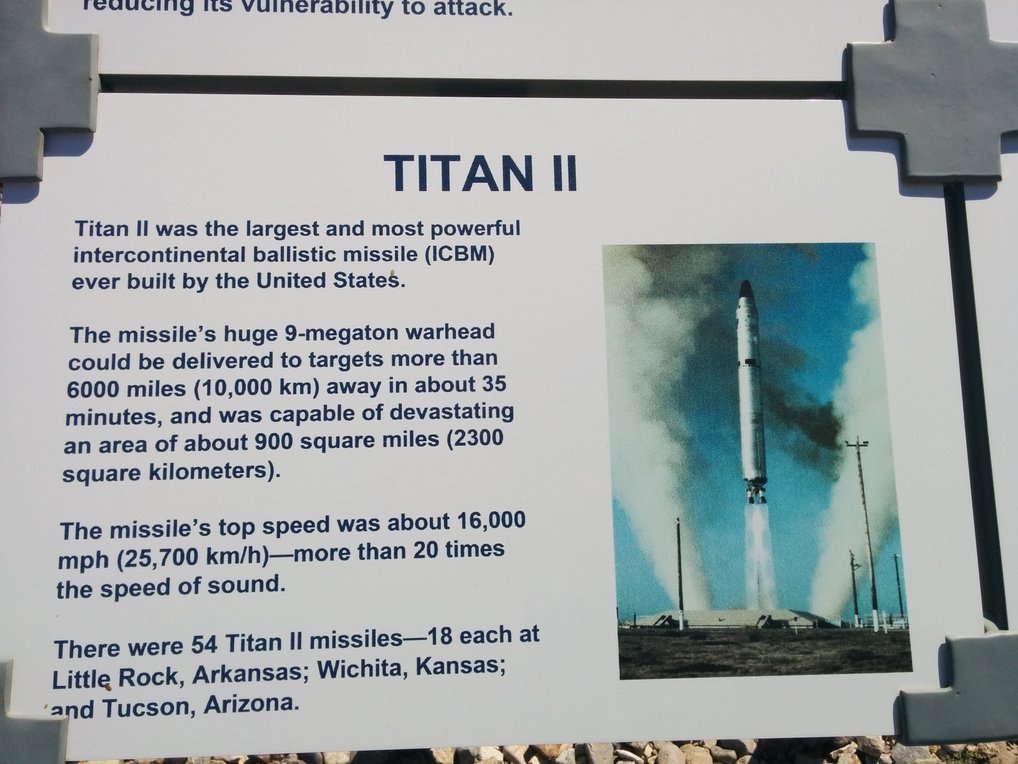 The missile silo museum is about 30 minutes outside of Tucson, Arizona. Our visit started with a short video discussing the history and mission of the Titan II program. We learned that each of the 54 Titan II missiles was capable of launching in just 58 seconds and could carry a 9 megaton hydrogen bomb over 6300 miles away in 30 minutes. These nuclear warheads were each 600 times more powerful than the atomic bomb used on Hiroshima. Each missile silo was manned 24 hours a day by a 4-person crew who could launch their missile only by a direct order from the President.
After the video we actually got to go down into the underground bunker and control center. Our tour guide, who was a watch commander in this same missile silo about 40 years ago, did a fantastic job. The underground bunker is protected by 4 foot thick concrete walls and double blast doors. It could withstand anything other than a direct hit by a nuclear bomb. Ali and Nathan got to try closing one of the 6,000 pound blast doors. It is so well constructed they could easily swing it on its hinges, where it has hung for the last 50 years.
Then we went into the control room and learned about the daily watch procedures and what would happen if the crew received a launch order from the President. Ali and Abby got to initiate a missile launch by turning the two keys, just like would have happened if a real launch order was given.
We then went to the silo part of the bunker. We were about 1/3 of the way down from the top of the missile and could look up and down its length.
Next, we went to the surface to explore the area on top of the silo. The silo door has been locked halfway open and we could look down into the silo from above.
The kids all earned their "Junior Missileer" badge by completing a special workbook while we were doing the tour.
Visit the Titan Missile Museum homepage.