Last September marked 18 months of fulltime living in our 5th wheel.
Life was great, but we were really starting to hate our mattress. It was the original Jayco "Denver" mattress that came with the 5th wheel and it just wasn't working out.
We tried to make it work over our first 18 months of traveling. We tried a cheap foam topper from Walmart. We tried an expensive "Bamboo" topper from Amazon. That one really made a huge difference for a while. We were able to continue using the mattress for well over a year after we got it. But the mattress was not holding up anymore.
It had two big depressions, one for each of our bodies. The mattress was getting very thin in those areas and we were starting to feel the hard plywood under it. We would wake up with stiff necks and backs every morning. It just wasn't worth it anymore. Time for a new mattress.
Looking for a new mattress
We researched the RV groups on Facebook to find out what other RVers had done. We read countless reviews on Amazon for mattresses in all different types and prices.
Everything we read pointed to getting a memory foam mattress. But we were nervous about spending the money on something we might not like. We had tried memory foam before when we visited a relative and slept on their guest bed. Angie hated it. It was too hard and hot.
But everything we learned about the new modern memory foam seemed to be good. People on the RV groups and forums all said they loved it. The reviews on Amazon were mostly very good for several brands and styles.
Then we found out most of these mattresses come with a great return policy. You try it for a while, and if you decide you don't like it, you get your money back. Even mattresses ordered on Amazon. They will send a truck to come pick it up.
After all the careful research, we decided to get this Arctic Dreams 10″ Cooling Gel Mattress Made in the USA, Queen Short. We chose it because the price is great, it has great reviews on Amazon (as of this writing over 2,000 reviews and averages 4.5 stars), and it is Made in the USA. Oh, and it comes with a 10-year warranty.
Check out our comparison chart of the best RV mattresses.
We were also on a time crunch and this mattress came with Amazon Prime free two-day shipping and easy free returns if we weren't satisfied.
This mattress comes in pretty much every size, including "Short Queen" which is the perfect size for many RV beds. It comes in 8, 10, and 12 inch thicknesses, which directly affects the firmness of the mattress. We went with the 10-inch, which is great for all around sleepers. Not too soft and not too firm.
Unboxing the new mattress
We ordered the mattress on a Thursday night and it showed up Sunday afternoon in a tall tubular box.
How can a mattress possibly fit in there?
It came rolled up like a big sleeping bag, but without the fold in the middle. It was in a thick plastic sack, with all the air vacuumed out to compress it down as much as possible.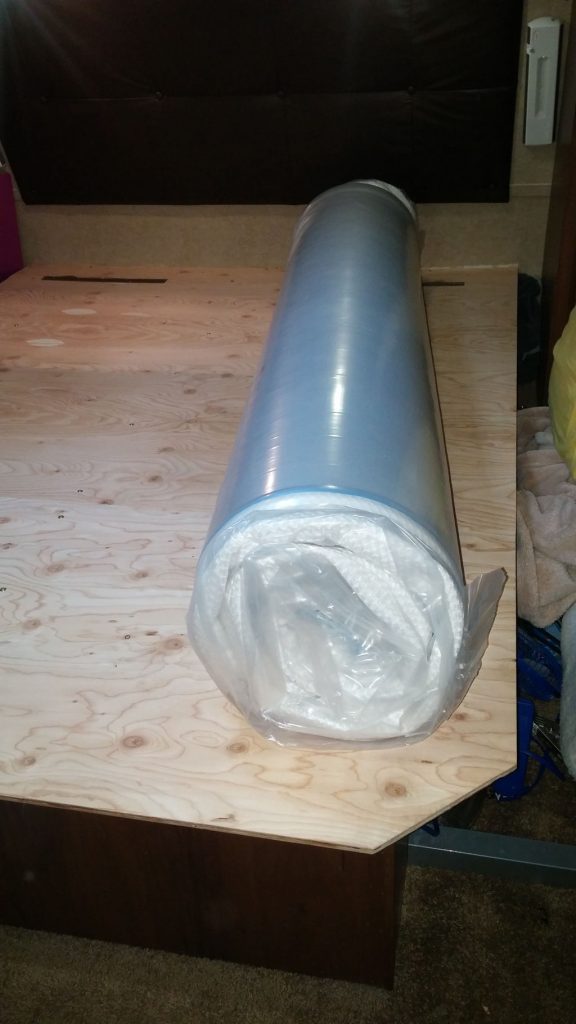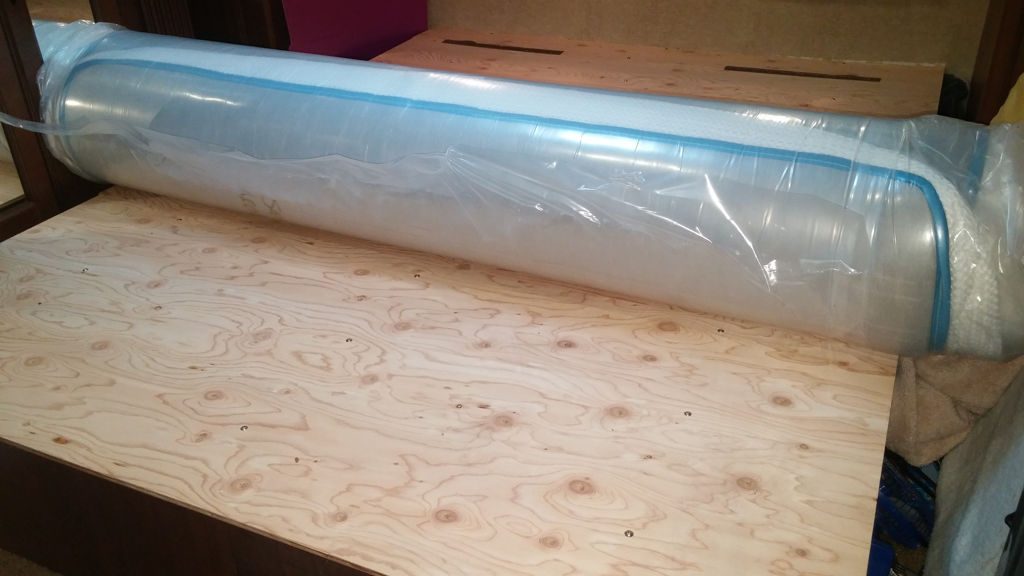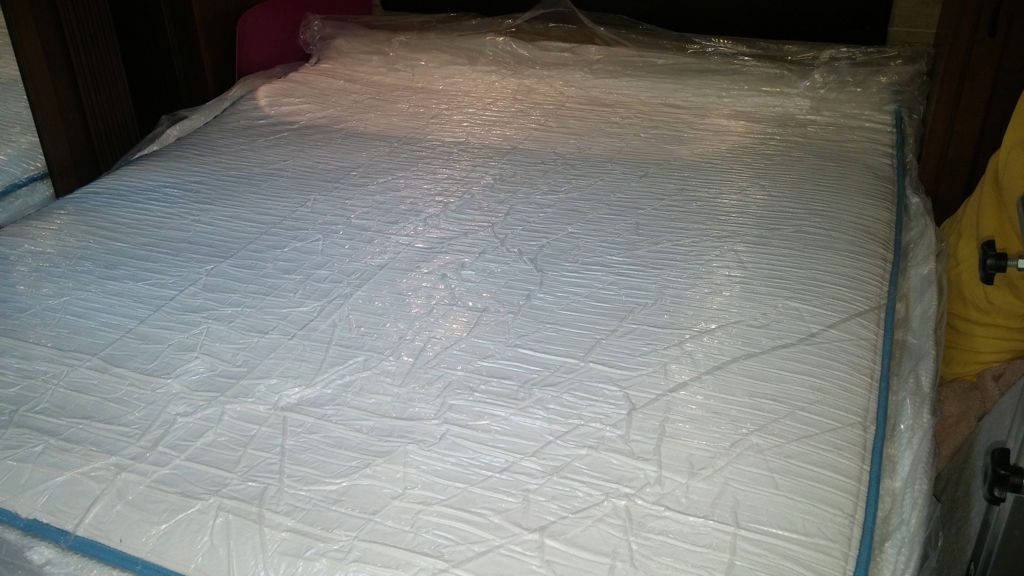 We rolled it out on the bed platform, then slit the bag open and slid it out.
Right away it started to expand. In just a few minutes, it was almost fully decompressed. After a few hours, it was completely ready.
Unboxing the Mattress Video
First night sleeping on the mattress
We lay down to test it out. Oh, it was so comfortable! It was just the right amount of soft and just the right amount of firm. It gave great support without feeling too hard. We could lie on our backs or on our sides and it felt just right. And it was not hot like some of the other memory foam we'd tried.
That first night was one of the most restful we'd had for quite a while. No more tossing and turning. No more waking up with stiff necks and sore backs. No more aching hips. This was the perfect mattress!
After six months
And what do we think about it now, after six months of sleeping on it every night? It is still the best mattress we've ever had. It's better than the $800 pillow top we had for 11 years prior to starting our fulltime travels.
In six months, we've never woken up stiff or sore. We don't even notice the mattress anymore. We don't think about our mattress at all. We just go to sleep, then wake up in the morning. It has been a great relief and whenever we decide to stop traveling a buy a house, this will be the mattress we use there too.
A great mattress, along with a great pillow, can make all the difference in getting a good night's rest. If you want the same mattress we have, you can get one here. (If you use this link to make your purchase, we get a small referral fee. This does not affect the price you pay, but it does help us cover the costs of maintaining this website.)
---