October 5-7, 2015
After an exciting week in Moab, we traveled south 2 1/2 hours to Monument Valley. Our original plan was to travel to Four Corners on the way there, which would have added 2 hours to our travel time, but it turned out to be a very rainy day. Since it was so rainy and we were traveling a lot slower than normal, we decided to go directly to Monument Valley.
When we arrived, all the buttes and mesas were shrouded in clouds. We couldn't get a good view of the valley, but some of the individual monuments looked pretty cool.
Goulding's Campground and Musuem
After setting up our fifth wheel at Goulding's RV Park, we went to the Goulding's Museum to learn more about the area. Monument Valley is famous because so many of the older westerns were filmed there, including several John Wayne movies. Many modern films with western settings were also filmed there, including Back to the Future III and The Lone Ranger.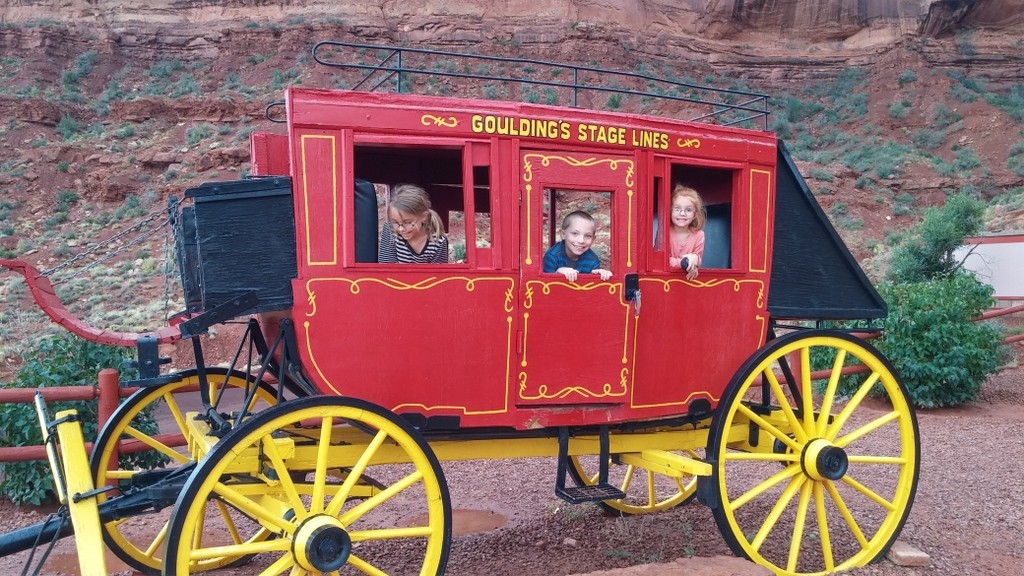 We decided to go exploring around the cliffs near our campsite after dinner. After hiking around and taking in some nice views, we turned a corner and found a hidden arch. Nathan and Abby were pretty excited about it and enjoyed exploring all around it.
Four Corners Monument
Since the next day was rainy and cloudy again, instead of driving through Monument Valley, we took a 1 1/2 hour drive to Four Corners. The kids got a kick out of being in four states at the same time (Utah, Colorado, New Mexico, and Arizona). Other than the marker showing the boundaries of the four states, the only other things there were a few booths with Navajos selling hand-made jewelry and other trinkets.
Ancient Ruins
On our way back to Monument Valley from Four Corners, we saw a sign for the Hovenweep National Monument and decided to check it out. What a great find! This place had a visitor center and nice 2 mile hike around some ancient ruins left by the Anasazi (also known as Ancestral Puebloans) from around 1200 A.D. We got to walk around an ancient village along the rim of a small canyon. And the kids got to do another Junior Ranger badge. What a great road schooling opportunity this was.
Monument Valley
By the time we got back to the Monument Valley area, it was too late to go drive through Monument Valley, and it was still rainy and cloudy, so we waited until the next morning.
We got up and left the RV park by 8am to do our drive through Monument Valley. At the entrance, they charge $5 per person to get in, then you drive around a 12 mile loop to see the valley. The road is very rough, so cars are not recommended.
It was a neat drive with a lot of mesas, buttes, and spires. The real fame of this location is that so many movies were shot there. The drive was very bumpy and the kids had fun pretending they were on a roller coaster ride as we drove along.
We made it through the drive in 1 1/2 hours, then raced back to the RV park to pack up and check out before the 11am checkout time. Then it was on the road again headed for our next stop: The Grand Canyon.