Updated on 2/3/2020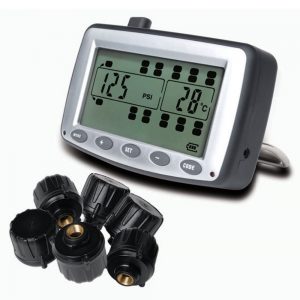 A tire pressure monitoring system or TPMS is one of the most important accessories to add to an RV, whether it be a motorhome, 5th wheel, or travel trailer. As any experienced RVer knows, it's only a matter of time before you have tire trouble. It's just one of the inevitable parts of traveling on the road.
In the last 3 years, we have traveled over 70,000 miles with our 5th wheel and experienced our fair share of tire problems. We've had 3 nail punctures (two slow leaks and one fast leak) and 3 tire sidewall failures. Our tire pressure monitoring system caught all these problems before we had a catastrophic blowout and we were able to get the tire repaired or replaced right away.
I'd hate to think what could have happened in these instances if we hadn't had a TPMS to warn us of the problems in time. I see numerous pictures and Facebook posts all the time from RVers who have experienced blowouts, many of which caused thousands of dollars in damage to their RV. Several of these blowouts have even caused accidents resulting in serious bodily injury or death.
Here's an example of what can happen when a blowout occurs. This person got lucky and only had property damage:
What is a TPMS?
A tire pressure monitoring system, or TPMS, is a sensor system that monitors tire air pressure. A basic TPMS alerts the driver if the air pressure in a tire drops below a certain level. Some models include additional features such as temperature monitoring, alerts for both high and low pressure, fast leakage alerts, and the ability to add additional sensors to the system.
The idea behind TPMS systems is that by alerting the driver if a tire gets too hot or has pressure outside the desired range (too high or too low), the driver has time to pull over and check the tire before a blowout occurs. The TPMS will also alert the driver if a blowout does occur. In some instances, a driver may not even know a blowout has happened, especially if the RV has tandem axles or dual tires.
Basic TPMS sensors are standard equipment on modern automobiles. Since 2008, all new cars and trucks with a GVWR of 10,000 lbs or less that are sold in the United States have been required by law to come equipped with a TPMS. But this law does not include larger trucks, motorhomes, or trailers. They don't usually come with a built-in TPMS.
The basic sensors that come built into newer cars and trucks are only required to alert the driver if one of the tires drops below 25% of the manufacturer's recommended inflation pressure. Most of these basic OEM sensors don't include high temperature or fast leakage alerts.
Why do you need a TPMS for your RV?
Tire blowouts can be very dangerous and cause expensive property damage, personal injury, and even death. We've heard from plenty of RVers who've experienced thousands of dollars in damage to their 5th wheel or motorhome when a shredded tire ripped through sidepanels, undercarriage, sewer lines, and other parts of their RV. We've also seen instances where blowouts caused accidents resulting in total RV loss, serious personal injury, and in at least 2 cases we know about, death.
TPMS systems will not prevent every blowout from happening, but will warn you if your tires are running too hot or your pressure is too low!
No sensor system can foresee the future or alert you to every possible scenario. But it stands to reason that many blowouts and tire failures happen when the tires get too hot. Any number of things can cause tires to overheat, including overloading, low air pressure, faulty brakes, or even worn bearings.
A TPMS system can alert the driver of several scenarios that could lead to a blowout including:
Hot tires caused by overloading
Hot tires caused by component failures such as brakes or bearings
A slow leak from a puncture
A fast leak from a puncture, sidewall failure, or tread separation
A TPMS will also let you know if you have a blowout.
We've known several RVers who had blowouts and didn't even know it until either someone flagged them down or they noticed smoke coming from a tire. On trailers that have more than one axle or on a motorhome with dual wheels, you might not notice a blowout for a while if you aren't using a TPMS.
This is a big problem because it puts too much of a load on the remaining tires, potentially causing additional damage. Driving with a blowout can destroy the wheel on the damaged tire. It can cause even more damage to the RV or trailer as the tread separates and tears into the underside of the RV.
A TPMS will not replace due diligence. You should still check tire pressure regularly, inspect tires during trips, and make sure your RV isn't overloaded. But a TPMS will alert you if a tire becomes too hot, loses pressure, or blows out.
I am definitely a lot less stressed when pulling a big 5th wheel since I started using a TPMS.
After-market TPMS Systems
After-market TPMS systems are very easy to install and have features not included with most built-in automobile TPMS systems. Installation is simple. You just twist a small sensor onto the end of each tire valve stem and plug the LCD display into a 12-volt "cigarette lighter" connection in the vehicle.
The LCD display cycles through each tire connected to the system and shows the current temperature and air pressure. Most of these after-market TPMS systems allow you to set custom alarms for high and low air pressure and for high temperature. Some systems come with extra features including:
Anti-theft devices on each sensor
Flow-through sensor design allowing air to be added to the tire without removing the sensor
Visual and audible alerts
Replaceable sensor batteries
Additional sensors can be added to monitor trailers or toads from the same display
There are several after-market systems available that we recommend based our personal experience, on conversations with other RVers, and on reviews from other users. These systems are all highly rated and any of them should work well for most RVers.
Our Personal Recommendation
We personally recommend the TST-507 TPMS, although we've used both the TST-507 and the EezTire. We purchased our first TPMS in November 2015 and have been using one ever since. The TST-507 is our favorite because it has been so reliable over so many miles of travel. I've even taken it on many miles of four-wheel driving in our tow vehicle through the worst muddy backroads and it has never failed. It has the best warranty (3 years) and the best display of any other system we looked at.
Top 5 RV TPMS Systems Comparison
This table compares the top 5 RV TPMS systems, based our research and testing, on popularity and ratings from Amazon, and on polls we've conducted in the RVer groups on Facebook. While these all work great with an RV, they are also perfect for any truck, car, or trailer.
For comparison purposes, the table shows the price for a system with six sensors. You can buy a system with between 4 to 20+ sensors with varying prices, so click the "Check Price" button to see the exact current price for the system you need.
I like to think of a TPMS as a relatively inexpensive form of insurance to help prevent catastrophic damage from a blowout to your RV, trailer, or other vehicle that could amount to thousands of dollars in damage and possible injury or loss of life.
I've been using both the TST-507 and the EezTire systems for over 3 years now and over 50,000 miles of traveling. They are both excellent tire pressure monitors, but the TST-507 is my favorite and the one I now use on a daily basis.
| | TST 507 | EezTire | TireMinder A1A | Bellacorp EK215 | TireTraker TT-500 |
| --- | --- | --- | --- | --- | --- |
| | | | | | |
| User Rating | | | | | |
| Approximate price for 4 sensor system (as of 2/3/2020). Click link to verify current prices with different numbers of sensors. | $327 | $279 | $310 | $215 | $199 |
| Approximate price for each additional sensor | $50 | $42 | $35 | $43 | $35 |
| Display Dimensions (W x H x D) | 4.6" x 2.99" x 1.06" | 4.56" x 2.67" x 0.98" | 2.36" x 4.13" x 0.59" | 4.56" x 2.67" x 0.98" | 2.44" x 3.94" x 0.69" |
| Color Display | | | | | |
| Sensor weight | 0.54 oz | 0.63 oz | 0.5 oz | 0.33 oz | 0.5 oz |
| Warranty Term | 3 Years | 3 Years | 1 Year | 1 Year, plus 30-day Money Back Guarantee | Lifetime |
| Displays each tire pressure and temperature | | | | | |
| Visual and audible alarms | | | | | |
| Number of tires that can be monitored | 110 | 22 | 22 | 22 | 22 |
| Range without signal booster | 60' | 53' | Booster recommended for any use (included) | 100' | Up to 65' |
| Signal Booster | Included | Costs Extra | Included | Not required | Costs Extra |
| Sensor pressure range | 0 - 218 PSI | 0 - 188 PSI | 0 - 232 PSI | 0 - 175 PSI | 0 - 232 PSI |
| High temperature alert | | | | | |
| Fast leakage or blowout alert | | | | | |
| High or Low Pressure Alert | | | | | |
| User Programmable high/low pressure warnings | | | Yes, but limited | | |
| User Programmable temperature warning | | | | | |
| Flow-through sensors available | | | | | |
| Anti-theft sensors | | | | | |
| Replaceable batteries | (CR1632) | (CR1632) | (CR1632) | (CR1632) | (CR1632) |
| Automatic backlight | | | | | |
| Stop monitoring trailer if disconnected from tow vehicle | | | | | |
| | | | | | |
---