The table compares the 4 best tire pressure monitoring systems (TPMS) for RVers. All four systems work well for motorhomes, fifth wheels, and travel trailers. They'll also work for any car or truck.
The prices shown in the table are for a 4 sensor system, but each brand can handle up to 22 sensors.
Note: All systems are available on Amazon.com, except the TireMinder TM-77 which is exclusive to Camping World. If you click the "Check Prices" buttons below, it will take you to the appropriate website to purchase the item.
EezTire
TireMinder A1A
TireMinder TM-77
TST 507

Approximate price for 4 sensor system (As of 7/1/2017)
$269.00 (Amazon)
$359.00 (Amazon)
$335.00 (Camping World)
$247.80 (Amazon)
Approximate price for each additional sensor
$42
$35
$35
$60
Monitor Dimensions (W x H x D)
4.56" x 2.67" x 0.98"
2.36" x 4.13" x 0.59"
2.5" x 4.25" x 0.6"
3.46" x 2.36" x 0.94"
Sensor weight
0.63 oz
0.5 oz
0.5 oz
0.54 oz
Warranty Term

3 Years

1 Year

1 Year

2 Years

Displays each tire pressure and temperature

Yes

Yes

Yes

Yes

Simultaneous pressure and temperature readings

Yes

No

Yes

Yes

Visual and audible alarms

Yes

Yes

Yes

Yes

Max sensors that can be added
22
22
22
22
Range without signal booster
53'
Booster recommended for any use (included)
Booster recommended for any use (included)
60'
Signal Booster
Extra $$
Included
Included
Extra $$
Sensor pressure range
0 - 188 PSI
0 - 232 PSI
0 - 232 PSI
0 - 188 PSI
High temperature alert

Yes

Yes

Yes

Yes

Fast leakage or blowout alert

Yes

Yes

Yes

Yes

High or Low Pressure Alert

Yes

Yes

Yes

Yes

Programmable high/low pressure warnings

Yes

15%/20% below/ above programmable baseline
15%/20% below/ above programmable baseline

Yes

Programmable temperature warning

Yes

No

No

Yes

Flow-through sensors available

Yes

No

No

Yes

Anti-theft sensors

Yes

Yes

Yes

Yes

Replaceable batteries

Yes

Yes

Yes

Yes

Automatic backlight

Yes

Yes

Yes

Yes

Tow vehicle disconnect feature

Yes

Yes

Yes

*Includes Multi-vehicle disconnect to easily switch between 3 different vehicles

Yes

Automatic scrolling through each tire

Yes

No

Yes

Yes

Push-button instant update feature

No

Yes

Yes

No
---
Don't have a tire pressure monitoring system or not sure why you need one? Learn more about why you might need a TPMS for your RV or trailer
Or, you can read our review of the EezTire TPMS
---
TPMS Poll Results (263 Votes)
We recently conducted a poll including 263 participants asking which Tire Pressure Monitoring System they use and recommend. Here are the results: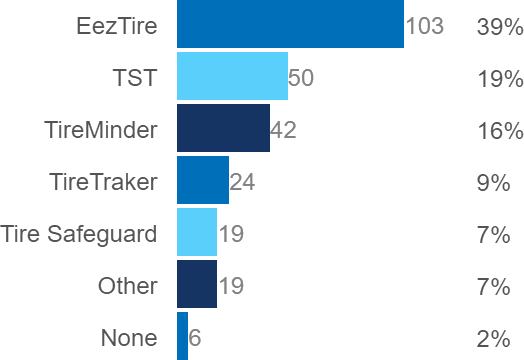 ---