June 3-8, 2015
Words to describe Yosemite are majestic and stunning. The eyes are the only things that can accurately describe this absolute treasure. We started our stay at Wawona campground located on the southwest part of the park. It is a "good" campground with a river running along the edge. There are no hook-ups so it is not good for a stay longer than 2 nights in an RV.
Day 1 is always driving, set up, and explore the immediate campsite time. Pretty standard stuff.
Day 2 was adventure time! The drive from Wawona to Yosemite Valley was about 1 hour on a somewhat windy road; from a sympathy puker's (M.G. kindly gave me this nickname) perspective, not nearly as bad as the drive to get to Sequoia (white knuckle, head swimming, thoughts of "WE ARE GOING TO DIE!, heart attack road).
Beyond the tunnel at the top there is a parking lot where you can stop and see this view of Yosemite Valley. It is a sight to behold. I highly recommend coming here!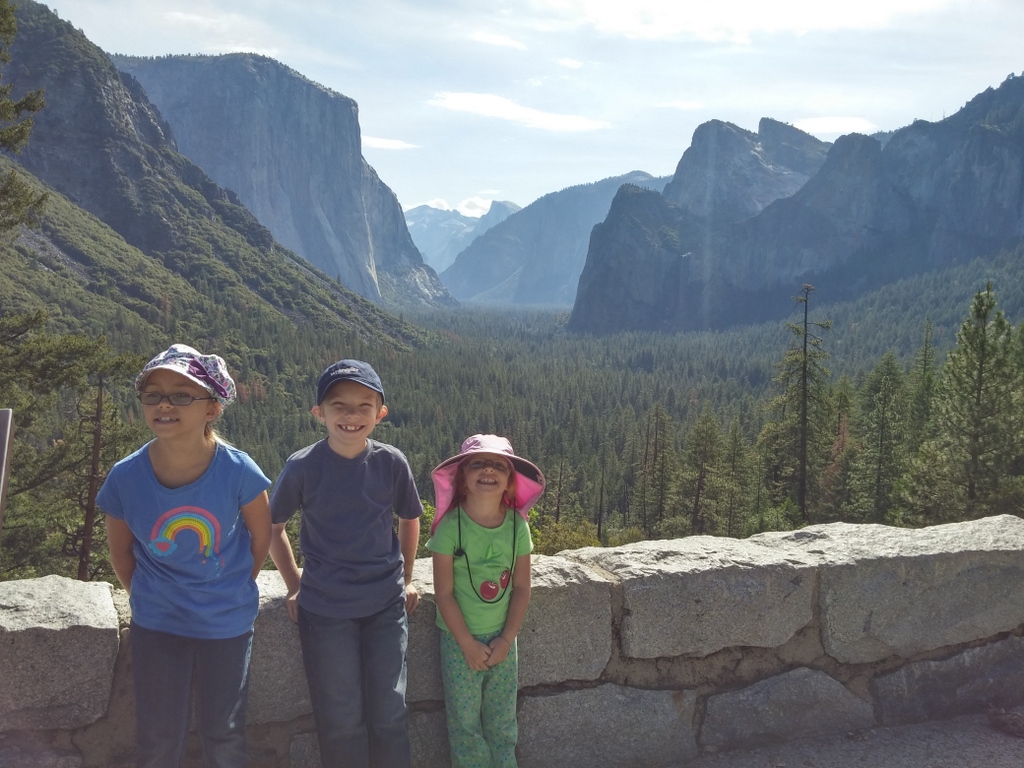 Now to see it first-hand! Our first stop was Bridal Veil Falls. It is a short hike, about 1,000 feet to be exact, with a little hill on the way up.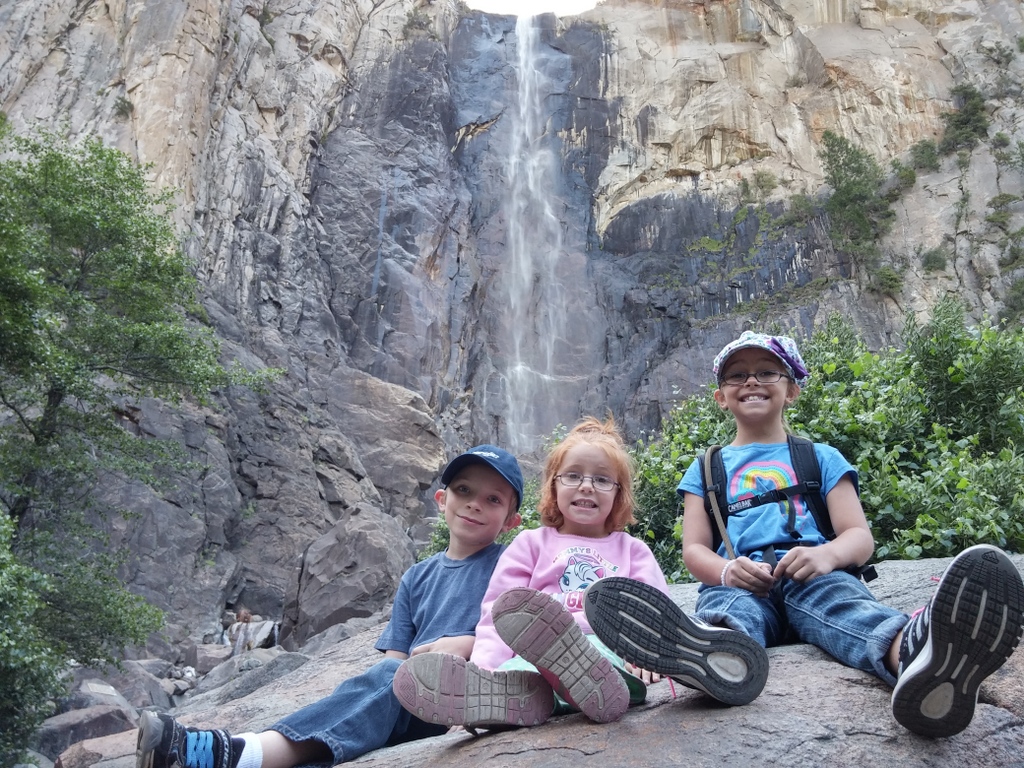 Yosemite Valley is set up in a giant loop so it is not too hard to navigate. We decided to hit Mirror Lake next due to my persuasion. After a bit of a hiking around the back side of the loop and seeing a deer very close to us, pooping I might add, we hit the trail head to Mirror Lake.
At the base of the trail head, we needed to continue about ½ to ¾ mile. Thanks to a special friend, we were given a wheel chair type stroller for Nathan and Abby that came in handy many times on our paved hikes. The hike coming to a close with a steep hill, we see it in the distance. The appeal of Mirror Lake is that when the water is full, the mirror image of Half Dome can be seen in the stillness of the lake. Not for us unfortunately. It was a great spot for lunch and the kids got to climb on some rocks, but not the most scenic.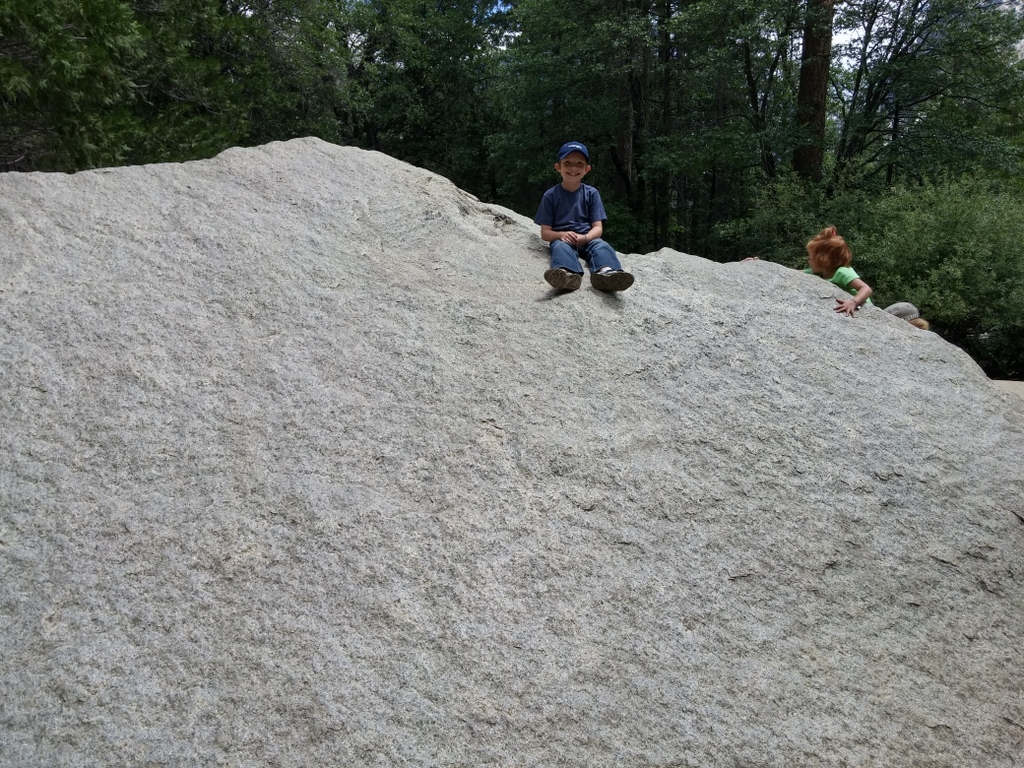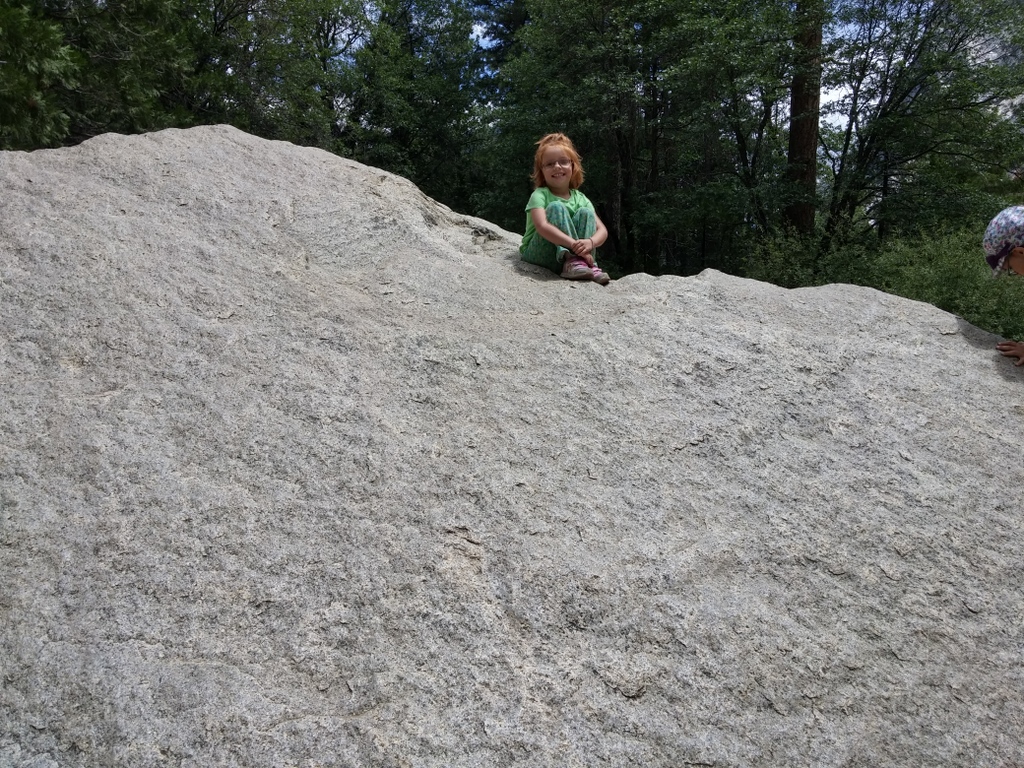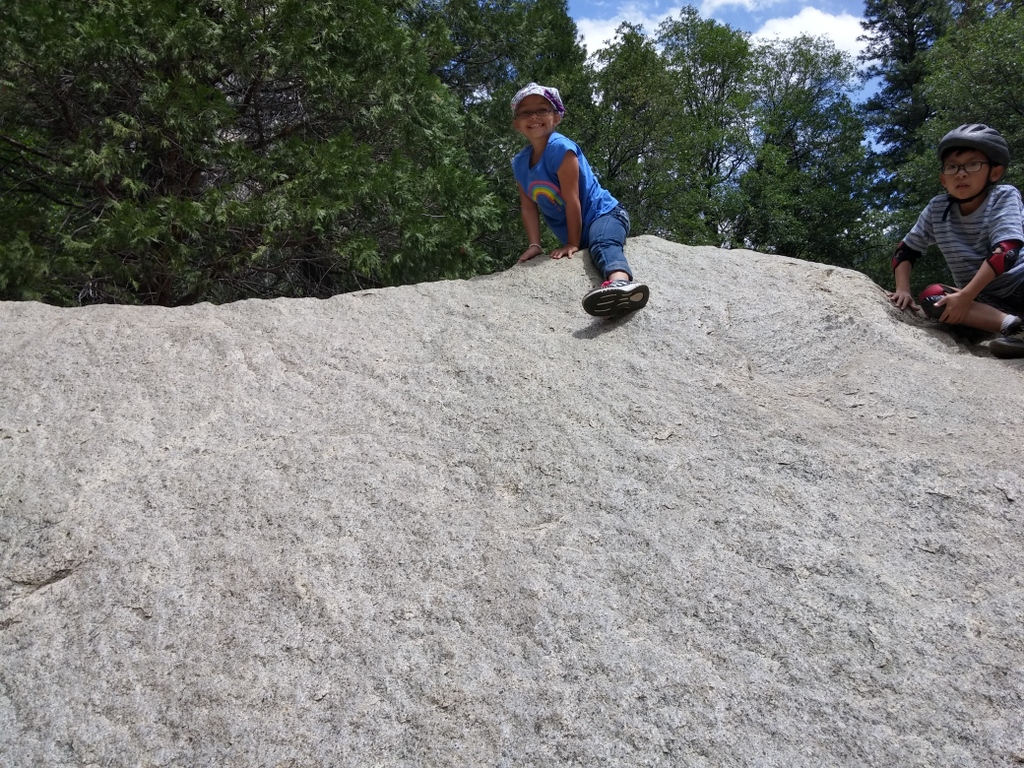 After eating lunch, we headed back down the path and decided to get on the shuttle bus that runs around the entire valley. We were able to stop and grab a snack and treat before we hit the Yosemite Valley Visitors Center. We rested and saw a great movie on how Yosemite was discovered by a man named John Muir, and later protected by Teddy Roosevelt.
Getting back on the shuttle we headed back to the parking lot holding Big Blue, our truck. Once inside and ready to depart we decided we wanted to make sure to get to Glacier Point before we were done for the day. As we drove around the other side of the loop, we got a glimpse of Lower and Upper Yosemite Falls. Then, in the distance, we saw El Capitan. We stopped to look and see if we could see any crazy people called rock climbers attempting to scale the enormous cliff. Sure enough, with the help of Nate's trusty binoculars, I almost wrote goggles, we see a few crazy… NO!.. insane people scaling the enormous cliff. Two of them were in their baskets resting, sleeping, something. It takes them DAYS to climb this cliff. Insane?!? Or just a little crazy… you decide.
Finally on our way to Glacier Point! Another windy drive for this sympathy puker! Bleh! Glacier Point overlooks Yosemite Valley from the south. So high up and stunning!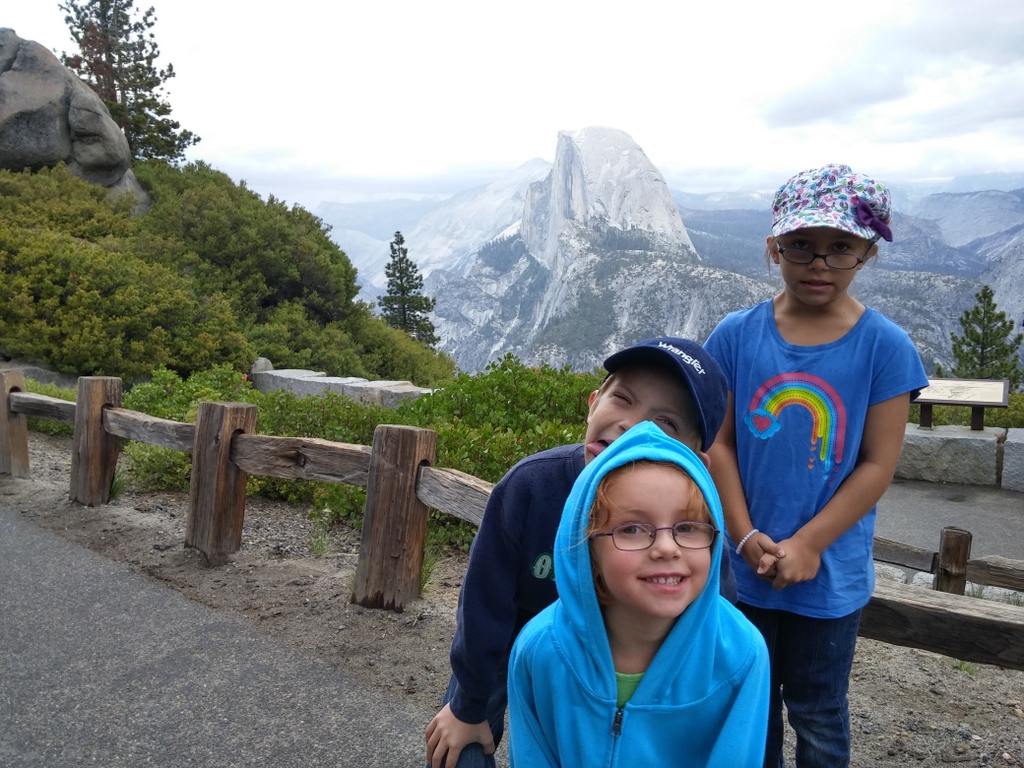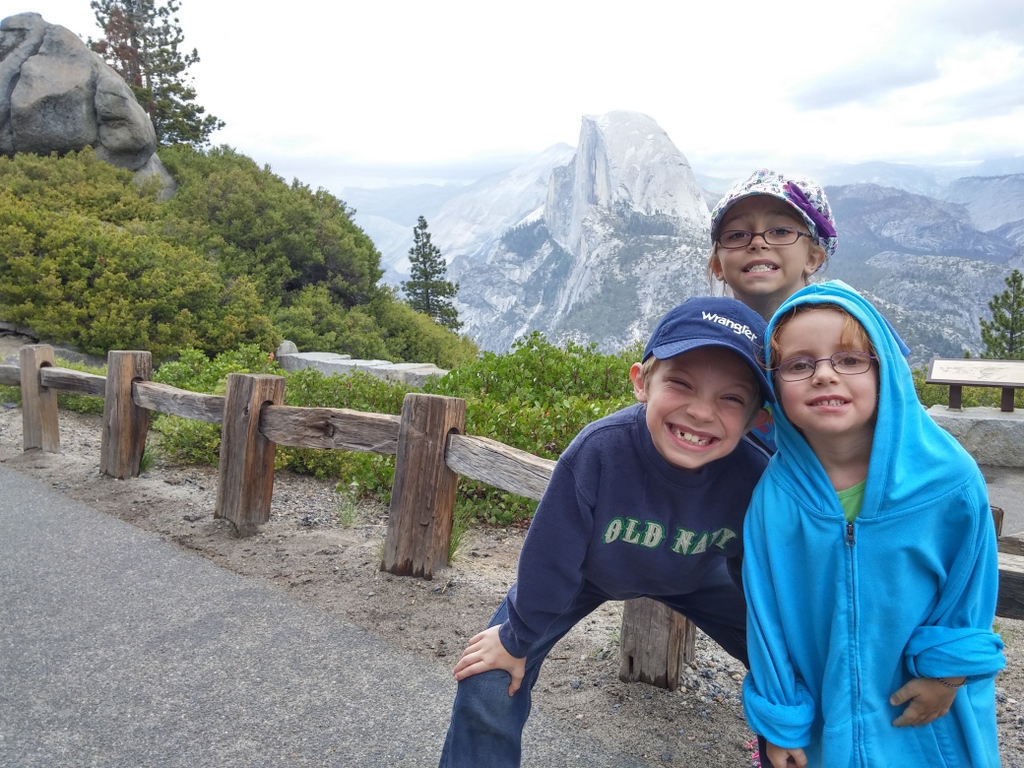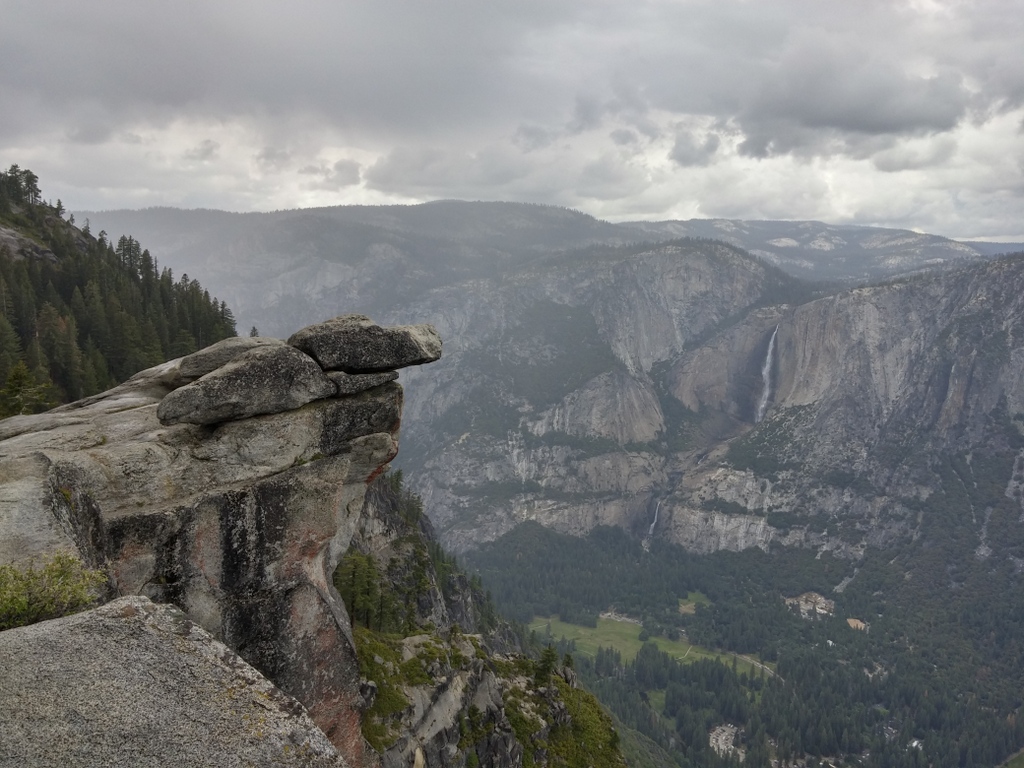 Day 3 was packing up and traveling to another RV park outside the western entrance of Yosemite in Groveland. We took the scenic route, which turned out to be another VERY twisty road, but a nice view.
Day 4, Nate decided was going to be driving Tioga Pass. This is at the elevation of about 10,000 feet. We definitely had a nice drive up, minus the windy roads, of course. We stopped at an area called Soda Springs. Can you believe that there is real carbonated spring water? Nate even tasted it. He said it tasted like the standard boring carbonated water. We noticed a storm moving in so we quickly hurried along that walk.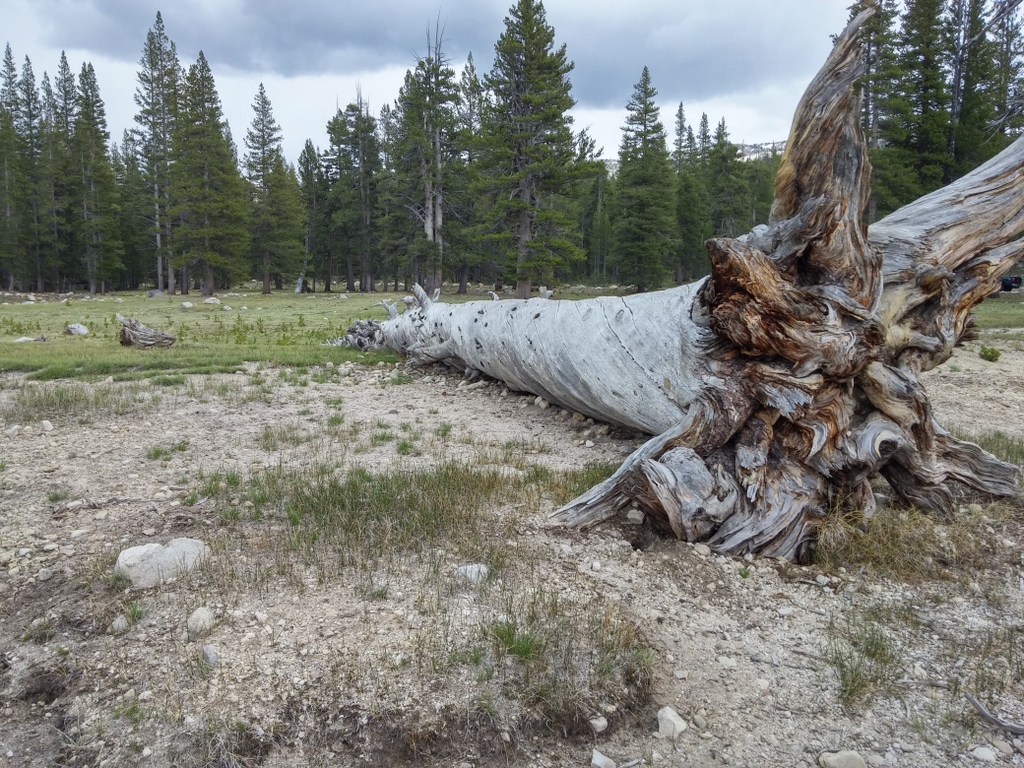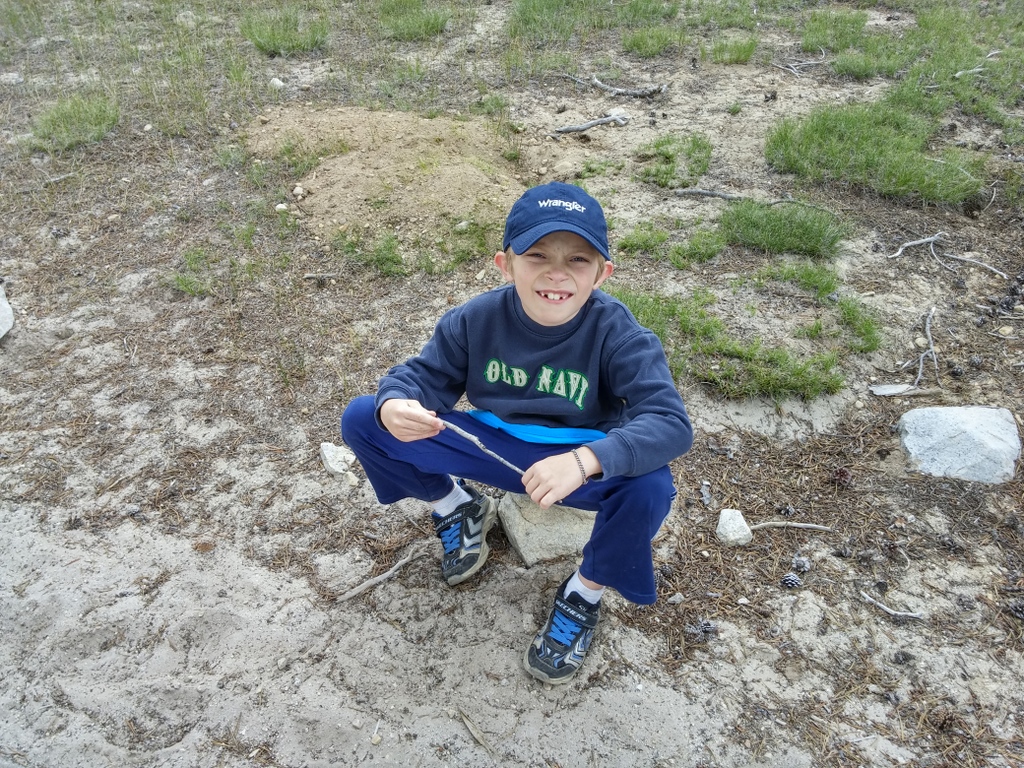 Next, off to Tiaoga Pass. As we approached, it actually started to snow! Abby has never seen snow and Nathan and Ali have only seen and touched when they were very small. This was a big deal for them. We got out at the top and let the kids dance in the snow. They especially loved catching the snow on their tongues.
We continued down the road beyond the eastern edge of Yosemite. Nate said there was a lake there he wanted to see. We stopped at the visitor center of Mono Lake and found out more about it. What a crazy lake. Since it only has water inlets, and no outlets, it gets very full of minerals. The water feels very soft to the touch and is many times saltier than the oceans. This was some water we didn't sample, however. Since it has so much mineral content, these stalagtite looking things grow from the bottom and are exposed as the lake evaporates. It looked like a mound of salt build by a termite.
Finishing up with Mono Lake, it was time to head back to our home on wheels. Ali had worked so hard on her Yosemite booklet, (all about planning and being prepared) we stopped at the visitors center again so she could earn a patch. Go Ali! Mind you this is a separate activity from the Junior Ranger program. Instead of a badge like the Junior Rangers, they earn a patch. We had already turned in our Junior Rangers items by this time.
All in all, I am now seeing why Yosemite is such a highly prized destination. I would love to go back again and spend more time on the hiking. Absolutely stunning beauty.